Paris Euro HNW Fest reports [2011-05-24]The Euro HNW Fest took place on 23rd of April 2011 in Paris at Instants Chavirés, and the mini fest showcased some of Europe's best and most influential HNW acts. The fest also included rare euro appearances from a US HNW acts like Richard Ramirez's Werewolf Jerusalem.

Sadly no members of M[M] staff were able to make the fest, but instead we managed to get four 'on the ground reports' from the following: James Killick( of controversial Katy Perry influenced HNW project Love Katy, quiet ambient textured noise project Small Hours, and runner of the great uk based HNW label Sweet Solitude). Romain Perrot( of Vomir & Roro Perrot), and Nicola Vinciguerra( of HNW project Terminal Erection, Power electronics project Fecalove & often more surreal/ horror filled noise collective of Splinter vs. Stalin). And lastly but hardly least Aleksandar "Dr Alex" Nenad( of serbain HNW project Dead Body Collection). All pictures used through out the various reports were taken by Osku. Thanks to everyone for the great reports & pictures!


HNW As Performance Art?? – HNW Fest 23 April 2011 by James Killick

Instants Chavires is a very unassuming venue in the middle of Paris. I must confess that my first impression of the place was a little underwhelming. How wrong I turned out to be!!
For those that were in attendance, I was the nervous looking Brit in the blue shirt, who did his absolute best (along with Osku!) to buy copies of everything from the merch table. I have been listening to noise for a long time, but this was my first HNW gig, so I was very nervous, and had my fingers crossed that this would live up to my high expectations.
I must apologise in advance if I get the running order wrong (memory is a bit hazy), and I missed some of the sets (to busy chatting and raiding the merch table, so I will not be able to review them fully here – sorry).
I missed the opening act, but was told that it was very good (sorry!). The first set that I watched proper was Svartvit. Rather than set up on the stage, he set up in the middle of the audience. He then proceeded to create a huge wall with some great screamed vocals layered on the top. He got a little lost in the moment and steam rolled his way through the audience. Your humble reviewer got an elbow in the face, but recovered quickly. A very physical and worthwhile performance, from the great Svartvit.
Ghost was on stage next (I may be wrong here – I was lost at the merch table). What I heard was a more quiet performance (closer to ambient wall?), which I should have paid more attention to. I hope to catch this act again, in the future.
Next on stage was Dr. Alex (Dead Body Collection). Dressed in white coat and white face mask, he gave the audience a surgical display of wall making, while writhing and convulsing on the stage in a very disconcerting fashion.
At this point, your reviewer started to feel a little unwell, so he had to go outside for some fresh air. Thankfully, there was an interlude, so I was able to compose myself and get back to the action.
After the brief interlude, we had the set from Nascitari and Poseitrone. I don't know if I was imagining things, but it seemed like the volume was turned up quite considerably for this set. Both performers were masked throughout, and they acted out some dark fantasies on stage, which were both disturbing and compelling at the same time. Highly recommended, but not for the faint of heart.
Next up, was the quartet of Italian wallers (Fukte, Terminal Erection, Fragile & Indch Libertine). Their set was not strictly HNW, instead they created a raging tempest of harsh noise with some great screamed vocals (courtesy of Fabrizio), that more than made up for it. It was also (intentionally so??) one of the most hilarious sets of the night. On the one hand you had Fabrizio (who is incredibly tall) screaming his lungs out, then you had Alessio looking very cool, calm and collected with his back to the audience. Then you had Nicola, clearly in a world of his own, doing very naughty things with a microphone. Finally, you had Daniella dressed in a suit, standing stock still, only moving to change some of the settings on the array of distortion pedals. A great set, but it really did make me laugh!!
The next set was from the French duo of Greg and Vivian (A & Ecoute La Merde). The sound was pure wall, but we were also treated to the sight of Vivian in a dress, who then proceeded to paint himself with the letters ELM in red paint. While this went on, a shirtless Greg lay prostrate on the floor. An interesting performance indeed!!!
After this, there was a change in pace with the set from Die Reitenden Leichen. DRS put on an amazing display of minimalist ambient noise wall, which consisted of a low frequency drone with static crackling throughout. Maybe not as 'crushing' as some of the previous acts, but my personal highlight of the evening.

The next act on stage (Turbulent I believe), took a few minutes to set up his gear. This consisted of an array of pedals and a very interesting speaker and contact mic contraption. Once the set was underway, this setup conjured up a very diverse wall of sound. It made for a very interesting performance, and made me want to check out more material from this very entertaining act.
Isn't it interesting how you can form a picture in your head about someone, and the reality often turns out to be a lot different. Prior to the show, I had tried to imagine what Romain (Vomir) would look like. As I stood by the stage contemplating this issue, a very respectable looking gentleman patted me on the shoulder, and handed me a small black bag. He explained that this was – 'pour la tete'. I thought nothing of this, until the same unassuming gentlemen got onto the stage, placed a bag on his head, turned his back to the audience and then proceeded to show all us noise fans how HNW is really done.
So Vomir wasn't the fire breathing dragon I had pictured in my head, but his set managed to make time stand still and gave everyone a glimpse of the void for one brief moment. A great set, and one of the highlights of the evening.
I felt sorry for the act that had to follow Vomir (I mean who could top that!), but Richard Ramirez (Werewolf Jerusalem) had nothing to worry about. He sat on the corner of the stage, set his minimal gear up, and proceeded to give a virtuoso display on how to manipulate static and rattle the eardrums of the attendant audience.
After that, the show was finished. We all stumbled out into the warm French evening, realising that we had all witnessed something special. Can't wait for HNW fest 2!!!

HNW FEST REPORT, APRIL 23rd 2011, PARIS, FRANCE by Romain Perrot

I arrived at les INSTANTS CHAVIRES at about 3.30 pm and sound checks had already started with Benjamin, the sound engineer, who did a perfect job all night long. Everyone who's playing arrives safely and on time, so we prepare the room, and each one of us has time for set up and sound check. The sound is strong, powerful & really good. It's good to see old faces, and to welcome new ones. Everyone is in great mood, some tired by long travel etc..., but everyone cool, calm & very professional. We also set up a BIG merch table, full of good stuff.
After sound check some go to Bimbo Tower shop to browse this great record store, and we all meet again later to share salads, cheese, ham and beers. Great food made by Damien, who also is in charge of the IC's bar. And pretty soon it's time to start.
We open the gates just before 8 pm; already a few people are waiting to come in, so the fest starts with already a filled room.
The evening goes in 3 rounds, with a pause between each round. More people keep arriving and soon there are about 100 people in the place. All sets are cheered and applauded. I am close to the bar so I can hear peoples comments, and all the public appreciates the noise. This is really satisfying, and the best is that lots of people buying stuff from the merch table.
All sets go smoothly, each one with great sound and performance. Just before 11pm, we end the night, time to pack up.
I won't review every set, because there is no particular need. There was an incredible feeling on this fest, because everyone who played really stood up for the genre, and we really were bound to each other. I think the audience felt that too, and that we were not just individuals doing their small sets, but really people convinced, engaged, doing noise with intensity.
It was a great night.

HNW EURO FEST: PARIS IN APRIL by Nicola Vinciguerra
April. The second biggest city of Mali: Montreuil. Les Instants Chavirès. Harsh Noise Wall Euro Fest.
After spending ten days in Paris drinking pastis and eating escargots with my best friend and my girl, three hours of loud static seemed an appropriate ending for my french holidays .
As usual I was pretty late, and I found myself walking around Montreuil with my girlfriend, wearing an idiotic hawaiian t-shirt and not really knowing where to go.
I guess we didn't fit with the local crowd.
Fortunately a gentle barman and a nice lady pointed us to the small Rue Richard Lenoir, home of Les Instants Chavirès. They tell me it's an important venue for french underground music, and Fred Frith played there just the night before.
It was great to meet Romain (Vomir), Alex (Dead Body Collection) and Vivian (Ecoute La Merde) again after many months, and to meet the other performers for the first time.
As I got into the venue, Bryan/Turbulent was doing his sound check. Open microphones and various objects rattling on a little speaker. It was already clear this would be a good gig.
Setting up the merch table was quite an experience well: the amount of stuff was incredible, I don't think I even got to check everything. Fucking extra-prolific harsh noise musicians.
It took a few more sound checks for the other members of the italian big band (Fukte, Indch Libertine, Fragile) to arrive, in company of Gregory (Å, Anarcofreaks Productions) and Richard Ramirez.
Apparently they wanted to visit Eiffel Tower before getting to the venue. I can't blame them, they had little time for their tourist duties.
It was a pleasure to meet Richard, even if we didn't talk much. It's weird to finally connect a human body, face and voice to the piles of records, tapes and cds you have at home.
The ever-thoughtful Greg graced us with tons of beers we immediately started drinking in the backstage (well, more like upstairs), along with Chartreuse liquor.
The lack of colonial coffee was felt very badly by the rest of the italian army. Shame on you, Vivian.
Kevin/Svartvit arrived from the Netherlands a little later, and with his all the soundchecks were done.
Alessio/Fragile gathered a small expedition to invade the Bimbo Tower shop (one of very the few noise music shops in Europe, a must for the connoisseurs visiting Paris) while me and some others preferred to just sit on our asses and keep drinking.
Food was provided very shortly after, with a great choice of french cheese and two humongous bowls of salad.
I must say this is always one of my favorite moments: sitting on my ass, drinking and eating. That's where I feel comfortable.
Romain printed a very strict set-list with performances timed to the minute and hung it on the wall. It's Vomir discipline! He did a great job in holding all the sets and people together, it's not easy to shove some order up noise musician's asses, even if it's just for ten minutes. Everybody had two minutes to plug your instruments (they were all ready on tables after the sound checks anyway), ten minutes to play and a few seconds to get the fuck off stage. With the addition of two fifteen-minutes pauses it worked really well, I didn't imagine it could all go so smoothly.
Vivian was chosen for the ungrateful and messy task of taking care of the merchandising table. He will then regret it with all his heart.
Next time it will be someone else's turn.
The actual sets started precisely at 8 pm, with Rééducation' s performance.
It wasn't harsh noise wall. If I recall well it was mainly spoken word tapes played through delays and layered one over the other. It wasn't bad, but it felt like they didn't manage to obtain the sound they wanted. Probably layering and layering vocals ending up with a mass of monolithic noise? Better luck next time!
Second in line was Svartvit. He was playing down the stage, with a little table filled with equipment. He started with brutal crunchy harsh noise wall and then he moved his table around. A microphone was amplifying the screeching sound of table legs scratching on the floor, which was really nice. Unfortunately his violent noise fervor worked against him when he accidentally unplugged something, suddenly stopping all the sounds. The abrupt, unexpected end actually sounded nice in my opinion, but he fixed the problem and resumed playing. This time he added shouting vocals on top of the wall of noise, and hurled himself screaming into the small crowd. Again not pure harsh noise wall then, which was a constant of the night, but it was a really good and sincere performance.
From this point on the sequence of performances starts to get blurry and maybe memories overlap. It was all too fast for my relaxed metabolism.
Ghost was next, and i remember the sounds quite lived up to the name: low-end creepy guts shaking harsh noise wall. Probably first "proper" hnw set of the night.
Dead Body Collection's show was similar to the one I saw in Venice months ago. Alex was wearing a white mask and white lab coat, and started to tremble and shake like a mad man while his brutal loopish harsh noise wall was playing itself. He rolled on the ground and even fell off stage... wriggle like a fucking eel!
I'm glad this time his sound was powerful. Good performance.
Vivian had to get ready for his sexy stage antics so I substituted him at the merch table, which made me miss a bit of the visual side of the following two sets.
Only at this point I realized that the event was an unexpected success: there were lots of people! A few guys came from around Europe as well, like Tim/Cementimental from London. Incredible.
First italian ensemble of the night was Positrone+Nascitari. They're not exclusively harsh noise wall acts (in fact some of their material I listened to is very well done experimental noise) but their set was one of the best sound-wise. Powerful and magmatic harsh noise wall. They had costumes and put up some sort of performance but crowd prevented me from seeing them well. Fortunately at least I could listen.
Ecoute La Merde + Å, the french harsh noise big band: Vivian wore a girl dress and smeared himself with red paint, while Gregory was laying on the ground. Again pure autistic harsh noise wall. Well done!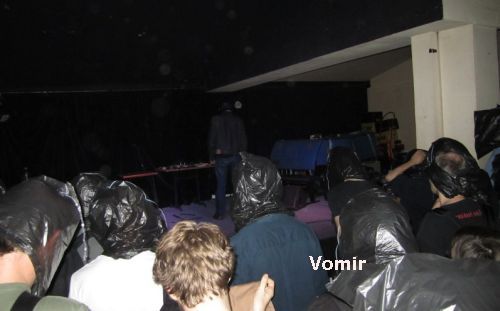 The italian harsh noise wall boy band was next, so Andy/Evil Moisture took care of the merch while Vivian was cleaning himself and I moved to the stage. Indch Libertine finally put the elegant italian outfit he had been wearing all night to use and waited for me on stage with Fabrizio/Fukte and Fragile. I was still wearing my stupid hawaiian shirt, Fabrizio was barechested and Alessio was just naturally a tamarro. I was rubbing my cock with a distorted contact mic, Fabrizio was screaming, Fragile was chanting low-end mantras through a DOD Meat Box and Indch Libertine was playing a White Noise Generator. Result was messy wallish harsh noise, maybe not what we really wanted to do but who cares. It was fun!
I missed Die Reitenden Leichen's and most of Turbulent's shows cause I was drinking and relaxing upstairs, I guess I'm not much of a reporter. What I heard was good though, and I'm sure they were excellent sets.
I watched Vomir's usual anti-performance from the stairs above the venue. I couldn't experience the full destructive menhir sound, but the sight of dozens of people standing, unmoving, wearing black plastic bags on their head and a man doing the same on stage was alone quite worth the trip to France. A different perspective for one of the best harsh noise (anti)shows.
Werewolf Jerusalem used his typical minimal radio+distortions set up, and it was fucking good. Maybe too much "movement" for some palates but it was the most violent sound of the night. Perfect, devastating static-heavy harsh noise that made me long for more.
Unfortunately I had to move quite soon after the sets were over and I only had time for quick farewells, so I couldn't join what I'm sure was an adequate after-party. Even with no colonial coffee.
In my opinion it was a great night: lots of people, great noise, a good fun atmosphere. I think some of the audience were not really familiar with the music, I hope this harsh noise wall showcase at least caught their interest.
Thanks a lot to Gregory, Romain and Les Instants Chavirès sound guy: they made everything possible, and most incredibly, very easy! I repeat, this was the most well organized harsh noise event I ever attended. Precise and perfectly set-up, no delays, no problems at all. Considering there were so many acts involved and so little time (as I already mentioned everything was over in no more than three hours), I must tip my hat off to these guys.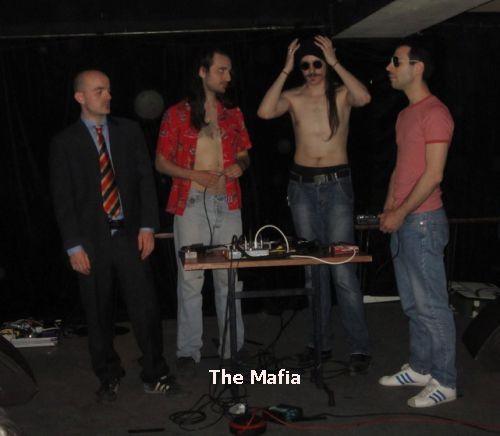 I repeat myself again, but I hope there will be more festivals like this. Maybe next time a bit more lenghty?
There are fascinating tales of people going to Bimbo Tower the morning after, confident that it will be open on Easter Sunday, but probably somebody else will tell you...
HNW Fest report by Aleksandar "Dr Alex" Nenad

Finally, April 23 arrived, the day scheduled for HNW fest in city of light – Paris. I had breakfast, took my stuff and went to Instants Chavires where the festival was taking place. After two metro rides, little wandering around and help from the local folks I arrived at event place. Already there were Ghost, Romain Vomir, Vivian La Merde and the sound guy. Trades, buying and everything going with that started immediately. Others tested their gear, and so I unpacked mine to test the sound. Soon there arrived: Bryan Turbulent, Matt Die Reitenden Leichen, Nicola and his girlfriend, Rééducation crew and the Italian noise mafia. From Fabrizio I found out that Tay Karkastix is not coming because of financial issues (Tay, I hope we will meet some other time). A little later the following arrived: AnarchoFreakGreg and Werewolf Richard. Before Richard came, Fragile Alessio suggested that we go to the some noise shop on other side of Paris. Few of us did guided by Ghost who was the only one who knew where the shop was. We arrived there and started looking and shopping . It's a great shop with a lots of rare things at affordable prices. Later we came back to Instants Chavires where people started gathering and drinking up front. It was awesome to meet Osku with who I've long been in contact with, as well as Gre, James of Sweet Solitude and many others. We slowly prepared merch table inside. There were stuff from: Toxic Industires, H Series/Deadline recordings, Underground Pollution, Turgid Animal, AnarchoFreakProductions, Slow Death, Victimology Rec., Vomir-stuff, Indch Libertine releases, Turbulent releases and many other things. Vivian mostly ran the merch table.
8 PM approached quickly. People started to coming in, and on the door each got a compilation featuring all the festivals artists. Then the fest started!!
Rééducation were first on stage. And they sounds like some a mixture of Power electronics and Harsh Noise with heaps of samples. Even if it wasn't pure HNW, sound was great! Shots from video beam were perfectly combined with their sharp sound. Congratulations!
Twelve minutes later Svartvit from Netherlands started his destruction HNW with harsh Noise and screaming voice. I never saw such energy on stage. Perfect performance/noise!!
Next was Ghost. On video beam were running combined shots of various voodoo tribes which were great fit with brutal HNW that is Ghost produced. Very weird HNW with a lot of basses and mass of crazy sounds. I had I feeling that I am anesthetized by HNW voodoo magic. Probably I was. Cheers Ghost!!!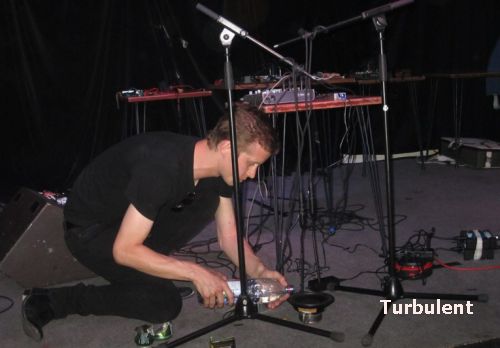 After Ghost, I came on the stage - Dead Body Collection from Serbia. White emotionless mask, white topcoat, red lights and surgical maniac HNW is what represents DBC. Some changes followed epileptic attach, fall from stage, return to stage, than few more changes and that's it. Some folks were scared, some thrilled and I believe there were folks that didn't liked it, but all in all I enjoyed it…and I think the crowd did too.
Then it was time for collaboration part. After ten minutes pause for Nascitari and Poseitrone from Italy to prepare, it started! Nascitari who was dressed like an executioner, stabbed his knife in to a distorted microphone, Poseitrone was standing without his shirt turned with his back and added various sounds, than he turned, took a needle and injected some liquid in to himself. Nascitari was throwing himself more and more around the stage and smashing his mic. Real funeral HNW ritual!
Next were Ecoute La Merde and Å. ELM and Å had real brutal unchanging HNW in the French way. Greg was laying without shirt by his distortions and Vivian wore a dress and white shirt which he painted in red to later throw it in the audience. Amazing sound and performance!
Time for Italian mafia made of bunch of perverse well-known old farts - Fragile, Fukte, Terminal Erection, Indch Libertine. So, Fragile was handling a piece of some gear in his hands and made noise around, Fukte, also without his shirt with black glasses and a beanie hat was adding distortions and screamed in a mic, Terminal Erection in his well known outfit was jerking off with contact mic, while Indch Libertine added high tones on top of all that. All elements characteristic of each project were perfectly melted in one. A great live collaboration!!!
Then it was the end of collaboration sets so there was time for another ten minute pause.
Sometime around ten o'clock Die Reitenden Leichen from Germany took his place on stage. Matt had really massive sound arranged of feedbacks, HNW crunchy basses and batch of cracks. By my taste, this was the best HNW that night! Fascinating HNW!!!
Turbulent from Chicago appeared next , and had the weirdest set up that night. With two tin mics he amplified a speaker, actually just a bass – subwoofer, filled with water, glass and pieces of can. All of that was crackling because oscillations and created incredible wall. I mentioned that he didn't had any distortions. He had mixer and few pedals. Awesome sound/wall!! Unique!!
After Turbulent, Romain aka Vomir shared black bags to audience and shortly played his characteristic sound, turning his back with bag on his head. He stood like a human monolith while most of the audience had black bags on their heads too- which were making the listening/concentrating on brutal wall of noise more easy. Slightly depressive and lonely sound filled the space some ten minutes, than everything stopped. Silence! One moment of silence which lasted for a second but I had the feeling of whole eternity as a mountain of memories passing through my head. Big applause broke my thoughts and returned me to reality. Unbelievable experience to listen to Vomir on such great sound equipment! Sound was characteristically brutal, crunchy and unchanging. Hail to the master!!
Around 10:40 PM on the edge of stage appeared the well known Richard Ramirez aka Werewolf Jerusalem. Richard had a minimal set up. Just a few distortions and radio as a sound source. Sound was static, brutal and gloomy with many high and low frequencies depending on the sound. I had a feeling that the sounds came from some deep horror which was happening right now. It was great honour to see WJ in his best shape and atmosphere. A fantastic set!!
And that was the end of HNW fest.
After the fest we had many trades, bought different titles, performance comments, chats, etc...Unfortunately there were not any gatherings for drinks after or dinner. All sets were equally good, all folks were in a good mood for hanging out and joking. Sound guy made a great thing with sound and light. All in all it was perfect.!!
Thanks a lot to Romain for organizing and the dialogue before the fest, also many thanks to Greg for organization, to Vivian for dealing with merch, to Richard for the great talk after the fest and the trades, To Ghost for being our Paris tour guide, to Osku for good company and trade, thanks to all participants on the fest and one big hello to Brian for wonderful day I spent with him in Paris two days before fest! And for the end thanks to everyone on trades and to people who supported my label and my performance!! Cheers!!!!
Various