Re-booting independently [2002-03-11]About ten years ago, Warner heard a demo tape by a Canadian singer and keyboard-player Jane Child. They signed her and her first single became a huge hit in the USA.In Europe she got airplay on the still fresh European counterpart of MTV but it had little effect.The big breakShe recorded two CD's for Warner but the hitsuccess had its drawback: "It's so great to have something become so popular and everybody loves the song and you. Unfortunately, even though the song is a dancable kind of thing, I am not a dance artist. People that aren't familiar with my albums are always expecting 10 songs at 120 BPM and that isn't what I do", Jane says. Crazy as it might sound, the financial revenue wasn't 'all that' either: "I never saw one dime from it! I got a little airplay money, but I received nothing from the record". So after Jane's sophomore album Here Not There the collaboration between Jane and Warner was terminated.Late last year Jane released her third album Surge on her own label Sugarwave. No less than eight years later! What have you been doing, Jane? "I did alot of traveling, especially to Japan: I toured a couple of times with some friends, hung out, absorbed and wrote. Ramona, My Love was written one night in a hotel room there. Also my house was severely damaged in the big earthquake we had here in Los Angeles and it took quite a bit of work to get that straightened out. Most of my equipment was in storage during the repairs, so I couldn't record, but I was writing and playing the whole time. It's only been the last couple of years that everything has kind of gotten back to normal and that's when I recorded Surge. This time as an independent artist on her own label, something she enjoys a lot: "It's the most fun I've had yet! It's so much nicer to be able to make the decision by myself about what is going to go out into the world to represent me. It's supposed to be the record executives' job to know what to do and what to tweak when they have a project, but even though very few know what they are doing, they all act like they do. You can end up with something that has your name on it that you're not happy about. Right now, Sugarwave is a vehicle to release Surge, but after they get off the ground, they will be releasing other artists as well. I am fortunate to be able to just write and record while someone else takes care of the business side of things".From Toronto to Hollywood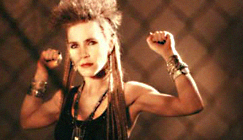 Jane had a thorough musical education as she explains: "My parents were both classical musicians and composers, so I was surrounded by it from the time I was born. They also gave me my first lessons (piano, violin, voice, theory and harmony), but I moved on to study piano with the professors at the Royal Conservatory. The things that inspired me gradually shifted as I became exposed to different styles of music while I grew up. It started with Beethoven and Bach, passed through Led Zeppelin and then ended up at Prince". The last artist's influence shines through in her music but if he'd ask her to join his band, she wouldn't do it: "but I'd like it if he asked me"! She enjoys being a solo-artist so much she's not too eager to combine forces anyway: "Collaborations always seem like a good idea and yet the results are almost never up to the level of the participants' individual work. I've always worked by myself so I'm pretty used to it now". In the past she had quite some band-experience though: "Oh Yes! I dropped out of high school at 15 and played every dive from the tip of Nova Scotia to the edge of Vancouver! I also played piano bars". She did a tour in support of Here Not There and she would love to do an extensive tour for Surge: "I really want to tour for this new record and I hope to go everywhere". In the live-situation she will be joined by a band: "I have an amazing band in mind if everything works out". The band would consist of "creative musicians that have enough ability to do whatever I ask them"!Jane moved to Hollywood 'to make it big' (and she did), although not necessary, given the globalisation through internet and such, she likes to stay there: "I am the Queen of Hollywood!! I'm kidding - yes, I live in Hollywood. I don't think it's a necessity for me, I just like it. I especially am in love with 'old Hollywood'. It is easy to meet people and work on business things being here though". Alicia vs. Britney
The current music scene, full of 'independent women' and 'Grrrl Power' might be open to a female musician like Jane: "I'm glad that girls are really beginning to have some success now, but I will be happiest when none of that matters at all, and things are just judged on the quality of the final product. I don't want somebody thinking: That's pretty good for a girl! I just want them to think: That's really fucking good!!" Recently it even seems an advantage to play an instrument and write your own material, with Alicia Keys taking away 5 Grammy's and the hitsuccess of Michelle Branch. Are people fed up with the Britney's and Christina's? "I've never felt I belonged to any category, so I don't think it affects me one way or the other. I don't have a problem with Britney or Christina - some people just sing, some people sing and write with help, and some people sing and write with no help. It doesn't really matter in the end as long as somebody likes the song".The well-tempered songThe song is what counts according to Jane. Although being a very good keyboardplayer, she keeps everything in favour of the song and there are only a few solo's on her albums: "The solo's have always been sparse on my records, they have to serve the song. If a solo makes sense, I put one in - If a solo wouldn't take the song higher, I don't. I don't need to put one in just to prove something. It's nice when somebody compliments your playing, but everything is secondary to the songs". As I read on the Billboard site some people even consider the very few on Surge too much: "it didn't bother me. I was trying to cut things down from the second album and I'm continuing to cut things down for my new record compared to Surge. She writes her songs on keyboard, guitar or in her head and computers come in handy in the realisation of the songs: "Of course it's easy to have the tape or computer play back a drum beat just the way you like it while you work on some other part. You can't get a drummer to do that. And obviously, you can do things that couldn't be done with a normal set of drums. That really opens up the possibilities. That doesn't mean it's better, just different. I use both depending on the situation".As said before she has a classical background: 'I've never stopped playing classical, and it's always been in the back of my mind to do a classical record". Besides that she delved into the theories of classical Indian raga's and its structures. The strongest example would be Sarasvati from the Here Not There album, on the new album it's more subliminal, but it surely has affected her way of playing: "In a lot of ways, I think I've absorbed Indian elements such as form and treatment of pitch in to what I do, but it wasn't a conscious decision or process. Synthesizers allow you to be free of the rigidity of the standard western European 12 tone scale". Another influence in that respect comes from New York: "Rap has been unconsciously experimenting with that kind of freedom from conventional tuning & tonal centers for years. Ever since Chuck D (and Public Enemy producers Shocklee, Ryder and Sadler, MB) came up with the cacophony of different pitched samples, it's been getting more and more interesting".The return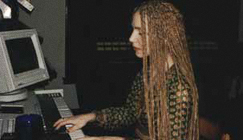 So now Jane's back with the new album Surge, a remix album of Surge and a single CD in support of the victims of september 11th, two re-recordings of World Lullabye. Later this year there will be another remix album, with interpretations of songs from the previous two albums. Despite the mixed feelings after the hitsucces of the early nineties, a hit would be welcomed if it happened: "Hell yes! As long as I didn't have to alter anything I was doing to fit into one of their neat little formats".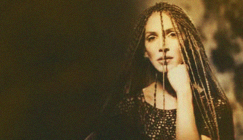 Re-booting independently
About ten years ago, Warner heard a demo tape by a Canadian singer and keyboard-player Jane Child. They signed her and her first single became a huge hit in ...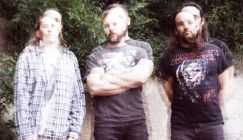 Baring Teeth - The Path Narrows
Texas trio Baring Teeth return with The Path Narrows, their fourth full length and first on I, Voidhanger. Eight songs of intricate and dissonant death ...