An Wonderfull Afterglow... [2011-01-27]Phase II are a late 70's to early 80's American based progressive-folk band that have recently reformed. Their sound is a very distinctive and often quirky mixture of folk, prog, pop and 70's synth scaping. The projects two central members Mark Andrews and Nicholas Tesluk kindly agreed to a give M[M] an interview via email

m[m] First off, how did you both first meet and when did you decide to form Phase II?
Nicholas: In 1978, I had been living in northern Colorado for two years after having moved there from Illinois. I had wanted to develop another musical project similar to the group, Changes, that my cousin, Robert Taylor, and I co-founded in 1969. I met and "jammed" with a few musicians and singers to no avail. The magic just wasn't there. They were all fine performers, but we seemed to be on different planes regarding our musical endeavor. One of the lady performers that I had worked with knew of a gentleman who had returned to the States after living in Europe for several years (being part of a music ensemble there called Blue Grass) and who was also interested in forming another musical group. The gentleman was Mark Andrews, we met at the house of our mutual friend with our instruments and our songs, and everything just seemed to gel perfectly.

Mark: I was back in Colorado after a period spent with a band with which I was affiliated off and on for many years (Blue Grass/Skyway from the Backnang/Heilbronn area of Germany). Like Nicholas, I was itching to find an outlet for many as yet unrealized musical impulses. The evening Nicholas and I were introduced to each other by our mutual friend, it became almost instantly apparent to me that I'd found a musical fellow traveler. As I recall, we spent most of the evening ignoring our mutual friend as we excitedly played our original songs for each other, and coming up with instrumental or vocal embellishments to each other's music. Our destiny as collaborators was immediately clear.

m[m] Phase II's sound is a very quirky and genre mixed. Did you deliberately want to mix together folk, prog, electronica and synth pop or was it more organic?
Nicholas: It just naturally evolved that way from our era as an acoustic duo. Taking the folk music into the next realm came about mostly with the addition of Mark's bank of keyboards. The added textures, effects, sounds and melodies that he created were the driving force toward the new sound that we were trying to achieve. The sound was no longer just guitar, mandolin, flute and vocal but a plethora of unique sounds that, while still including and often featuring the acoustic instruments, built a wall of music that drove forward like a proverbial freight train.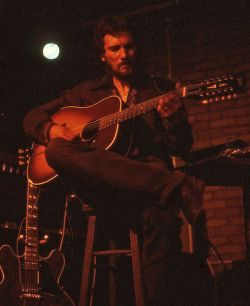 It was always exciting to see and feel an arrangement come together, flowered from the seed of a folk melody. "Goddess of Dreams" and "Fly Away" were both songs that transitioned from the acoustic phase into the progressive phase and the arrangements came about quite naturally.
Conversely, most of the songs from the progressive phase could very well be performed in a minimalist fashion, acoustically, without the synthesizer sounds, but the missing "wall of sound" would be quite evident in the new arrangement.
Mark: In a broader sense, I think the eclecticism of Phase II's music is based in our collective musical experiences. I'm fascinated by the fusion of musical idioms. I was raised on classical (including choral and opera) and popular jazz, from big band to Brubeck. Then in the 60s, folk music became a form of grassroots communication (in the great minstrel tradition) and demonstrated that any of us could write and perform our own music. Finally, like so many others, I was jolted into the modern rock era when I first heard The Beatles sing "She Loves You." The original fusion band, they melded all forms of rock and roll with folk, pop balladry, rhythm and blues, country, classical, music hall, Indian, and pure psychedelia.
Living in Germany was eye-opening as well. Most people follow their national musical culture, which in the U.S. means rock and rhythm and blues, jazz and country. But among my German friends – among Germans of all classes – I noted a deep pride and respect for their classical poets and composers. I think that sensibility carries over into Europe's neo-psych and prog scene, in which Nicholas and I share an interest, so it was only natural that all those elements of classical, folk and rock music would make their way into our songs.
m[m] You only released one 7 inch in the band's initial years together. Why was this? And had you attempted to put out more?
Mark: At the time, I was subsisting on odd jobs and trying to devote quality time to writing and making music. Nicholas had a highly specialized technical career and was able to contribute more to the initial costs of taking the band beyond the acoustic folk stage. Back then, when most of our free cash was tied up acquiring keyboards and the components of a professional sound system, analogue recording processes necessitated booking expensive studio time, so that even a self-produced recording could be quite costly.
Some major labels (ie, Columbia/Epic and Stiff Records) began introducing four- or five-song extended play (EP) records in order to promote new bands. Knowing we couldn't afford to record a full LP, we made a conscious decision to create a kind of mini-album, a 16-minute sampler, on a beautiful transparent blue 7-inch, 33 1/3 rpm vinyl record. We put much thought into the choice of songs, but also into the cover, insert, and label artwork. Of course, once the EP was finished, all our efforts went into building a strong performing band.
Nicholas: Back in the day, I was single (after the dissolution of my first marriage) and had a career with IBM, both of which added up to my having quite a bit of discretionary money. The cost of self-producing a full album at that time was still a bit more cost-prohibitive than producing a 7-inch when factoring in the recording studio time, record pressing cost, and cover printing. Thus, it was decided that our first offering would be a colored vinyl, extended-play, self-titled 7 inch. Though well received in our local area, in retrospect, it would have been much better to have spent the extra money to produce a full length album. A 7-inch was hard to market at that time since 45 r.p.m. singles were still very popular. The 7-inch E.P. was the size of a "45" but was actually a 33 1/3, so didn't really fit with the "single" records. And, of course, its physical size didn't "fit" with the L.P. albums so it created a bit of a dilemma for the record store clientele to decide where to include it in their record bins.
The ideal situation would have been to have had an album released by a major record company, but at the time before independent labels came to be, a group had to be discovered and lucky enough to be put under contract by one of the "Big 5" record companies (Columbia, Warner Brothers, Decca, Capitol, A & M), and chances were pretty slim that we'd be discovered in a little "country & western" town in northern Colorado.
But, yes, if at that time, we would have stayed together longer, we would definitely have attempted to produce more albums.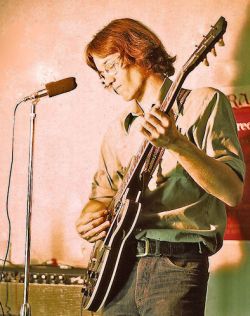 m[m] How did the band split in the end in the early 80's??
Nicholas: Though the band had started as a simple duo between Mark and myself, it soon expanded to a cast of several people, including a long line of drummers who came and went, managers, etc. As often is the case, grouping that many artists with varying ideas of what direction the group should take in a virtual tug-of-war soon became tiresome. After a while, it just seemed like our original concept of Phase II was lost, or at best muddled in the quagmire. It was becoming too evident that we had become our own conglomerate committee tugging in many directions which added to the tension between the group's members and seemed to pierce the bubble of the hopes and aspirations that Mark and I had originally sought. This separation was very difficult for both Mark and myself as we saw our three-year dream disintegrate before our very eyes.
Mark: This a particularly painful subject, and I still find it hard to explain, even to myself. It was a confused time in the arts in general. The "New Wave" of post-punk music at that time really represented a searching for new directions, and in some ways I think the members of Phase II were being drawn in too many of those different directions. I remember it all being very, very exciting, but at the same time more than a little dizzying. Speaking for myself, I think I sometimes tried to push too hard into unexplored territory before becoming totally comfortable with where we already were. I wonder if Phase II didn't grow up too quickly.
m[m] You've recently put out the wonderful "Afterglow" collection on the Ahnstern label. How did this come about?
Nicholas: The group, Changes, that was formed by my cousin R. N. Taylor and myself in 1969, had been rediscovered in 1994 after a nineteen year dormancy. Later on, due to this resurgence, a collaborative album was produced for a festival, Flammenzauber 4, at which Changes was to perform in Heldrungen, Germany in 2004. For the collaborative compilation, the producers Axel Frank (of Werkraum) and Dominic Tischleder, wanted to include music of any other projects in which each of the groups may have worked. It was our fortune that Robert Taylor sent them a reel tape of the Candle in the Night radio program (now included on the Afterglow album). Thus, two Phase II songs from the program were featured on the compilation which spurred interest in our music and revived sales for the now rare 7-inch. Soon after, we were approached by Axel Frank and Max Percht (of Ahnstern/Steinklang) with the idea of producing an album of Phase II music. From this seed, Afterglow was born.
Mark: Interestingly, as Nicholas and I had not been in direct contact during the re-formation of Changes, you can perhaps imagine my surprise when he called with the news that a pair of Phase II songs were being featured on a German compilation, and that there was even interest in a Phase II retrospective. I feel very fortunate that we were given another chance to pick up where we so abruptly left off. It's time to share what we've learned in the intervening years.
m[m] "Afterglow" features new recordings by the Phase II. How easy was it to start working with each other after all these years?
Mark: I like to think that Nicholas and I have spent these past years storing up artistic energies while learning new musical lessons. As for combining our respective lessons, nothing could be easier, even after all this time. Our first attempt at collaboration during the new recording sessions for Afterglow was the song "Never," with music by Nicholas and my lyric. I had an old demo recording on cassette featuring only Nicholas on guitar and vocal. This was one of those songs for which we had not formally worked up an arrangement by the time of Phase II's split. The keyboard parts and harmony vocals just seemed to fall into place. I felt I should be surprised at that, but in fact I wasn't; we were always very comfortable with each other's contributions and working styles, and fortunately some things in life remain constant.
Nicholas: Actually, though it may sound cliché, it was like we were never apart. Mark and I always had a synergy that we shared when writing music, and though we are now older and maybe a bit wiser, the synergy seems stronger than ever. Each of us seems to know the course the song should take and whether it's Mark adding vocal or instrumental parts to a song that I wrote or me adding parts to his, we haven't failed each other yet, and in fact have often "wowed" each other. Mark, though, is the creator of the textures and wall of sound in our music with his glorious electronic instrumental parts. It is because of these arrangements that there is an intertwining of the full instrumental sound and the acoustic 12-string guitar that is becoming a trademark of our music.
m[m] Do you now plan to work on more new material with Phase II? And what about another album or a live tour??
Nicholas: Yes we have several songs in various stages of completion right now toward our second album. As stated in our advertisements for Afterglow, that album is a launchpad for the future of our music and the song "Just For You" was what one might call a prophecy of what the future would bring. But we guarantee there will be some nuances that, though somewhat of a departure, will still be faithful to our style.
As there are, at times, up to thirty tracks of vocal and instrumental parts to one of our songs, performing live would be a bit difficult without having almost all of the parts prerecorded. But there may be a way that we can perform each of the songs in a less complicated or somewhat "unplugged" manner without losing the complex energy of the song. So we are presently working on the best plan for a live performance concept.
Mark: Though there are still a number of nuggets from our "good old days" that I wouldn't mind recording and/or possibly updating, what we've been working on lately are all new songs, most of which we have co-written. I find it fascinating the way our thematic interests have grown in the intervening years. Not to get too philosophical about it, but where we used to be so very concerned about technique, I think we now understand our technical capabilities better, so that with our new songs, we can concentrate more – in both the lyrics and the music – in bigger and more wide-ranging subjects, while conveying a truer depth of feeling. We are certainly interested in continuing to write and record and, should the muse continue to favor us, I'm sure there are enough new songs to keep us busy for many albums to come.
As for Phase II performing live, there is no question that we did and would enjoy again the direct interaction with an audience. I know that we both treasure those moments we spent on the stage. But I think it's equally important to both of us to try to use our studio skills and knowledge to the highest degree possible, without having to worry about whether or not we can ever reproduce that exact sound on stage. Ideally, I hope we will reach a point where Phase II is equally skilled (and equally entertaining) in both venues, even if it means presenting the songs in somewhat different versions.

Thanks to Mark and Nicholas for their efforts with the interview and the great pictures. "Afterglow" is out now on Ahnstern- to order direct drop in here
Roger Batty