The Toxic Industries & Fukte interview [2011-01-12]Italian Fabrizio De Bon runs the prolific and creative package bound noise label Toxic Industries, he was one of the main minds behind Europe's first HNW "Staring at Wall" festival which took place in Venice last year. He's also the mind behind noise project Fukte whose sound shifts from Harsh noise, to HNW, to industlized noise and beyond. Fabrizio kindly agreed to give us a email interview.

m[m] First off what trigged your interest in noise & how did the Toxic Industries label come about?
Fabrizio It was about 8/9 year ago when I was a kind of "metal-head" listening to mostly black metal. Anyway I was always searching for new extreme sounds, and I saw the artwork of "Burning the Temple of God" by MZ.412, with a burning church. I decided to buy it, but to my surprise I discovered a lot of "strange" atmosphere instead of a pure black metal sound I was expecting.
After some listening I decided to delve further into this projects work and related projects, so I bought Hydra Head 9 "Kod". Another surprise to me: a complete
album made with unlistenable noise! but I forced myself to listen to it at least few times before putting it on shelf as dust-collector...
But during the 4th/5th listening something happened, like the click of a light button in a dark room, I instantaneously understood that this was the sound I had been searching for.

The idea of Toxic Industries came out over a few year, I had always being fascinated by some of the cool and hand made packages mostly released by bands themselves
so I asked myself "why not make a label that will release only special packages?". So after sometime digging into underground scene, collecting info, earning some money, finally in Feb 2009 Toxic Industries was ready for it's first release.

m[m] You mentioned you listened to Black metal in the past- do you still listen to it now?
Fabrizio Sure, but not much as in the past but I still like it. I prefer bands with raw/filth sounds and but also ones with big "experimental" influences.

Over the years I discovered that's impossible listen to just one kind of music. Sounds are everywhere, every time.
I really like Harsh Noise but I enjoy also some noisecore, dark ambient, power electronics, impro-experimental acts as with some black metal, grindcore, goregrind and even j-pop, synth-pop, 8-bit music.
..also I pure environmental sounds like cars, trains and working stuff or natural soundscapes wind on trees, bird singing, rivers...
In short I can say that I'm a kind of "sound addicted" so I'm always doing sound research.

m[m] Do you run the label all on your own or do you have others helping you?
Fabrizio Yes, I make it all by myself.
I take care about contacts, planning, production and packaging of all of my releases. The only one that was made "with four hands" is [T+023]
Corazzata Valdemone vs. Fukte "Manipulation" where Gabriele (the man behind Corazzata Valdemone) helped me with the packaging.
Obviously there are pros and cons: you make exactly what you want as you thought it, but it can take a lot of time to be done!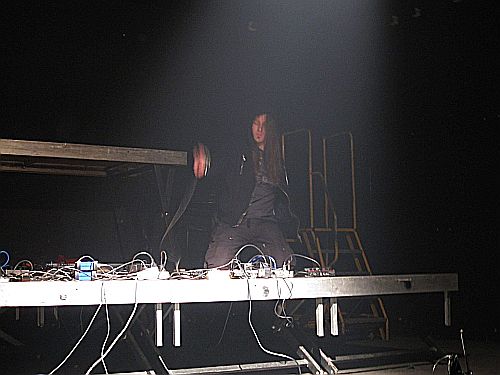 m[m] Name your top five releases on the label thus far & why?
FabrizioThis isn't an easy question, but if I have to choose...
1- [T+017] various "H1N1"
the big box made for the first year of the label, 45 artists on triple cdr with t-shirt, pin, sticker, safety mask, gloves in a luxurious black box. Make the packaging took about 3 months of work, and the compilation gives a very nice look at the underground scene in experimental music.
2- [T+016] Machinamentum Vinctum Tortusve / Voluntary Torture "Murder" cassette split between Latvian and Russian projects, it sound's extremely great and the package fits very well the murder themes of the music.
3- [T+020] Fukte & Orgasm Denial "Disk Failure"
As Greg said "the package of the century". A 3"cdr packaged in an broken hard drive. Also the sound is extreme: a brutal harsh noise attack collaboration between me and Rolf from HK.
4- [T+022] various "Eyjafjallaökull"
The elegant compilation of the never happened HNW fest of Paris, it gives an excerpt of the some of the best "wallers" in the EU.
5- [T+023] Corazzata Valdemone vs. Fukte "Manipulation"
Also here the package shows exactly what you're going to listen, a collaboration based on industrial and harsh noise with power electronics touches. Me and Gabriele worked hard on sound, it took over an year to see the light and I can assure that is one of my best production as Fukte.
m[m] In late October 2010 you organised Europe's first Harsh Noise wall festival- can you tell us a bit about how this came about?
Fabrizio First I didn't manage it alone, but with the help of my friend Taylan (aka Karkastix).
After the delusion for the deleted Paris fest, I decided to give my support to HNW scene by trying to set up a dedicated wall noise gig.I contacted Tay, searched for the location, found the best days for all performers & the "Staring at Wall" was finally planned with:
- Å (FR)
- Dead Body Collection (SR)
- Ecoute La Merde (FR)
- Fragile (IT)
- Fukte (IT)
- Karkastix (TR)
- Indch Libertine (IT)
- Smrznik (BA)
- Stop Asking Stupid Questions (RU)
- Terminal Erection (IT)
- Vomir (FR)

m[m] What attached you to the HNW sound & what was the first HNW release you heard?
Fabrizio My first contact with HNW world was Ptomain, Steffen contacted me asking for a release. Listening to his track I discovered this (for me) was a new approach to noise, a full texture of unchanging harsh noise that if
listened with headphones was like an introspective journey.
After this I traded some releases with Neven of Zvukovina and listened to Smrznik which was the definitively step that made me love HNW.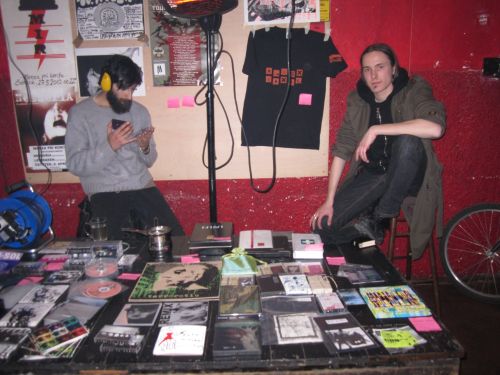 m[m] Why did you decide to choose Venice as the city the HNW fest would take places in?
FabrizioVenice is the most beautiful city in the world, historical and architectural, it inspired lots of famous artists (in the widest meaning). It's also well served by trains and airplane so I asked Taylan (he lives there) to help me finding out a good place to play .
m[m] Do you hope to make this a yearly festival?
Fabrizio I hope, but it depends on the place's owner, so let's we see what will happen in the future.
m[m] How did your project Fukte come about?
Fabrizio My first experiments in noise music dated back to 2004, but I needed about 5 years to find a good sound and setup. I moved from computer-based noise to analogue noise trying and learning during the years.
At the beginning of 2009 I finally reached the good sound (if you don't like yourself how could you propose your tracks to the others?), I chosen the name Fukte and first release I put out was a split tape with Ezcaton on my label.

m[m] How do you think Fukte sound has changed since you started the project? And has your equipment & way of doing things changed over the years?
Fabrizio Yes, in the first period my sound was totally computer generated, and made with many tracks overlapping. Later on I tried a cheap microphone with
feedback on pc speakers, that's was when the input switched from "digital" to "analog" approach. You can transmit better your mood and get better control if you take a lot of pot than click on the mouse.
I actually use the pc for post-production tasks like editing, equalizing and mastering.
For the composition, I like to build new instruments by myself, in last recordings and liveshows I used a DIY antenna and an old pot with guitar pickup, some strings and metal bars as sound sources.
m[m] One of your great recent HNW releases with your Fukte project is Giallo A Venezia which is named after a 1979 giallo film of the same name. What made you pick this film as a subject for the album? And do you plans for anymore film based releases?
Fabrizio Giallo a Venezia is a great film, and I was so impressed with it at that I used some of it's artwork for the upcoming Venice fest. But it wasn't enough, so
a sonic tribute was necessary. HNW with samples from movie was the right way to pay my homage to it.
Yes there is another movie planned release, to be honest the idea started in 2004 with my experiments and until now it's still "under construction". I hope to finish and release it someday, for the moment I can give you a hint: it's based on the whole Friday the 13th saga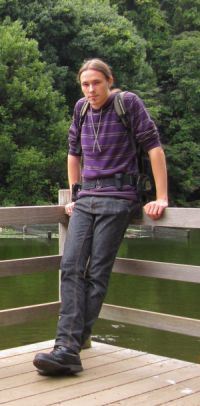 m[m] Your clearly a huge fan of horror and giallo movies - name you 10 favourite movies & explain why they are?
Fabrizio Let's try, but this is only a not-ordered excerpt:
. "Friday the 13th" (from pt.1 to pt.8)
I love them, of course.
.
"Dawn of the Dead" of George A. Romero 1978
the best zombie movie of ever
.
"KZ9 Lager di sterminio" of Bruno Mattei 1977
extreme, trash and politically uncorrect exploitation, anything else
to say?
.
"Cannibal Holocaust" of Ruggero Deodato 1980
extreme, merciless and direct. CH is a masterpiece for every single
frame, change something means change the movie.
.
"Ju-On" of Takashi Shimizu 2003
probably the best mainstreem j-horror of the new millennium
.
"La casa dalle finestre che ridono" of Pupi Avati 1976
absorbing and scaring, also after 25 years
.
"A Tale of Two Sisters" of Ji-woon Kim 2003
Korean masterpiece in psycho-ghost horror
.
"Suspiria" of Dario Argento 1977
great story, great soundtrack, simply great
.
"Giallo a Venezia" of Mario Landi 1979
involving and shot in in the most beautiful city of the world
.
"Nekromantik" of Jörg Buttgereit 1987
sick, rotten and visionary
m[m] On Toxic Industries you've put out several great on HNW releases on your Irritant series this year- what have you got planed next out on this series?
Fabrizio Thanks, I'm pleased you like the Irritant series. For the near future I'll be release material of A Lizard In A Woman's Skin and Sleep Of Ages. After those, Fragile and Vomir will take part
m[m] How does it work with the Irritant series- do you ask people you like to participate or do they approach you? and who does the artwork? any thoughts on doing multiple cdr sets in the Irritant series?
Fabrizio As you know, Irritant series is dedicated to HNW.
To exalt the concept of "staticness", each release comes with same layout and limitation just the picture in the front changes, and the artists can choose it themselves.
There isn't a rule to join in, both request from artists and invitation from me are fine.
About multiple cdr sets, well I like to give opportunity to a large pool of "wallers" so I prefer to have lots of different artists, but I'm not sure what projects that will appear on the series in time, so lets see what will come out in the future.
m[m] 2010 saw you put out two impressive and distinctive ltd HNW editions in the form of Brainkiller( a four c100 tape box that's made to look like medical box) and Eyjafjallajökul( a two cd set that mourned the cancelled Paris HNW that was due to take place in April, but was cancelled due to volcanic ash cloud. the set featured a bag of volcanic ash along with other related items)- have you got any plans for any sets like these?
Fabrizio If you're meaning strictly HNW stuff, just one a collaboration/split between Fukte and Vomir. It will be a 2 cassette box with t-shirt and other stuff, so stay tuned.
And none HNW wise I'm planning a 7/8 cdr box of pure field recordings made in Veneto (my region) with a lots of inserts.

m[m] The field recording box set sounds interesting- can you tell us a bit more about this?- will you alter and layer field recordings for it or will you just present the sound untouched?
Fabrizio It's a concept on the region where I live, Veneto. I want to record soundscapes in some locations and make a cdr for each of the seven province.I need to find both natural and urban area rich of sounds and some typical folk events.The recording will be "pure", just a slight editing for remove the unwanted noises and heighten the main sound, like a "here and now" audio story.The box is meant to come with objects directly from the field, pictures, a flag and maybe something else. It will take a lot time to see the light of day!
Thanks to Fabrizio for his time/efforts with the interview and the great pictures. Toxic Industries website can be found here where you can sample a large range of the labels work & of course see some of great and often quite elaborate releases. Fukte myspace is here and again you can check out the wide ranging sounds of this noise project.
Roger Batty