The Ň & AnarchoFreaksProduction lable interview [2010-11-09]Ň is a the brutal, dark and unforgiving HNW project of Frenchman Gregory Henrion, he also runs the excellent and highly prolific HNW label AnarchoFreaksProduction
(heís put out 15 releases since the label started in June of this year). Greg kindly agreed to give me an email interview.

m[m] What first got you interested in noise as a genre & is there one particular record or track that inspired to start making noise yourself?
Greg My first introduction to noise was Sonic Youth and their early releases. Before that, I just listened some rockíníroll, ríníb ... the Who was the ultimate band for me, I thought that music must be play just with one or two guitars, one bass and one set of drums (Iíve played bass in a few grunge and punk rock bands over the years).

Greg What inspired me to start making noise ? the noise of Merzbow, Massona, Throbbing Gristle and some experimentation by some of my friends.
And Specify for HNW, I read an interview with Romain aka Vomir, and the I began to start make HNW. I donít like the word purity to defined HNW (I hate the word really), but, for me, itís the perfect noise. Certainly because I like a lot of minimalism. First time I listened to some Vomir, I said ďOMG, Lamonte Young fucked Masami Akita and they had got one child named Vomir !!!Ē

m[m] What where the early Sonic youth albums you listened to?
Greg Confusion is sex, Bad moon rising, Sister, Teenage Riot ... were my first meeting with SY ... and they stay their best albums for me, with all the releases theyíve made on Sonic Youth Records.

m[m] You talk about enjoying minimalism- are there any artists or albums you particular like in this field?
Greg Firstly, La Monte Young, all his releases, perhaps with one preference with the Black Record which was the first release I heard of his. I also like ĎThe work on voicesí he did with Marian Zazeela, his 5 hours piece on piano ... There is just one - big - problem with La Monte Young releases : they are too much expensive for me !

GregAnd a lot of artists who revolved around La Monte Young such as Terry Riley or Tony Conrad. I can add Phill Nilbock, Hermann Nitsch (I like a lot viennese actionism with GŁnter Brus, Otto MŁhl ...), Glenn Branca and even Harry Pussy (listen to ĎLetís Build A Pussy, thatís pure minimalism).
But, before listening to minimalism, I saw minimalism. The first time I heard the word minimalism it was about plastic art by the likes of: Frank Stella, Dan Flavin, Carl Andre or Sol Lewitt ...

Less is more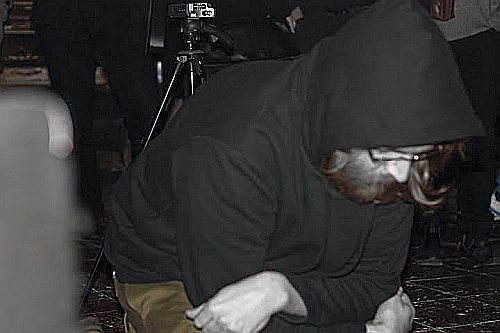 m[m] How did your project Ň come about? What does the projects title mean to you?
Greg Ň came about because of Vomir.
Iím a physics and chemistry teacher in a middle school, and Ň means ŚngstrŲm, unit of length equal to 1 ◊ 10−10 metres, approximately the size of one molecule. And I am also a former anarchist activist, and there is the A of anarchy with the circle on the top of the letter.
As for how it came about see my first answer
m[m] As your a physics and chemistry teacher- have you thought of basing Ďwallsí around themes from these subjects?
Greg I am more a teacher than one physicist, so no !. My interests are politics, modern history, body art, minimalism, midnight movies, comics, abnormality, me ...

m[m] Have you ever attempted to cause chemical reactions and then use the sound of these as a source for Ďwall makingí?
Greg So far no, but Iím thinking about using the sound of wind, water ... Also try to record some change of states of matter (like ice cube melting).
m[m] Has Ň always been HNW based? Also is this your first sonic project?
Greg Ň is one strictly HNW project. No Harsh Noise, just wall.
Itís not really my first noise project, some years ago, I played guitar in an noise guitar band named AFP with two of my friends. A lot of feedback, no guitar chords ...


m[m] Can you tell us a bit more about your noise guitar AFP? Did you put out any releases?
Greg No releases, just a lot of noise with two friends in a sort of squat, we did two gigs (with me total drunk), one recording on the net (http://www.myspace.com/music/7872979/songs/21925927). The others know how to play guitar (chords ...). We made one repetition by a week during some hours in a small room with a lot of decibel and some beers !
That was really cool, and give me again the taste to make some music.


m[m] What kind of equipment do you use to make your Ďwallsí? and how often do you record noise?
Greg Always distortions, octavers and one mixer. My favorites effects are DOD death metal (the holy grail of distortion, Iíve got three!), one DOD meat box and some danelectro effects pedals.
I try a lot of combinations (with sometimes using delay, tremolo ...).
As sound source I use one Sirkut WNG, one SNB and sometimes two microphones or just one jack.
I try to make some walls two or three times by a week, and if I like the sound, I record it ! My set up is always pluged in.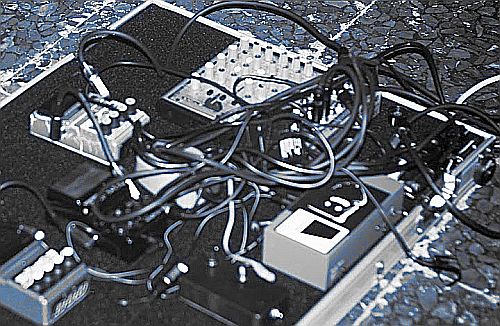 m[m] You seemed to have played live a few times now- whatís you set-up in a live format? Do you have any projections behind you or do you wear a mask or disguise when playing live?
Greg My set up in live is the same set up I use for my recording. Iíve got one (too big) pedal board with my effect-pedals and one mixer.
I wear nothing in particular, just me in prostration in front of my set up. I always make unchanging wall during my gigs, so no movement.
About projections, it could be a good idea to have one picture behind me, but for the moment I havenít the opportunity to make it. And I like to make HNW in a dark atmosphere.

m[m] What do you see as the themes and obsessions behind your walls?
Greg Firstly, I was influenced by some political themes (anarchy of course, nihilism, riot ...). But now, I am more and more influenced by isolation, loneliness, confinement ... and my walls have become more and more dark, heavy, a little bit autistic.
Greg Simply, I believed in the fact that people should understand that the organization of the world smell like shit. And I believed that we could change this, with strike, politics propaganda... Now, I am more desperate, I think that people must like it, otherwise they didn't accept it, the influence of anarcho-individualists from the beginning of 1900 in France. I put back to back the exploited and the boss. So, I was anarchist and now more misanthropist ... and this influences my walls. (but I am always member of one trade union, I always make strike ... because I think it could be good for ME !)

m[m] In June 2010 you set up your own label AnarchoFreaksProduction- what made you decide to use this & whatís the origin of the labels name?
Greg Thatís the name I used for my noise guitar trio. I also used this name because itís a mixture of the words Anarchism, Freaks (I like the freak culture, alcohol or drug abuse, body art ...) and Production. And it also in France, AFP is the main French news agency, Agence France Presse.
m[m] Most of the releases on AnarchoFreaksProduction feature your great monochrome and bleak photographic work- when did you first become interested in photography & do you do any work outside the label with your photographs?
Greg Firstly, thanks for the compliment.
Photography is another of my hobby. I love it when Iíve got one beautiful packaging with an record. So, I try to make the same with releases on my label. And one aspect I like a lot in the HNW scene is DIY, like punk scene in the 80ís ! So I want to make all things I can make : I burn the cdr, make photos, write and print inserts by myself ... itís really important for me to make the maximum I can with my own hands. Iím not a Giallo fanatic (even if I like horror movies), so no blood. As I said, Iím more and more focus on some dark atmosphere, and black & white photos are just perfect for this type of vibes.

m[m] Has your photograph work been used by any other labels than AnarchoFreaksProduction? And if not would you like to do work for other labels?
Greg For the moment, I am the only person who uses my photos for my label. I would be agreement to give some of my pictures to another label, but I think that every label has itís personal artistic politics. For example I like a lot the covers of HNW plague or Masonry records and Iím not sure that my pictures could improve them.
m[m] So far youíve put of out 14 releases on AnarchoFreaksProduction- what have been some of your favorite releases thus far?
Greg My favorite release was the BAVE collection, the french HNW box I made with Vomir, Ecoute la Merde, BŲrdel NoÔr and myself. But, all releases Iíve made are importantant and make me happy !
m[m] Whats next out for Ň & AnarchoFreaksProduction?
Greg Whatís next ... a lot of 3Ľcdr are in preparation : Gigant, The Godless Girl, Katarkis, North Korea, SkŲnhet, Terminal Erection ... very soon one box dedicated to DOD death metal named Death Metal (the only effect pedals used for the tracks are some Death Metal) with W.G.M., Dead Body Collection, me and of course Concrete Threat.
Greg And, I am thinking about release some video-walls too, one mini dvdr with walls and video ... but I must to learn a few things about video before doing this.
Perhaps some vinyl (my favourite release forms, but itís more expensive than cdr), some looped tapes (Ií am puzzled by this format, and itís the perfect format to one long - infinite - unchanging wall)
Greg As for Ň, I prepare one box dedicated to isolation, with some very dark, heavy, black walls. Another is a mini cdr (I like a lot the size, one wall of 20 minutes). Perhaps make some tapes (but I donít think I will make tapes on my own label, there is already alot of very good tapes label around. If somebody wants some walls made by Ň on one of their tapes, ask me, it will be my pleasure !!!).
Greg Perhaps I will make one side project, HNW and/or HN named Divine, where I will use some sextoys to make noise (and a sort of opposite of Audrey Hepburn ... even if I like a lot the work of SkŲnhet, one of my favorite ębricklayersĽ), but for the moment thatís in construction.
Greg And thereís some new gigs coming up. The next will be at T.O.T.E.M. near Nancy in France, the 11 December, with Fukte, Derzroy Adam, Nascita-Ri & Poseidrone, propably William Nurdin - music activist from Nancy and ... Certainly one time on the Vivian (aka ťcoute la merde, noise underground activist from France) house ... I organize (with the help of Vomir) the HNW EURO FEST in Paris during April 2011 at the instants chavirťs (without any volcano eruption, earthquake, tsunami or tornado in Europe I hope).
By way of conclusion, a lot of (too much ?) projects for me as a musician, as a producer, and as gigs organizer.
MAKE SOME NOISE !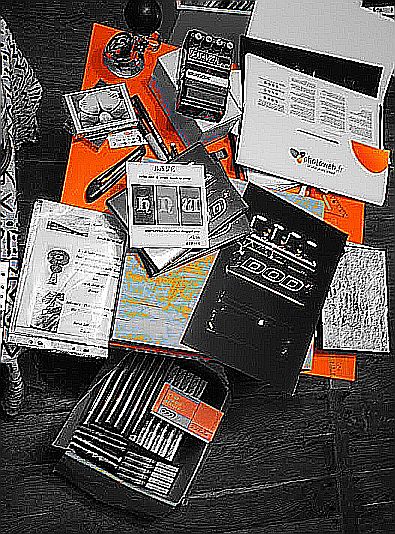 Thanks to Greg for his time and efforts with the interview, & supplying the pictures for the interview. AnarchoFreaksProduction label blog can be found here
Roger Batty