Enigmatic & Brutal Sound Bandits [2010-10-05]The mysterious and secretive Californian based tape label & HNW collective Absence Tapes appeared from seemingly nowhere in early 2010. And since then they've released twenty plus releases from their direct collective, and from the wider HNW scene with releases ands splits from the likes of :Vomir, Foul, Gomeisa, Unearthed, Placenta Lyposuction and others. I managed to track down the two shadowy figures behind the label/ collective, who simple liked to be know as "S" and "J", for an email interview.

m[m] First off I believe there's quite a few of you involved with the label and related projects- who does what & how did you all meet & find your love of all things 'wall' based?

S/J: There are 2 of us that work on the label and four us who perform in XSXCXEXBX. All projects such as Tinibelas, Caustic Barricade, and La isla de las muñecas derive from XSXCXEXBX. We've all known each other for a very
long time, but we mostly met in school.


S/J: We've always like the walls part of other noise tracks. Outisde of Masonna, John Wiese Priest in Shit and early Pedestrian Deposit tracks we had a very lukewarm interest in noise. When we found out people were making noise out of only the wall part we thought it was the best thing ever.


m[m] Why have you decided to be so secretive about yourselves as a collective?


S/J: Within the HNW community we are not so secretive, however to outsiders we prefer to remain anonymous for the sole purpose of removing our selves as artists from the craft we make. It is preferable to remove all credit from the individuals creating a wall from XSXCXEXBX because that is our more depressive/nihilistic project and we believe it is better to not put a person to a wall. Simply a wall to exist as a wall from HNW and from nothing else but a void that is being kept alive by negative thoughts.

m[m] Why did you decide to start the label and what's the origin of the labels
name?
S/J: Absence started out of pure interest to participate in and contribute to HNW. The name is not very important and we did not put any thought into it.
m[m] Over your 20 or so releases your artwork has gone from been quite grim,often horror bound imagery with black metal like texts to the now more 1950's and 60's black & white glamour model pictures and clear/ bolder text
fronts- why do you think this change has happened?
S/J: We don't feel it's necessarily a change, but really more of a phase. We don't intend to stop doing both styles and experimenting with different artworks is part of the fun of having a label. It's also important to us that the art we use to represent this label is relevant to us. The grim theme comes from our background in what we can consider to be black metal and the glamour model/pre-war era actress images are representing our interest in all things vintage. As phases go, we are moving on to nature
themes, true crime, opera singers and witches so expect some of that from the upcoming releases.
m[m] what's been you fastest selling item thus far?
S/J: Vomir 'Refus Inexorable' 2XCS. Though we kind of expected that...It was our largest edition so that anyone who might have been interested could get one.
I think we made 25 of them and only a few of those were traded.
m[m] What's the release you've been most proud of?
S/J: I don't think we've released anything that we didn't go totally ape over. Everything HNW that has been submitted to us has gotten released and the artists that we approach always send us some top notch stuff. When we had a car that had a tape player there wasn't a moment there wasn't a Absence HNW
tape in there at full volume. To us everyone is on the same level and everyone is good for different reasons so we're very proud of the Absence catalogue and encourage everyone to support the artists we've done tapes
for.
m[m] Can you tell us the concept behind each of the following project you connected with, the origin of their names, ect: Tinieblas, XSXCXEXBX,
Caustic Barricade?
S/J: Tinieblas: Mexican Drug war & outlaw spirituality. Purpose of the wall here is to create an empty feeling and going forward is taking a militant
approach to wall making.

S/J: XSXCXEXBX: No true concept, simply walls inspired by lustful and depressive thoughts. Performances are planned out to be energetic and intentionally violent to promote releasing tension through bodily harm. This project is
very important to us because previous to this year we intentionally had little internet communication and were against releasing music. It was to be purely physical and anything to do with the band had to exclude the internet. A concept J.(XSXCXEXBX) still believes in, but has now become irrelevant to this project.

S/J: Caustic Barricade: Obsession and very heavily based on glamour models from pre-war & mid century. Purpose of the walls here are to be extreme and somewhat experimental within self imposed HNW guidelines.

S/J: La isla de las muñecas: Pure static crackling and collecting pretty girls.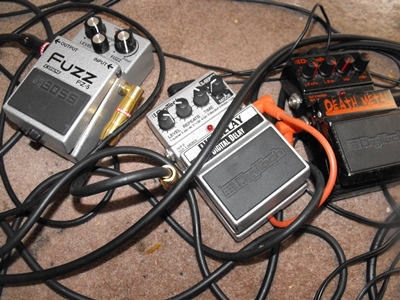 m[m] are there any other projects the collectives involved with?
S/J: S. also has Moribund Tree records and makes harsh noise as Six Mystic Points. J.(XSXCXEXBX) used to make tape collage and noise wall not under any name. Chris and Luis, the other members of XSXCXEXBX, are also musicians and do their own thing not relevant to noise. XSXCXEXBX is the main project of the
collective.
m[m] How often do you make 'walls'?

S/J: As a collective once every month and a half. We get a lot done in that time so a lot of consecutive releases will have a lot of the same feel from that session. Individually, there is a new tinieblas recorded every week, but none of it has been satisfactory enough to release.
m[m] So what's your recording set-up ect? do you all use the same equipment?

S/J: For the most part we each have a collection of very basic pedals: Boss Fuzz, Digitech Digital Delay, DOD Death Metal, Boss Reverb, and a boss loop station. During live sets someone will use some of em with source or through a contact mic and we also use a korg emx-1. However in the past it had been only one person using everything and everyone else fighting each other and the audience.
m[m] A lot of your projects seem to have a very Mexican legend or outlaw based theme to them- where does this interest come from?
S/J: We have used this theme in XSXCXEXBX because all members have some input each time there is a release, but it is mostly a theme expressed in Tinieblas. We are of Mexican descent so the drug war is a topic that is very
present in the latino community. It is not very safe to travel to Mexico anymore and the news has reported that Mexican people are migrating to other countries to escape the drug war. We do not take this to heart because often
times the media exaggerates the situation, but nonetheless the focus of Tinieblas is the outlaw spirituality found in narco culture. La Santisima Muerte, Jesus Malverde, and all sort of magico-religious practice for the purpose of protecting criminal activity is incredibly fascinating and often times reading books on these subjects can be complimented by a good static wall. Tinieblas meditates on the superstitions, legends and deities known to be used by narcos to protect against bullets, to wish ill on an enemy, to protect their business, etc...

S/J: It's gone as far as to where even police learn spells to protect themselves against these religious narcos.

S/J: We don't necessarily come from this background, but unfortunately some of the Mexican American community embraces the outlaw narco culture without understanding it and often times it is depicted as heroic since the typical
robin hood-esque theme exists and sometimes is the primary goal of some of these people. "Now that I am here you will never need anything" is a popular saying in old Mexican western movies about bandits who help the poor and has also been said by people in interviews I've seen in defense of some of the top guys in today's drug war.

S/J: There is also something mysterious about a shrine at a crime scene, dedicating folk songs to a deity...The subject is actually pretty grim and this is the sort of thing we are comfortable around. We understand that not all narco trafficking is religious, and we also acknowledge that the spirituality is separate from criminal activity. This subject is only present in our walls because there is a sense of darkness and we can express that in a static wall.
m[m] Have you played live with any of the projects & if not do you hope to?
S/J: Yes, but in the past three years it has only been a handful of times that we were able to play live. We really REALLY want to play more often, but there's no where to do it.

m[m] Can you tell us a bit about when you've played live and do you disguise yourself when playing live?

S/J: We've only played live a handful of times. Our live set has always been pure violence and loud static. The ideal situation is to be fighting in the dark while loud static plays. We have attempted to play peacefully before but the audience that we did that for was not very impressed with it. All times we organized the shows we were always treated as a low priority by the venues because we played noise so our shows would get double booked or cancelled. When we were able to play it was really great because our sets would go well, people attending actually liked it and since we never played to a HNW audience or even someone who knew what noise was it was really rewarding to see noise isn't as appalling to people as some would tell us. It's been about three years since we have played live and during that time we had no interest in obscuring our identities. Going forward we definitely intend to have some kind of uniform during performances.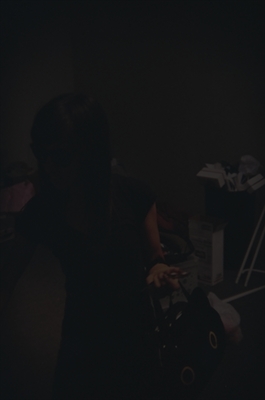 m[m] What's next for the label and the various projects?
S/J: For the label in the immediate future we are releasing the Dead Body Collection 6xCDR Box 'Vaginal Anomalies', Boar 4xCDR box, Fragile 'leaves' CD-r, and Gigant 'letter to the children' CD-r.
A little further down the line Boar/BlankFlags/CausticBarricade 3xCS box, Namazu Dantai Cd-r, and Alo Girl tape on Absence.
And some of the upcoming things have gotten delayed until further notice.

S/J: As for the other projects...
Hopefully someone will start releasing our music. We have some stuff lined up which will be the first things we didn't self release.
White Gimp Mask/Caustic Barricade Split on Breaching Static.

S/J: We had a Caustic Barricade cdr on Bane Records planned, but J.(Foul) had to deal with some personal stuff.
And we have been talking with Stasis HNW about doing a double cassette where each member of XSXCXEXBX gets one side of a tape.
We'll see what happens I guess...but you can always expect new self released stuff from us!!
Thanks to "S" & "J" for their time and effort with the interview and supplying the pictures. There blog can be found here http://absencetapeshnw.blogspot.com/
Roger Batty