Ghoulish 'walls' [2010-08-23]Uneathed is one of the more respected & know British HNW projects to appear in the last year or so. The project very horror themed and ghoulish in itís take on Ďwall makingí, and itís all the work of Brixton based Robert M who also in the more sinister Ďní caustic drone project Corpse Candle. Robert kindly agreed to give M[M] a email interview.

m[m]: What album or track first trigged your interest in noise and made you decided to start making your own noise?
Robert I suppose Einsturzende Neubauten would be the first noise related group that I got into, but I don't think it was one group or track in particular that made me want start making noise, but Masonna- Frequency LSD was the first full on noise record for me. Later on I picked up albums by the likes: Evenings, Hive Mind and Werewolf Jerusalem, and these really got me going.


m[m]:The more harsh noise and sinister caustic drone project Corpse Candle was your first project- how did this come about & where does the name originate from?
Robert Originally Corpse Candle started out as a drone project of sorts, but on most of the recordings I kind of pushed things too far and ended up going harsher than intended, which turned out much better.
The main inspiration for Corpse Candle is the paranormal; the name comes from a term for a death omen. Many of the song titles also refer to the supernatural as well. It's just an interest that in side of things, Iíve always have been


m[m]:You talk about your interest in the supernatural- are there any particular real Ghost stories/tales you like? And have you ever had any supernatural experiences your self?
Robert Well, ever since I can remember Iíve been into creepy stuff, and had just a general interest in the macabre. The paranormal interest probably started after staying at a friends house. They had a piano in the basement that we used to play around with, but one night while sleeping there, we were woken up by piano sounds, no one else was there; we both heard it and we were both on the opposite side of the room, so that was weird.

Robert Later in my teens, I had the same experience several times when coming home late at night. I would see water dripping from the ceiling where the upstairs bathroom was, I could hear the drips hit a wet patch on the carpet, but when I checked, the water stopped and everything was dry. It doesn't sound very creepy, and I paid little attention to it, but years later after moving out, I spoke to my sister and she had the same experience so something strange was going on.


m[m]:When was the last time you were truly scared?
Robert That would be the last time I got mugged. I was on the bus home from work, and I didn't notice that I was one of three people left on, at the next stop about 20 to 25 kids got on. Most of them were wearing masks like the ones cyclist use. One of them turned to me and said " you scared?" I didn't even have time to do say anything, something cracked the back of my head. I ran for the stairs (I was on the top deck) got hit in the head a few more times, got to the driver, asked him to open the doors but he was freaking out and would not listen. Then I was pinned against the wall while I was robbed, then thrown of the bus. Good times.
m[m]:In early 2010 you put out your first release with your purely HNW project Uneathered, in the form of the excellent Self titled release on Zvukovina- why did you decide to form a purely HNW project?
Robert To me HNW is kind of like distilled Harsh Noise, just concentrating on a few chosen frequencies and taking it as far as you can. Once you get into it, it can be incredibly additive and driving. It's like an intrusive form of drone music that forces your attention, rather than spaces you out. I believe you said something to the effect of HNW being the most interesting turn noise has taken, and I would have to agree. I think there are a lot of possibilities in HNW so I started Unearthed to experiment.
So I sent some tracks I was working on to Andreas Brandal, in turn he shared them with Neven and they decided to release them on Zvukovina and that was it really.

m[m]:Your self titled dťbut album with Unearthed has a wonderful balance between shorter and mid-lengthy walls- was this deliberate or did the tracks just come out that way?
Robert Well the tracks just came out that way, when the track sounds done, it's done I don't force anything, but the arrangement was done purposely to give some continuity to the album

m[m]:Can you tell us over what period of time do the tracks on the Unearthed self title come from & how long it took to realize the complete album?
Robert I think it was recorded during September 2009, it took about a week to finish. It's kind of hard to remember because Iíll work on two or three projects at a time, and I don't label or date anything so it gets kind of confusing
m[m]:How often to your record noise? And do you equal split it between your two projects?
Robert I record very erratically, I have a small studio set up and basically I record when I feel like, itís never planned out. I don't intentionally divide the recordings between projects.
m[m]:Do you use different equipment and sound sources when working on each of your projects?
Robert Yes, the gear used for Unearthed is very minimal, usually two or three pedals, contact mic or modified radio and mixer. I don't really deviate from this configuration; it forces me to try different things. With Corpse Candle I use a few different things, but primarily it's delay pedal, microphone, contact mic, shaker box and sometimes a synth of some kind and a few distortion pedals

m[m]:Your Blog mentions another project called Ghoul - can you tell us a bit more about this & when you expect to releases some stuff under this name?
Robert Ghoul started as a HNW project; I intended to use sound sources from old movies and records. But it ended up being more HN oriented in the end. I don't think Iíll be pursuing this project any more, though there are a few recordings to be released on various labels, I think thereís a split on Foredoom with Vasco Alves should be out soon.
m[m]: You where due to play the sadly aborted first European HNW fest that was due to take place in April of this year in Paris- had you decided what set-up you where going have & do you wear masks or faces coverings like many HNW acts?
Robert Yeah, I was really looking forward to the HNW fest. It would have been great to meet up with everyone there like a HNW convention. I really hope it will happen someday. My set up was going to be a Little Big Muff, a Death Metal and a radio. No, I don't wear masks.
m[m]:Have you got any gigs planed for either Uneathered or Corpse Candle?
Robert No, not really. I've tried to organise a few things, but there seems to be a curse going around, every time Iím to play a gig something happens.

m[m]:Your clearly a huge horror fan- what are ten of your favourite films & why?
Robert This is a tough question, my top ten always changes. for today Iíll say:
1 The Evil Dead
2 Alien
3 The Exorcist
4 Night of The Living Dead
5 C.H.U.D
6 Xtro
7 The Thing
8 The Fog
9 The Prince of Darkness
10 Frankenstein
Robert There chosen mostly due to the atmosphere of these films, it really depends what mood Iím in, somedays it's 80's straight to video slashes some days it's the living dead. I tend to like a lot of really awful horror movies and trash cinema in general.
m[m]:Are there any horror movies youíd like to re-soundtrack?
Robert Yes, Evil Dead comes to mind first, also the original Frankenstein that would definitely be an interesting project. I would love to redo the sound for a lot of fifty's movie like Them and Earth vs The Flying Saucer as well.

m[m]:Still on the horror subject- do you enjoy horror novels, games or comics- if so which?
Robert Well for novels: Frankenstein-Mary Shelly, I Am Legend-Richard Matheson(awful movie), anything by H.P. Lovecraft. As well as loads of books on the paranormal and the occult. And comics are a huge influence on me, stuff like: Eerie, Black Magic and Tales from the Grave, again any trashy horror comic that I grew up with.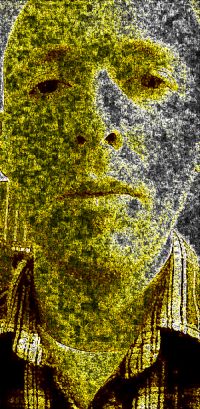 m[m]:What have you got lined up release wise next?
Robert Well, there should be a few Ghoul recordings, an Unearthed track on the Absence Tapes 8-way split, a Baculum/Corpse Candle split Iím putting together at the moment with to more releases on my new label Spider Tapes, and a new project Iím working on called Frozen Scream with my friend Ben Bruce and possibly another collaboration on it's way soon.

m[m]:Why did you decide to start Spider Tapeís? And what can we expect from the label- is it just HNW?
Robert I started Spider Tapes as a way to release my own noise, as well as other projects that i like and combine it with my comic book obsession. I was also inspired by Phage Tapes. I really like what Sam is doing, and they way he runs his label. For now the releases will be cassette only, but Iím also looking into doing 45"s as well, we'll see. The label won't be strictly HNW but there will be a lot of walls

m[m]:Can you tell us a bit more about your new project Frozen Scream? And I take itís named after the ex-video nasty of the same name?
Robert Yes the project is named after that film, Ben came up with the name. The project just sort of happened, we have played music together for years usually noisy hardcore, like a mix between early Butthole Surfers and Flipper. I've damaged my hand and wrist, so I can't really play drums anymore, (probably another reason why I started doing Corpse Candle) So Ben came over to try out some harsh noise, the results were promising so we decided to make it a project.

Thanks to Robert for doing the interview & supplying the pictures too. Robert's blog can be found here & it covers all three of his projects.
Roger Batty