Eyes Behind The Wall Festival report [2010-08-19]The EYES BEHIND THE WALL festival of Harsh Noise Wall music occurred on August 13th and 14th in Houston, Texas. Occurring in a warehouse named Super Happy Fun Land, the burning heat of the Texas summer was felt in abundance, accompanying the Harsh Walls of Noise with harsh walls of dry and assaulting heat.

The first evening began around 7:30 PM with LOTUS BAZOOKA, an artist from New Jersey who prefaced his set with the promise of a genuine miracle to anyone who viewed at least roughly 82% of his performance. Now I did watch his set, and a miracle indeed occurred in the fact that LOTUS BAZOOKA and practically every other artist who performed on both nights shredded the ears and minds of the audience with almost no exception. Very studied and powerful introduction to the festival from this gentleman, it was a great set that really kicked things off with a bang. I had met him the night before and found him to be a very humorous and good-natured fellow, but the wall that he presented the audience with his electronics was as loud and brutal as you would want. SCREAMIN' FETUS, the next act, is a Texas local who collaborated with STRESS under the name POISON APPLE. He presented vicious static walls with an organic and emotional undercurrent while looking directly out at the crowd with an intense gaze. Gentle and at the same time powerfully cascading wall noise from SCREAMIN' FETUS. Definitely looking forward to hearing and seeing future work from this gentleman's compellingly loud walls.

The next performer was BIOLOGICAL GIRL, an amazingly subtle and conceptual artist who is perhaps better known under the name HIERCHISS. She is (of recent incident) my bandmate in the Industrial HNW project SLAUGHTER-FETUS, and as I have gotten to know her I have found her to be phenomenally understated in her powerful intuition and also to be a prodigious wizard of electronics. I did not know what to expect from the BIOLOGICAL GIRL project exactly, but when I saw her walking around before her set wearing an indescribable ensemble that made her to appear as an extra-terrestrial china doll with a harlequin mask for a face I was not surprised one bit but certainly ready for something special. Using a turntable, a keyboard, and electronics she presented a beautifully flowing and creeping wall displaying a deep understanding of the power of fear, alienation, beauty, and the unknown. Wonderful set from this amazing and talented artist, who in her spare time constructs an impressive selection of handmade contact microphones and other electronic devices that she both uses in her music and provides for others to purchase.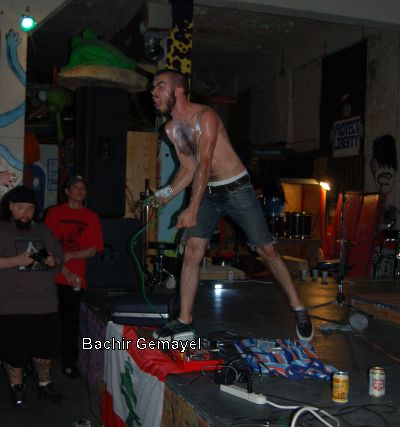 INSURGENT from Chicago completely changed the mood of the room with an intensely dedicated performance that seemed to be the culmination of his aesthetically devastating and powerful triple cassette release "A Call To Arms" on the Harsh Fucked For Life label of Sweden. Mixing recordings of Muslim prayer (which is typically sung) with Islamic speeches into a brew of silence, between station static, and completely crushing blasts of pure Industrial-strength HNW. The emotional and sincere dedication to the exploration of terror calling in from the caves, the blistering pilgrimage through a desert of passionate hatred. Fear and devotion to Allah spread the most intense urges, blending human desire for salvation and destruction in to a viciously explosive ideology. The project INSURGENT is an intense exploration of these ideas, and displays to Western minds the truth of an ideology that grows in power throughout the world as you read this. INSURGENT tells the true story of the militant networking ideology that defines the lives of many throughout the planet, but at the same time shows a deep sympathy for the humans, their hopes and dreams. INSURGENT expresses chaos and destruction in the same manner that many do with violent terrorist frenzy of terrorism. This set was an experimental epic that certainly did justice to the amazing and intricate recordings that this man has made with this project. Deadly.
Next was BAST, another band-mate of mine as well as someone of which I am a huge fan. My breath was taken away by her deeply powerful and exquisite performance, and although we live and record together on a regular basis, I was not prepared for how deeply moved I was by the power that the pure HNW that she produced incurred within my heart and soul. I will say no more as the sound and power of BAST speaks for itself in ways that are unknowable. FATALE was next, and she played on the stage and presented a very vixen-like approach to HNW performance, complete with alluring dedication to a quarter-inch jack that she treated like particularly delicious candy. Definitely a set extolling the virtues and powers of human sexuality, FATALE easily hypnotized many in the transfixed audience.
Next, it was me, VARGRWULF. I did my best to disturb with my most invasive walls of found sound and already existing source material of mine processed to garbage-level, and eventually I became turkey or even ham. Then the wolf arrived and ate it all up. TASKMASTER followed with a brutally destructive volley of powerful and controlled noise that was completely mesmerizing. Extremely meticulous and showing immense power of focus. Very glad that this artist traveled so far and played such a fantastic set. BEING was next, an artist with a sound of immense power and beauty that cannot be denied. A sensitive soul delivers soul-shattering messages and diatribes through a use of wall mechanics. A gentle and powerful spirit delivers benevolent walls through the immense glory of sound. Treading the line between emotional and desolate, powerful and contemplative noise. ASCITES. ASCITES. ASCITES. Sadly, Randa (the miniature terror who impressed me immensely with her superhuman womanhandling of a table that in my memory was larger than her circa their performance last spring at NO SILENCE NO SLEEP) was not present, but champions of complete destruction and musical annihilation Nathan Golub (the hardest working man in Dallas), Alex FIGHT TRANNYS, and making a special appearance taking Randa's spot, Thomas Mortigan (another maniac) presented a steel cage match rivaling the classic fights of Rowdy Roddy Piper. Although some claim that the set was six minutes long, my guess would be somewhere closer to the 3-4 minute range. Video footage will solve this dilemma. Brutal and loud, just it needs to be. I would describe the aesthetic of ASCITES to be somewhat similar in spirit to SLAUGHTER-FETUS, industrial harsh noise wall.
BONDAGE IS THE FUTURE is a fellow named Mike presenting HNW in a meditative and considered manner. Very metaphysical and highly controlled set from this individual, lifting the mind and experience to another plane. The experiences of pain and torture hopefully give way to a future of understanding and appreciation for other people's struggle through existence, all suffer, all feel desire and pain. LAST RAPE is Richard Ramirez and Sean Matzus from BLACK LEATHER JESUS. HNW heaven was achieved in this set, and Richard Ramirez's performance was an intensely anticipated event that devastated in a crucial and unrelenting manner. Sean Matzus is one of the the most professional people in the world of American HNW. He completely has his shit together in a way that mystifies a chaotic and evil individual such as myself. Watching these two perform together was definitely a lesson in control, discipline, and power exertion for an appreciative audience.
Who could ever forget their LAST RAPE? And of course SKONHET (aka MISSING GIRLS and the proprietor of the amazing HARSH FUCKED FOR LIFE label) closed the first night with a completely necessary work of pure sound. I lay my head against the Super Happy Fun Land P.A. speakers to listen to the beautiful sound made by Karl dedicated to the great beauty and wonderful human being Audrey Hepburn. SKONHET is the absolute definition of HNW, beauty and dedication to craft. Karl's presence throughout the fest was a necessary component of the entire event and the new releases that he had available from HFFL are truly incredible. Complete and pure sonic devastation. Excellent close to an historic and sure-to-be-legendary evening of HARSH NOISE WALL music.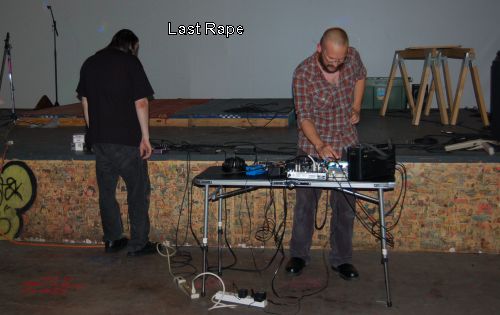 Day Two continued the momentum with an excellent array of artists both new to me and old comrades. WHITE GIMP MASK from Houston performed an dissolving set of pure walls mostly with his back to the audience. His performance was committed and excellent, it was very good to see a new and upcoming artist from this hotbed of activity. RUSALKA's set followed as I was loading equipment into the SHFL storage room, and let me tell you that the stories of her power are not exaggerated. Her set was complete and total punishment, and the physical experience of it was somewhat akin to being inside a hanger while several planes are lifting off. RUSALKA could be felt throughout the entire building. I was so happy to have discovered this amazing artist at this festival, as her performance was completely unreal in sound and brutality. A confident and powerful woman presenting music that feels like it is shaking the foundation of the building. There is no way you can go wrong with RUSALKA... I wish that I had a chance to speak to her before the festival ended! I must admit I was shy in admiration. FATALE next became the only artist of the festival to perform twice during the scheduled event. She was followed by FIGHT TRANNYS (aka Alex from ASCITES) performed a somewhat brief set while enjoying some beef jerky. Although I missed it in person, I was informed by a reliable source that it was very fun and surreal. I highly enjoy his work with ASCITES and look forward to more FIGHT TRANNYS.
OBLIVE was next, who is a gentleman named Jeff from the mid-western United States who just had the excellent "Falsehoods" cassette released on Karl's HARSH FUCKED FOR LIFE label. Very awesome live walls, just pure strong-minded electronics washing through the body and mind. All of self emptied out and turned around into wall of flowing energy. Highly recommended and powerful artist with professionalism and control of noise, and his set was perfect and exceeded expectations. PARANOID TIME is an excellent and brutal old-school noise artist who literally utilizes heavy weaponry during his music, as he was literally waving around a cannon and using it to make noise??? Complete madness and insanity from a refreshingly sick individual, this is another artist that I would like to picked up some recordings from... A powerful set by PARANOID TIME that was one of the brutal highlights of the night in terms of total mania.
SUNCARCASS was an eagerly anticipated performer on my part, and he was one of the only artists to have his own amplification system with him. After several minutes of setup, VAL's set became a riptide of destructive force that could be immediately felt in the heart upon impact. Steamroller-like and confident, VAL seemed to take the sounds into a cosmically-channeled visit to the astral plane. This was an excellent compliment to the next artist, RACK, who performed with his back entirely to the audience as he faced his amplifier and absorbed the pure sound coming from within. Both SUNCARCASS and RACK presented sets of HNW with a strong doom sensibility and together flowed like an ocean of pain and transformation through transgression.
Next, Sean Matzus (LAST RAPE, IN THE LAND OF ARCHERS, BLACK LEATHER JESUS) delivered a completely warped vortex of noise as THE WHITEHORSE. Utilizing a MOOG and much of the equipment from the previous night's LAST RAPE performance (except for his awesome giant radio that he also uses in BLACK LEATHER JESUS and LR), Sean expertly delivered a powerful spiraling harsh wall somewhat akin to sounds of intergalactic communication. Blending harsh minimalism with a strong futuristic bent, THE WHITEHORSE shows a seasoned veteran of electronic music at the top of his game presenting a unique and powerful display of sound. Non-aggressive and even zen-like in his performance, Sean evokes total peace and calm amidst insanity with full and powerful walls of undeniable sound. CHURNER performed next and did an excellent job of bringing his crunching and flowing walls into the live format. I was surprised to find out that this was his first-ever solo performance under the name CHURNER, and the hard work and dedication to craft was apparent in his music. This artist has been acclaimed highly on this website for his powerful releases, and the live application of this certainly did not disappoint.

Powerful loud electronic HNW. PAINFUL VIGIL was truly something to see, the crucial Houston duo of Carol (ZAHAVA) and Austin (CONCRETE VIOLIN) performing something of a memorial ceremony of HNW for Harvey Pekar and Dennis Hopper. Dressed for a funeral and holding their hands in the prayer position, crushing walls were delivered in between Austin's preaching and memorializing. Although this in and of itself was very humorous, the actual sound of the duo was incredibly solid and powerful, and the format of the set allowed them to present several different walls within the context of one set in an extremely ingenious manner. Awesome appearance from these necessary and vital Houston noise artists. I managed to score some killer releases from these guys that are highly recommended, especially the "Painful Memories" cassette. Awesome duo, incredibly fun and thoughtful performance that was quite thrilling.

I was extremely excited to see and hear the next artist, TISSA MAWARTYASSARI, who has returned to us in the form of co-founding member Monica Chavarria in an intense and dedicated solo performance. A loud buzzing rumble displayed total concentration and and electrified manifestation of human soul. As everyone knows by now, the true meaning of life is the removal of all barriers between a person and his or her connection to the immortal essence of beauty and truth, what some might call the human soul. This cannot be achieved while distracted by vicious rats of the ego that tear apart the best intentions of every woman or man. I was completely moved by the experience and certainly humbled to have to go on after such a beautiful and sincere expression of pure sound. SLAUGHTER-FETUS was next. I did not get to watch it myself, so I will quote someone who did: "I selected to film this performance and did not regret it. Two members, Joseph and Vanessa, switched clothing. It was pretty humorous seeing a pretty girl in guys clothes but that was nothing compared to Joseph. He is a scruffy, bearded dude and he looked bizarre in the tight, low-cut, girl's shirt and long, flowing skirt. The other two members, who joined the band shortly before the gig, Leann Rogers (HIERCHISS) and Thomas Mortigan (RU-486/LINDA LOVELACE/DESTRUCTIVE INDUSTRIES) were quite intense also. The sounds began with a sample. A strange sample with a girl talking about morning sickness and pregnant craving looped in a strange way to make a very bizarre intro. It soon exploded into some really intense harsh noise. The artists performed in a small room off of the main room at Super Happy Fun Land but the performance quickly spilled (literally) into the main venue. It was a hurricane of fists, chains, sheet metal, and even an old bass drum. I remember thinking how glad I was that I was on top of a piano filming and out of the cross-fire." Thank you to Super Happy Fun Land (and especially Zappa) for not only allowing but encouraging the annihilation of a bass drum that they were so kind to provide... and thanks to the kind people of Houston in general for not banning us on general principle for being maniacal reprobates.
GODLESS GIRL was next, featuring Nate and Randa from ASCITES providing tense and monolithic HNW sound and a very intense performance aspect. A married couple, the duo acted out a bondage scenario with much of their clothes removed as pulsating and destructive walls cascaded throughout the venue. These young lovebirds are not bad to look at to say the least, and all eyes were on the intimate scenario presented before a rapt audience. Musically these guys present some of the most solid and powerful HNW that I have heard, as can be evidenced by their recent split with VOMIR. Towards the end, Nathan (a surgical assistant with worldwide experience) delivered the finale as he checked Randa's pulse with a life/death determining medical device that was amplified and put through effects so as to be devastatingly loud. Sonically devastating and visually very striking, doubtfully anyone who witnessed this one will forget it any time soon.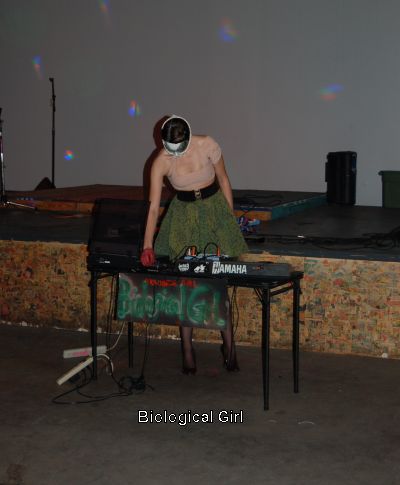 Mack from INSURGENT closed out the second night with an epically precise performance by his main wall project BACHIR GEMAYEL. Profusely sweating and filled with anger and emotion, BG is a one-man wall armada, slinging several ammunition shells around in a tray and creating a spastically schizophrenic series of walls that pummel and destroy in what resembles a power violence or thrash approach to HNW. Extremely sincere in conception and performance, Mack embodies the dedication and honesty that HNW represents through annihilation of ego. After his set, it was pretty hard to believe that everything was over, because it was such an incredible weekend full of amazing artists it seemed like an endless well of inspiration and expression was being tapped. This event was an amazing culmination of festival founder and curator Richard Ramirez's work in the HNW genre as well as the enormous support that he gives to hard-working new artists. I cannot imagine anything else that I would have rather done this past weekend, and it was truly an honor to have anything to do with this event.

All text by VARGRWULF except the review of SLAUGHTER-FETUS set which was by Rob from Exterminate the Brutes. All pictures where taken by Karl . T of Skönhet, Självhat , Missing Girls and HarshFuckedForLife tapes.....