Trapped in Folding Spaces [2010-06-07]Just when you thought music could not possibly get gloomier, here come Cages. Just last year they released Folding Space through Cold Spring, and it proved to be the darkest and most beautifully haunting record this side of the 00s. As Nola and David got so comfortably uncomfortably under MusiqueMachine's skin, we couldn't help but wonder obsessively about the illustrious duo. Thankfully, they kindly agreed to let us peek into their minds for a bit.

m[m] Firstly Folding Space, your most recent album. It's an incredibly dense and intense record - can you tell us something about how it came about? Was recording it as intense as the music sounds?
Nola: Folding Space was a collection of songs Dave and I had been working on for just a few years on and off and on our own or together. In order to record this record Dave had traveled from Milwaukee WI to Buffalo NY, where I was living and where the studio was. At the time I was living in a farm house in the country and the studio was about 30 miles away on the other side of town in another rural area in a barn. We dealt with everything from technical problems, computer problems, money problems, to the extreme weather conditions, blizzards and we both kept on getting sick.
The recording was truly one of the most punishing, clouded times I have ever been through. By the end it felt like I was a mangled body on a bloody battlefield but in the best way.
David: In addition to that, the studio we had booked time with canceled on us at the last minute. After some scrambling we were very fortunate to get directed towards Harvest Sum studios. We had an incredible engineer at the helm, Mark Nosowicz, who was instrumental in getting the record to sound the way it does. There was a lot of stress and tumult in our lives and I think it came across in the performances.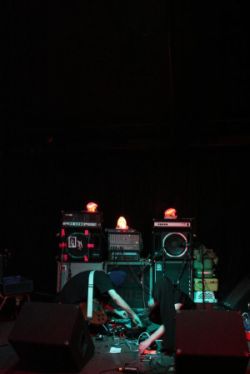 m[m] How has Folding Space been received so far? Have you been keeping check of reviews?
N: It is hard to tell how Folding Space is being received because a portion on the reviews are in other languages I do not speak. For the most part it seems that people generally think it is interesting. People have expectations since it was released on Cold Spring, then once listening it is different from what they expected, but still they can not define it. In reference to the Bjork comparison, although I admire her it was not my intent to emulate her.
D: I am very thankful that anyone would take the time to listen to it. It seems to have been received fairly well so far.

m[m] And how about Cages itself; how did it take off and develop? It seems to have started out as Nola's solo project but it seems rather fluid, too; Folding Space stands primarily as a collaboration with David Bailey, but tons of other musicians are also listed on your website. Who is the core of Cages?
N: Cages began in 2004 when I started focusing on making my own music by myself. It was based on ideas I had had for years prior to it all coming together and creating sounds. Dave became a part of it when I was playing a show and needed some help because I was not able to play everything the way I had envisioned it on my own. Dave and I had one practice together and I was clear to me that he more than completely understood what I had set out to do. On top of that he had showed me some things he had been working on and it was obvious and glorious that everything matched up with my concepts and direction. But mostly I felt like I had meet my musical counterpart. When I started making solo music I did not want to simply go by my name because there was a message behind what I was doing and a concept so I chose to call it Cages. Other musicians have been involved for certain shows or songs that have enriched the music and we were honored to work with all the people that have been involved. Cages is Dave and I but its not set in stone who was or will be involved in the past or future for live shows or in the studio.

m[m] The vocals on Folding Space are easily the most prominent instrument. They're incredible, if you ask me; Nola, have you had any formal training as a vocalist? And how did you/your career develop as a vocalist?
N: Thanks I have never had any formal training. I think it shows, to some in a bad way and to some it is the whole point. I started off with music playing the viola, then onto the guitar, then I began singing when I was a teenager and found a voice in me. I had also been writing intensely since I was in 2nd grade and finally found a way to use my words with my voice. I started off singing in a more traditional manner but as I was never able to conform to verse chorus verse chorus or sometimes even forming a word because it is about using the voice as the instrument. At times people I was working with musically when I was younger seemed to find that difficult or confusing. But I seemed to find that great !. It was a natural step to completely expand my voice and harness it, as my instrument of freedom. I find it my goal to use my body as my instrument in every sense. It is about not having to pick up an object to channel yourself through, because you are the sound and don't need anything but yourself. I have a lot to learn and a long way to go though.

m[m] Besides the prominent vocals, there's a lot of lovely (well, haunting and eerie, rather!) musical backdrop that's coherently diverse, too, I must say. Is this mostly David's doing? David (and Nola, too?), what kind of instruments do you use, besides guitar and piano?
N:I believe our music is 50/50 for the most part. I do not have certain abilities like Dave has but that is why I work with him. Other instruments I have played in the band have been guitar, auto-harp, piano, manipulating tapes ,working with other homemade instruments, building loops and field recordings. Also of course vocals// lyrics. Everyday you look at an object and realize its sound potential so the possibilities are never ending. I don't consider myself confined to one instrument and want to use anything we feel makes sense. We are not so focused on what the actual instrument of choice is, kind of like seeing the forest and not the trees.
D: It is different for every song. There are times when one of us has an entire song written, or times when someone just has a part. Then, we may rewrite or rearrange pieces until something is agreed upon. I stick mostly to the music, Nola writes all the lyrics and vocal melodies. Regarding instruments, mainly I just attempt to make the guitar not sound like a guitar as much as possible. For the new recordings we have been working with a wider array of instruments.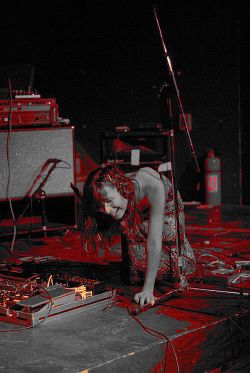 m[m] What is your musical background outside of Cages? What musical scene do you come from? Did you play in other bands or projects before, or do you still? Nola, you were in Elad Love Affair the departure from their emocore sound to Cages seems huge.
N: I have never had much interest in paying attention to genres. I have always felt on the borders of scenes, I never fit wherever I am, that is why what Dave and I create now is very significant to who I am and where I come from. I have always felt out of place or on the outskirts or I have always simply felt alone on my own plain. I have always been obsessed with music and it has always been a huge part of my life. The list is too big to say but I always go back to the classics but I keep discovering more music, exciting and overwhelming .
My departure seemed like the most natural definitive thing I have ever done in my life. I am however grateful for all the experiences and relationships I shared in that project. Ha, I've never heard it described as emocore before. I have carried the core of Cages with me my whole life and it was finally perfect timing to take it on. I had a collection of tapes and field recordings from when I was little and found ways to apply my entire human experience to something all on my own at first. I felt free to do whatever I wanted. It was liberating. Mostly I simply wanted to realize myself through making music that didn't have to be labeled or pigeon holed.
Aside from Cages I have a project with Buffalo NY based musician,saxophonist Steve Baczkowski. We have a duo together Baczkowski/Ranallo, for the past few years. Working with Steve has greatly helped me and influenced my understanding of music all together. There is however no set tunes or structured songs or lyrics by any means, its very free.
I usually like to have a few irons in the fire, including writing on my own and always exploring new ideas.
D: I came from playing in Punk/Hardcore bands, and still do. Recently, I have had the pleasure of performing with other musicians from Milwaukee, mostly assisting in live settings. Outside of Cages, I have been focusing on the Sound Cartography volumes ( a collaborative series of LPs featuring myself and other musicians), and possibly a solo record at some point

m[m] What are the main musical influences in Cages, or musical inspirations in general? What else do you listen to?
N: To me there isn't any main musical influences in the band that totally powers us. The people who inspire me the most seem to be the people I work with. I am not a list freak.
D: I am just trying to recreate the feeling that certain records have had on me. It is hard to describe, but there is a profound moment when you stumble onto something unlike you have ever experienced. I am not saying that we have accomplished this, but it is integral to the work being done. There are a handful of records that have stood the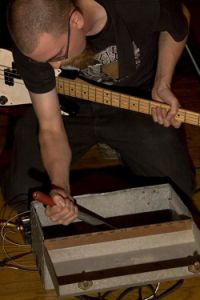 test of time and those are the ones I usually keep going back to, but it would be far too difficult to pick favorites.
m[m] Outside of musical influences, are there any other things that inspire Cages music? Musically and lyrically, it's a brooding if not grim affair. Where do you draw the inspiration for the lyrics?
N: Inspiration for the lyrics encompass the universe as I know it and don't know it at all. They lyrics can be derived from very personal individual issues to issues on a mass broader level of what is going on in the world today and what is not going on in this world. Influence also comes from the most basic of riddles like birth or death and the random of being in between these states. It can be very thought out or an outpouring of words, focused or blurry.

m[m] Your live shows are supposed to be rather unique affairs; virtually every comment I've read on them describes them as brilliant, using any number of synonyms. Do you perform very often, and where have you performed outside of the US?
N: The energy of playing live hopefully is felt by the on lookers, whether they like or despise. Live is a release of it all, which for us the release becomes quite obvious in the collective energy. We do not play so often where its on the regular. We are making some changes this year and will be more focused on the band. We have not played outside the US yet but that is for sure a big hope to get there.
D: It is hard to determine if the show goes as planned for the most part. We have always looked at each show as its own little world and try to write a set that would represent it accordingly. Sometimes this means restructuring a certain song either by arrangement or by how it is played (electric, acoustic, etc). There is a focus on presenting this work and trying to reach a very specific level of communication. Trying to balance the logistics of performing these songs with actually presenting these songs, because we are following a script of sorts, it can be tempting to give in to a sound/ part and in turn blow the next cue. We are very serious about these sets, and it can easily become dangerous when entering into this level of vulnerability. If anything, the live shows are very important to us and we are just trying to improve upon how we can present our music. We have not performed live that much, although we toured the midwest twice, but we will be stepping up operations this coming year. Hopefully next summer we will be able to go overseas and play some shows.

m[m] What work do you do outside of your music, and does it reflect upon the music you make, do you think?
N: Everything about being alive is beneficial to the music. Even if I am not playing music I feel like I am playing music, and it is going to be released through the music, it all makes sense essentially and goes hand in hand. I tend to find that whatever I do does involve overall creativity because that is how my brain thrives. We really enjoy pasta and Boy the Cat, and being sloths when we have the chance to.
D: Having to work at a job which is creatively bankrupt definitely can have an effect on making music, for better or worse. Sometimes that frustration can be applied to fuel productivity or, more often than not, it can just cripple everything. Coming home after a miserable day and picking up the guitar has led to many "happy accidents" for sure.
m[m] Folding Space was released through Cold Spring, not the smallest of players-how did you end up on this label?
N: Simply sending away a demo in the mail. Luck. Someone giving it a chance.
D: I felt victim to a hoax when I read the initial email from Justin. The whole thing is unreal. We had sent out a demo cd on a whim and a few years later he wrote saying he wanted to release it. These things aren't really supposed to happen, right? Justin & Cold Spring have been so kind towards us and we are truly honored and grateful to work with him and the label.
m[m] What else does Cages have in store for us in the future?
N: An overall goal to create a sound that is pioneered and driven by our individual need and fascination to keep making music together, following the music where it has taken us. We know that the unknown on the other-side is worth it.
D: We will be doing a Midwest US tour this summer, "Eating Diamonds & Mining Bones", then once we return we will continue to work on new material. Presently, we are working on three new LPs. One is all new duo material (with some guests), another is a quartet with Steve Baczkowski & Ravi Padmanabha, and the third is a large ensemble piece. In addition to that we will continue the live tape series. Next year will bring more touring in the states and hopefully some shows overseas. Thank you very much for your interest in doing an interview with us!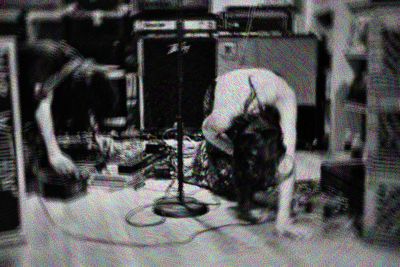 Thanks a whole lot to Nola and David as well! For anyone who still has not checked out this amazing band or their beautiful album Folding Space and by now feels compelled to, visit their website here or order Folding Space directly from Cold Spring here. The picture credits are thus: picture one Jesse Mantyh, picture two Craig Blizzard, picture three Joe Valenti, picture four David Hassell, picture five Jesse Mantyh. Lastly thanks to justin for making the interview possible
Sven Klippel