Nastily Creative [2010-03-26]Churner is one of the most creative, innovative & rewarding Harsh noise acts in existence today . The project is centred around USA based Dan E who also runs the excellent noise label Violent Noise Atrocities. Dan kindly agreed to give me an interview via email.

m[m]Tell us a bit about how & why Churner came about? And were did the name come from?
Dan I had been working on an ambient project since 2004 called Dravorium, and I was actually pushing into noise territory with some of the stuff I was doing. My buddy Thomas (Destructive Industries) had been trying
to get me into noise for a few years, but I didn't really care for it.October 2007...he sends me a text message saying Grunt (Miko Aspa) is going to be doing a show in Boston that weekend, i am a giant fan of his blackmetal work, so I immediately said "let's go". That weekend changed my life 100%...noise and power electronics made perfect sense
to me now. Also a shopping spree at Hospital Productions helped as well. As for the name...I have to give credit to Thomas for that...I liked it and it stuck.


m[m]With all your Churner work you always seem very keen to stretch & explore noise genre, often adding in touches and elements not strictly noise bound i.e. black metal & general guitar drone textures, rough turntablism, more atmospheric & cinematic moments etc.. Are you always actively wanting to push the genre's envelope or does it happen more naturally & unintentionally?
Dan Well...I have been a drummer for 30 years...so without trying, I tend to structure what I do a lot of the time, and I honestly have no clue what I am going to record until I start. The mood I am in determines what I end up using for the session...and I basically create what I want to hear. I normally go for getting as heavy and violent of a
sound as I can most of the time. Sometimes it goes straight to disc....sometimes I may layer 4-6 30 minute sessions on top of each other before going to disc.

m[m]on the same subject as above question- is there anything you'd liketo try genre or mood wise next?
Dan Oh I am always scheming up something different...noise-wise I don't
think I have scratched the surface much with some of the stuff I would like to do. I really don't care to do something that will be just like everyone else...I know I am not doing anything innovative...but I try to create something in my own style and hopefully not sound to much like someone else. Anything is fair game as far as being an "instrument" is concerned; spikes and chalkboards are a big favourite
at the moment.

m[m]You talk about using new items to make noise with, but what's been the most problematic item you've tried to make noise with? Dan Styrofoam, it sounded great rubbing it together, but to get the friction I needed to get the sound I wanted required me using a lot of pressure....which caused it to pretty much fall apart...also finding a cheap chalkboard that the surface will not come off so quick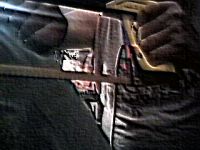 m[m]Talking about your drumming- how did you first get interested in this & what type of bands have you played drums in & do you still play drums now in bands?
Dan My father was a drummer when he was younger, so that is what I wanted to do from a young age...guess I was really doing noise when I was a kid if you were to ask him about all the beating and banging I did on furniture and boxes. I started playing in cover bands at age 16...mostly with people who were more interested in getting drunk and
laid instead of making music. Octagon was, and still is the onlyserious metal band I have ever been a part of. I did do a long distance recording stint with an Indiana bm band called Moon Ar, which was great, but it was tough because of my work schedule at the time.
As for now...I am still officially a member of Octagon, although I am not currently working with Mortigan on anything, he has a local drummer where he lives, eventually we will be drawn back together for another album...just waiting for the stars to align again. I also do drums in a few projects of my own...Horde of Midnight and Xykhu...which I am going to be working on more this year...just have
not had the time to get much finished. I do guitars, bass, vocals and drums in both.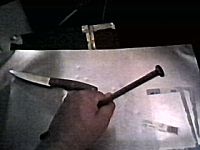 M[m]whatís your recording set-up usually & how often do you record work? & do you release every thing you record?
Dan My recording set-up varies from day to day, that is why I have startedputting some credits on my releases so it may give the listener an idea of what was used. I record just about daily, and no, I have not released everything I have recorded. I have about 200 hours of unreleased stuff, some gets ran back through the processors again and
made heavier, some gets trashed. If the material doesn't feel like "Churner", I may make it into its own project if it does not fit what I think should be a Churner release. Ironically enough you gave one of my side-projects a perfect rating...truth be known I almost trashed it
because it didn't grab me on first listen after recording it. I gave it a month and came back to it, liked it, but it didn't feel like Churner...Bodies Floating In the Bay was born, which started as a Churner album title originally.

M[m] Unlike a lot of Noise projects you don't seemed to have collaborated with others much? Is this something you'd be interested in doing in the future & if so who would you like to work with?
Dan I honestly think there are too many collaborations...I am all for doing new projects with people...I have one with Boar and Doldis called The Catastrophic Trio. I also have one with Thomas from RU-486 called S.O.C.C. , but I have never been ask to do a collaboration honestly. As far as who I would like to collaborate with? Richard Ramirez, Austin (Concrete Violin), Pain Jerk, Lasse Marhaug, Jason Crumer. I know that is some dreaming, but since you ask.
m[m]Tell us a bit about how/why the Violent Noise Atrocities came about? And what are your top five favorite releases on the label thus far & why?
Dan VNA began as Dark Winter Moon Recordings back in 2005, I started it mainly to release my own material...but after getting so deep into noise, I felt I needed a more extreme sounding name for a noise label, thus VNA came to life. I still focus on my own releases, but do
releases for other people that I am friends with and if I like what they do. As for my favorite releases...a lot of my own stuff, S.T.U.G. 218, Toby Dammit, Alo Girl and Vice Wears Black Hose. As for why I like them the best, that is hard to really say, all I can tell you is that on first listen I was hooked, I only give my own material a second chance.
m[m] whatís been your fastest selling or biggest selling item on Violent Noise Atrocities?
Dan Churner's "Static Beauty"....Vice Wears Black Hose "Part Two"....Churner's "Throat Demon", in that order. I intend on keeping most of my own releases in print as long as someone is wanting to buy them.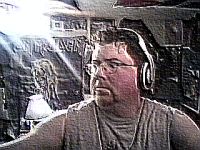 m[m]Do you ever perform live as Churner & if so can you explain the live set-up & what people can expect? If not is it something you'd like to do in the future?
Dan I have done some live performances, but not as much as I would like to do. As for set-up, I try to go simple as possible, less chance for technical issues. As for what to expect?...well...you never know what to expect.
m[m] whatís been the most challenging /time consuming work you've done so far under the Churner name?
Dan Florescent Bondage, the idea's started coming together in April of 2009....did not officially finish it until October 2009...There are 7 tracks on the album...I actually did about 60...a lot of them were junk and were erased. I donít know why, but I just felt this album had to be different, which is why all the effort to pick out what I
thought were the best tracks. I actually "wrote" and "rehearsed" a few...unlike my normal way of doing things. Amazing to me is the track titled "To Rape You"...it is by far my favorite track I have ever done, and it may sound cheesy, but the recording was magical to me...I honestly "zoned out" half way through it and do not even recall all
the synth and piano stuff that you hear...it went straight to disc...so I could not bring up the piano in the mix...but I was playing a lead...which is amazing to me considering I am not a piano player.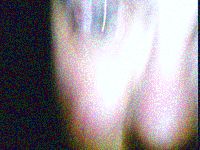 m[m]Any plans to release any other long form pieces like Bodies Floating In the Bay project?
Dan There are already three more albums done....two are long form like the first album....one is a bunch of shorter tracks. I have not decided when or if these will be released....one of them for certain...not sure about the other two.
m[m]Name ten records(not only noise) that have had the most effect on you & why?
Dan Kreator - Terrible Certainty
Rush - Moving Pictures
Iron Maiden - Live After Death
Slayer - Reign In Blood
Emperor - IX Equilibrium
Prurient - And Still, Wanting
SunnO))) - Black One
Merzbow - Pulse Demon
Celtic Frost - Into The Pandemonium
Grunt - Installation of Blood and Steel
Dan Each has the own unique reason for being favourites, mostly for inspiring me with playing drums and the noise albums are some favourites that I listen to for motivational purposes....either for recording or when I need something to wake me up in the morning.
m[m]You mention quite a few metal albums in your best of list- do you still buy new metal now & if so what kind of stuff do you pick-up? And can you ever see your self doing a metal meets noise project?
Dan Metal is still a major part of what I listen to and yes..I still buy a lot...recent favourites are Overkill's "Ironbound"...Funeral Mist's "Maranatha"...Grinning Deaths Head's "No Afterlife" and Gama Bomb's "Tales From the Grave". Black metal and Thrash are still regulars in
my rotation...although I donít care for much of either ones newer band these days. Most of the black metal I am into these days is raw and underground stuff; too much of it is too cheesy for me to get into. As for a metal/noise project...I have one I have been toying with for a
few years...nothing has been released yet.
m[m]In your option do you think that noise & metal have ever been successful crossbreed? And if so what act or album do you thing managers this?
Dan I cannot honestly give you a good answer on that one. WOLD is one band that comes to mind....but I would say they are mainly noise over being black metal.
m[m]How do you it differs writing metal music & noise? Dan With me they are very similar...I get an idea...hit record and go with it. The only stuff I truly "rehearse" is power electronics stuff that I do sometimes....I may practice a keyboard part a little while so that I make sure I donít screw it up when I am recording....but most of what I do is just on the spot what you hear is how it happened kind of stuff.
m[m]What's out next for Churner & Violent Noise Atrocities?
Dan Lots of tape releases and more effort to promote Churner and VNA. A lot of Churner releases have gotten great reviews, but that has not seemed to get me or the label much notice, so I am going to focus more on promotion this year. All profits go back into the label, so it
would be great to do some pro-tape releases and maybe another pro-cd release as well.
Thanks to Dan for his time & effort with interview & for supplying the pictures for the interview. Churners my space is here & Violent Noise Atrocities my space is here
Roger Batty