The Phage Tapes Interview [2010-02-24]Minneapolis based Sam Stoxen runs Phage Tapes; one of the respected, prolific (the labels put out 99 releases since 2007), quality bound & (mainly) tape based noise labels around at the moment. Sam kindly agreed to give me an interview via email.

m[m]what are some of earliest sonic memories & what got you first interested in the noise scene?
Sam There was a time when I did a lot of drugs and now my memory isnít very good and I have a hard time remembering much from when I was young so I cant really address any questions about early memories. Iíve been sober for at least 6 years now so my memory of recent events is much more clear.
Sam The first noise projects I heard was Wolf Eyes and The Yellow Swans. I frequented the Southern Lord forum and was exposed to noise mainly from people posting on there. I had been into more ambient droney stuff for some time, but harsher more experimental stuff didnít really appeal to me until about 5 years ago. I kind of eased myself into the really harsh stuff. I remember a time when I couldnít understand the ďpopularĒ harsh projects like The Cherry Point and The Rita. Now I canít imagine my life without harsh noise.


m[m]Tell us a bit about how Phage tapes came about? Whatís the origin of the name & your logo?
Sam I decided to start a label so I could start releasing more of the noise projects I like to hear. Most small label seem to start out as a way to release the material of the person that runs the label. This wasnít my intention at the time, but I do take advantage by releasing my own material and often giving away free cassettes of stuff Iíve created. An early goal I had was that I wanted to make phage tapes a self-sustaining entity- so all the money that I make off the releases goes back into making more releases. I still contribute a small amount of money from my own pocket, but I am doing a pretty good job of staying afloat.

Sam When I first decided to start a label I had a hard time deciding on the name. I almost called it Trisomy Tapes with a picture of 3 copies of the 16th chromosome as the logo. After deciding I wasnít comfortable with that name I went with Phage Tapes. At the time I had been thinking a lot about how bacteria infect and damage their hosts and I really like the idea of a virus feeding off of these bastard bacteria. The t4 phage is the most heavily studied and understood phage so I used a picture of one as my early logo. Recently I havenít really been using that logo anymore, but I,ll have to get someone to create a nice high-resolution image of a menacing looking t4 phage.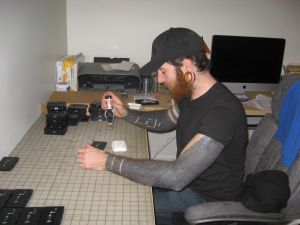 m[m]You seem to make a real effort to make your releases as professional looking as possible with often pro- printed covers, ect- why is this so important to you when often the tapes (and discs) are of such small edition? And doesnít it cost more to get smaller numbers printed?
Sam I donít want my releases to look like complete crap. Lately I have been screen-printing most of the releases. I like the DIY look it gives the releases. There are a few releases that I have done that I am not happy with how they turned out. For the most part they were my early releases when I didnít know what the hell I was doing.
About 95% of the stuff I have released has been assembled and duplicated by me so the cost per item doesnít change if I make 20 or if I make 200. Lately I have been doing some releases in large quantities and get the media pro duplicated to save on time. I plan to release more tapes in large quantities and a few CDs whenever my funding allows for it.

m[m]You talk about doing larger numbers- do you think youíd go as high as a few hundred? & I noticed a few your release have been CDR- could or would you want to larger numbers in this way?
Sam I would do a few hundred of a release if I thought it would sell. I currently have a Knurl CD at the pressing plant that I am doing an edition of 200. I think the material is pretty great so I can easily justify putting as much money into the releases as a CD requires.
Sam I recently decided to stop doing CDrs. I donít really dislike them and will continue to purchase them I just donít really like putting them together. It feels too easy and impersonal to me. Looking back at most of the CDrs I have put out I am disappointed with how they look and realize I didnít put as much time into them as I should have.

m[m]Oh I didnít realized you screen printed you own covers- how did you learn how to do this & is it something thatís fairly easy to do?
Sam There was a moderately steep learning curve for Joe (Small Doses) and I to learn to screen print. We had talked about getting a set up for some time and finally we decided to just get it and teach ourselves to print. When we got the equipment I had never screen printed before but I wasnít too worried about learning. I work in a molecular lab for a living and the same concepts apply. You read about the basic procedure and keep experimenting with different variables till it works. There was about a month and a half of trying to print where it just wasnít working but now we seem the have the hang of it and try to push ourselves to do more and more difficult prints. We recently bought a new set up so we can print designs with a tighter register and a third screen so we can have different screen mesh sizes to choose from.

m[m]What else do you do in production of the tapes & cdrs? Do you also design the artwork?
Sam I usually let the artist decide what they want to do with the art. If they donít have a preference then I design something and see what they think then we work on it till the artist is happy. Sometimes people already have a design they want to use or a concept to work off of. One of my main concerns is that the artist is happy with the way the release turns out.

m[m]Tell us a bit about the running of the label? Is it just your self or are others involved & if so who does what?
Sam Phage Tapes is pretty much just run by me. If I need any assistance I hassle my girlfriend or my good friend Joe who runs small doses. Iím not very good at working with others when it comes to dividing up responsibilities. I like to micromanage and get pissed off easily if I think someone isnít pulling their own weight.
Other than that I love running a label. It gives me something to do so I donít get bored. I always hate arts and crafts when I was younger but now I really enjoy assembling everything. I donít really understand labels that outsource everything and only deal with selling/distributing a finished product. But I guess that is one of my major weaknesses. I donít distribute and promote my stuff as much as I should. That aspect makes a label more of a job than something fun but it needs to be done to survive.

m[m]How do you go about selecting what to release? Are you approached or do you approach the artists? For example how did the Vomir 4 x cassette set come about?
Sam I contacted many of the artists I have put out releases for but am also contacted quite often. I think the entire multi cassette releases were organized by me; they can be tricky to organize so I usually deal with it. I donít mind people contacting me about releasing their material and try to release as much as I have time for but some of the people contacting me donít seem to understand that running a noise label isnít a major money making operation.
Sam The Vomir 4x cs was a pretty easy thing to put together. I wanted to do a massive release and Romain likes to record massive releases. It worked out quite well. Many of the other multi cassette releases were planned a long time in advance and encountered a lot of delays.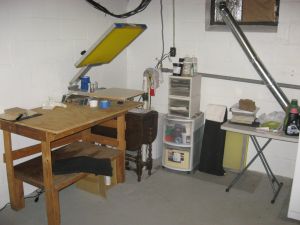 m[m]Do you have a noise or sonic project yourselves now or in the past & if so can you tell us a bit about it?
Sam My main project is called Baculum. Sonically it is mostly HNW but lately I have been using more metal objects and creating more texture in the noise so it often deviates from strict wall noise. Recently I have also been recording under the name POTR, which has a more power electronics and harsh noise approach. This project is more political/ideological and I write lyrics complaining about various aspects of culture I disagree with. I definitely wouldnít go so far as to say anything I made was good but I have fun.
Sam I am also in a few collaboration projects. White Plague is me and my girlfriend, sister of death is me and my brother, Ömassacre is me and white torture and grain belt is me, willful and wince. Ömassacre and grain belt are the only two collab projects that are very active. Grain Belt has done a few live performances and we recently put out a CD of metal noises, feedback and thick harsh noise.

m[m]What have been you five favourite release so far on the label & why?
Sam Thatís such an unfair question but I guess ill pick 5 that stick out in my head as releases I enjoyed putting together. Not in any order here are my 5.
- An Innocent Young Throat-Cutter/ÖMassacre 10Ē lathe. I like this release because I always like working with Richard Ramirez and j cadle. The cover on this thing took me a ton of time to finish. In total it was a 9 pass screen print. I was getting worried that this wasnít going to happen due to the person producing the lathes ran into some life changing physical problems.
- Vomir 4xcs. . This release was fun for me because it was one of the first few releases I did any major screen-printing and romain is a great guy to work with.
- Grain belt CD. I am very proud of this release because it captures three live performances of the trio I am a part of. It is also the first CD I released and it is a co-release with the labels of the other two members of the project, small doses and white centipede noise.
- HNW box sets. This was two different releases but they are part of a series so I am listing them as one. I really like these because they are just plain silly. One is 3 60 minute tapes and the other is 3 45 minute tapes. Its a brutal assault on the senses. exactly how wall noise should be.
- the early 4 way HN split releases. Again these are two different releases but they were meant to be companions. The first was the flatgrey/haemorrhaging fetus/ichorous/ryan bloomer split and the second was the paranoid time/human teratogen/baculum/taskmaster split. These were the first multi artist releases I put together and I am really happy with the way the material turned out.

m[m]Any plans to do a 3rd volume of the HNW tape sets?
Sam I really like doing larger multi cassette releases but with the economy in the shitter and people buying less stuff I need to be a little more careful about what I release. I like to release material by unknown projects as well as established artists but people donít purchase a lot of stuff they are unfamiliar with. However, I have a silly amount of multi cassette cases in my basement and have plans to do lots more split releases. A third HNW set will probably be in the not so distant future. I have been working on a few power electronics box sets lately and have been brainstorming on some harsh noise sets. I spend a lot of time thinking about who would make an interesting combination.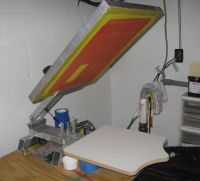 m[m]what has been was your fastest selling item?
Taking into account edition size the fastest was the Vomir 4xcassette set. People were pretty excited about that thing. I think the sheer magnitude of the release was the one of the main selling points of this release. I think a lot of people respect romain because of his uncompromising approach to HNW and how he keeps his material pure to what he stands for.

m[m]Do you enjoy music out side the noise scene & if so what?
Sam Outside of noise I listen to a lot of doom metal (like Moss and Thou), stoner rock (like Queens Of The Stone Age and Electric Wizard) and classic rock (like Supertramp and ZZ Top). When I am at work and around people that wont want to listen to noise I usually do the polite thing and hit up some classic rock or some of the more widely enjoyed rock music coming out recently like Modest Mouse or Kings Of Leon. When Iím at home what I listen to really depends on my mood and what Iím doing. If I need to get energized I like to throw on some tough guy hardcore like some straight edge crap with lots of breakdowns. If Iím just sitting around reading Iíll put on something with fewer decipherable lyrics like mid career Neurosis or Coil. But the stuff I find myself always coming back to year after year are bands like: Sisters Of Mercy, Skinny Puppy and Ministry. I fuckin love what wax trax and tvt were doing back in the day. I just wish bands like these still popped up every now and then.

m[m]what are your plans for the next few months release wise?

I've got lots of great stuff lined up some solo release and lots of splits such as cassettes by north Korea (Cracked Dome and Earhate collab), Corpse Candle, Disthroned Agony, Cracked Mirror, Pusdrainer, Willful, White Torture, Foul, Cannibal Ritual, Stress, Content Nullity, Mixturizer, I Dreamt Of Her Beautiful Tentacles, Mind Movies, Bachir Gemayel, Sharpwaist, Sewer Goddess, Moribund, Discordance, Climax Denial, Human Larvae, Disgust, Gnawed, Ru-486, Nyodene D, Custodian, Hatred In eyes, and Azoikum. I also am releasing CDs by Knurl and Barrikad. I'm pretty excited about 2010.
Thanks to Sam for his time & effort with the interview & the pictures of his set-up. You can find out about, hear & order Phage Tapes releases here
Roger Batty