Between sound & music [2008-11-08]

British born but now Netherlands based sound artist Justin Bennett's work wonderfully blurs the line between sound art and music. This year he releshed his excellent Wildlife album (reviewed here) which is based around using sound elements and field recordings from zoological & Botanic gardens around Europe. Justin Kindly took time out of his busy schedule to answer a few email questions.

m[m] How did you first become interested in making sound and sound design- what are some of you earliest sonic memories that you think might have trigged your interest?
Justin I played with sounds from when I was quite young. made some tape and synthesiser experiments when still at school. One of my favourite things when I was a kid was to listen to the shortwave radio band – it was more like "playing" the radio because just a small touch of the tuning dial would change the sound. I have heard since that for a lot of musicians this was an important experience. It's something between tapping into a huge sea of sound and actually being in control – or navigating, steering the radio across the sea. This is the experience too that made me make the piece "Ocean" where shortwave radio sounds are organised into "waves". Do people still listen to the shortwave?

m[m]Your fabulous album Wildlife that came out early this year is derived from recordings made in zoological & Botanic gardens. How did the idea first come about?
Justin I had already made a series of recordings at the edges where city and nature meet when Eva-Cecilie Richardsen asked me to work with her on the dance piece Natürtro. We decided to explore the question of what is natural: what is a natural movement or behaviour, what is a natural habitat. We visited some zoos and I started to make recordings and photos.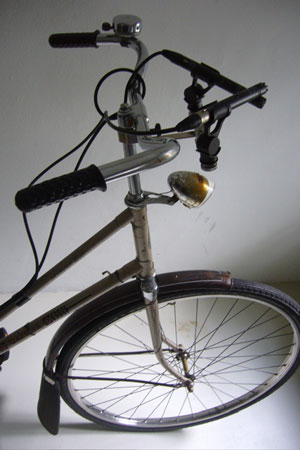 m[m]How long did it the project take to constructed & complete?
Justin About 3 years in total, because after completing the soundtrack for the dance piece, I took the material and carried on working on it in the studio and "live".
m[m]what made you decide to recording in zoo's & Botanic gardens of Berlin, Barcelona, Paris, Amsterdam and Bergen. Was this by choice or by necessity? And did you have to get permission to record?
Justin We started our project visiting the zoo in Berlin, and I carried on visiting zoos wherever I could. I also recorded in other places that didn't end up on the CD.
These are mostly older zoos with very reverberant architecture. I was interested in the combination of animal sounds with this very "human" kind of architecture, and also the combination of animal and human sounds. In the botanic gardens, I concentrated on capturing the
acoustics and the sounds of the machines which are there to sustain the plant life. I didn't ask for permission to record. Generally I use very discreet portable equipment that doesn't attract attention. And asking for permission usually causes trouble!
m[m]Some of wildlife elements on the Wildlife album are listed as been recorded from a residency at Nau Côclea arts centre- what did this residency consist of?
Justin Nau Coclea is a centre near the village of Camallera in Catalunya, near Girona and Figueras. It's surrounded by woods and agricultural land, but when I was there was a lot of building going on. I made lots of recordings of the mix of "natural" sounds and the machines. it was a very open residency - I didn't need to come up with a finished project
m[m] What are you live events like ? Do you play live elements or is it more an installation type set up?
Justin That depends. Some of the wildlife pieces were played live using laptop and mixing desk. I developed my own software for improvising with field recordings. But I'm not so happy with the laptop "form" of presentation for this work. I prefer to use live sounds and collaborate with others. I have a duo called Mikro with the visual artist
H C Gilje. He uses a video microscope and I use microphones (and electronics) to amplify miniature percussion and objects.
Justin My main live work though is with the group BMB con. This is more performance art than music. Very visual and physical. You can see some things on the website here We worked as a trio for a long time, but now it's a duo (with Roelf Toxopeus) working with invited guest performers. Next year BMB con. is 20 years old, and we hope to celebrate it in style!
m[m]Your work often blurs the line between music/ rhythm and noise/ sound. Do you have any formal musically training and what instruments can you play?
Justin As a kid I learnt piano, violin and percussion. In the 1980's I played in a lot of bands, usually drums and electronics. These days I don't play music much – it's almost more of a hobby, because I feel that I don't have enough time to practice. But when I do, I play drums, percussion and analogue synthesiser, usually in an improvised music setting

m[m]Your 2003 album noise map and 2007 book of the same name really locked into the concept of one man's noise is another man's music. How did the idea for this project come about? And do you think you'll do further noise Map related projects?
Justin Noise Map was really a collection of projects that I felt were related to the themes of listening to and mapping the urban soundscape. Which is something I am still concerned with. My current work is looking at the idea of public space and the role
sound plays within it. And the perception of "noise" is obviously
part of that.
m[m]As its title suggests there some very noisy moments in Noise maps- Do you have any interesting in the noise scene it's self at tall?
Justin I'm never sure what is really meant by the "noise scene". Many musicians incorporate noise these days. I enjoy seeing noisy performances - there is something about the physical experience of loud sound in combination with live action of some sort which is very seductive/ cathartic. Electronic noise music is not something I usually listen to at home though.
m[m]Most of your work is released on your own label Spore records- how and why did the label first come about?
Because no-one else would release anything! - but also I made a piece for a museum and needed a publisher. Originally I was going to release works of other people too but I quickly realised that running a record label was a very expensive hobby. I like to release things
on other labels too, because it gives you access to other audiences and it's nice not to have to do all the production yourself. Right now I'm making a 10" vinyl with the publishers Onomatopee.

m[m] Name your top ten important/ favourite records or sound works and why?
Justin Ouf! that's like asking what's on my iPod. And actually it contains now some Ethiopian funk, some Nuevo flamenco, P.J. Harvey, Of Montreal, Radiohead, Turkish rock music, Morton Feldman, Caetano Veloso, John Dowland, M.I.A., Gravenhurst, a huge compilation of French pop music…. really, I'm not joking – pop music is still very important to me, even though you may not hear the influence directly, it informs my work with sound – Parallel to working conceptually with sound I approach sound as energy, creating and manipulating moods and spaces, manipulating time, something that pop music does so economically and succinctly that it is impossible to ignore.
In terms of sound works which have influenced me, the list would be too long to mention - I can only name some names, rather than pieces… just artists who pop into my head right now – there are many more…
Alvin Lucier
David Tudor
Derek Bailey
Pauline Oliveros
Henri Chopin
Eliane Radigue
Cilia Erens
Chris Watson
Iannis Xenakis
Trevor Wishart
Dick Raaijmakers
Kaffe Matthews
Max Neuhaus
m[m]Following on from your mention of a love of pop music- have you every thought of doing a pop or more musically project?
Justin I have collaborated often with friends - sometimes still play drums - at the moment with a free jazz (ish) trio. At the moment it's just to fun.
m[m]What are you working on at present?
Justin The 10" that I mentioned is a piece using the sound of a starting pistol to activate the acoustics of open spaces, and then intensifying the resonances so that the sound passes from the recording of an "act" to almost becoming music. It sounds rather like 1950's electronic music in the end. It is also related to a series of graphic prints which are visualisations of the spaces derived from the recordings of the gunshot. Like trying to use the "bang" as a kind of sonar. In the coming months I am going to develop this idea more, creating an installation in Hamburg in November, and recording another piece for vinyl in a parking garage in Brussels.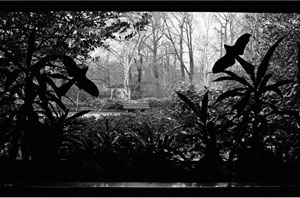 Thanks to Justin for his time and efforts with the interview and also supplying the pictures for the interview. Wildlife, Noise map Cd and Book can be purchased direct here were you'll also find more information about Justin's other work
Roger Batty