Times a changing [2008-08-01]Sole is one of the most outspoken and political/social aware of the anticon collective & his most recent release with The Skyrider band has seen him using more conventional song structure with an array of real instrumentation along with non rap and harmony based vocals, which all makes for an highly original and creative listening experience, thatís certainly one of the top ten records by the Anticon collective/ label thus far. Sole kindly agreed to give me an interview via email

m[m] What made you decide to make your sound a lot more textured and instrumental base?
Sole well, I guess because at the time I had grown really bored with rap music and the only music that seemed to endure, to my ears was really gawdy, epic noise/rock stuff. when I first got to hear the music skyrider was doing I was trying to make my "Hip-hop" album and then a light switched on in my head. I didnít really know how to compose music with a band or anything like that, but because they were already a band it made it an easy transition. So, I guess seeing them practicing and hearing all the crazy sounds they can make made me think, "holy shit, this is the FUTURE!!!!"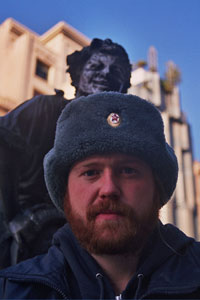 m[m]How did you first meet the Skyrider band? And have they done any other work before the self titled Sole & The Skyrider band album?
Sole I met skyrider through bleubird . on the war on self tour in 2005 I stayed with bud from skyrider, at the time he was living in a school bus in the swamp with a little studio in it, it was a sort of paradise, and these guys just jammed all day. bleubird had come out to stay with me in Barcelona, I produced a bunch of tracks for him, and when he got back to the US he finished those tracks with skyrider and I liked what they did with my music. At the time skyrider had released a solo lp on endemik records- called its out. they had produced a track for K the I, a bunch of stuff for bleubird, astronautalis, lots of underground rappers. All the guys had been in different bands before, but the only one that had music that was in stores was bud(FKA skyrider).

m[m]What different changers do you face writing lyrics to fit more around the more traditional instrumental base and how are the tracks now written do you jam together to come up with musically themes to fit your lyrics or do the band present you with tracks and then you write lyrics around the music?
Sole We do it a million ways. Most of it comes from jams, we chop up the best parts, make a simple beat out of it, I go home write to it, then we change the music around, I record vocals, and then they add more music. Sometimes after all this it sounds like shit, and we have to throw everything away. We usually perform music out while we're working on it and sometimes playing it live gives us new ideas. You know, we do everything we can, we're very picky. we've been working on music for this new album for ages it seems, and we finally hit the hurdle where we have 3 really good songs recorded, and once we get over that hump its all up hill. but one song on there, "black" seemed hopeless, we kept erasing all the music and started from scratch, finally we have something we're really happy with. all my best songs are written to the melody and tempo of a good beat, when I write stuff and then put it to music it never quite works the same.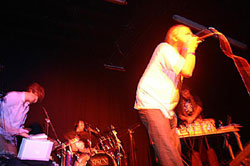 m[m]The self titled Sole & The Skyrider as well as featuring a storming and complex rap delivery from your self also sees you throwing in a lot more harmonic 'normal' singing- has this just happened organically to fit the new material or did you decided to go down this line deliberately? And do your self singing more in the future?
Sole I always was against singing, but somehow with the band I just did what sounded right to me. I like to sing when it sounds right, when it doesnít sound forced. So yeah, i'm sure Iíll sing more, and Iím sure my singing will get better. Iím trying to make songs, so I guess harmonizing is part of that....
m[m]Last time I interviewed you in 2005 you were still in Spain- are you still there or have you now returned to the sates?
Sole Naaa iím in AZ now, not sure how long we'll be here. Seems like we're gonna get the fuck out of here in a few weeks. maybe LA? who knows man, shit is crazy right now.

m[m]Do you miss europe at tall since you left? And how do you think the sates have changed while you were away?
Sole I miss Europe, without a doubt life for people in Europe is better, its frustrating to think about. But when I left Europe it was because I felt the work I needed to do was in America. So, yeah I definitely miss Europe. I got this real strange flurry of emotion when I went to montpellier last month, it was about 2 hours from Barcelona, and I felt like I was "home."

Sole While I was gone the states had turned into a third world country. the decline of America was happening while I was gone, but after new Orleans its been on display to the world and is accelerating with each new crisis. now people are being forced to choose between milk & gas. The economy is as fucked up in America as they make it sound on TV, and normal people's lives are getting harder and harder.
m[m]Are the Skyrider band also based in the sates or do you file swap ect to make music?
Sole They live in Arizona with me, but we still do lots of our own work on our own by swapping files
m[m]Last years Poly.Sci.187. saw you taking your solo mansbestfreinds project away from the stripped experimental rap of the past towards more dramatic and instrumental work- do you think you'll follow further down this path? And how did the idea of doing an instrumental album originally come about?
Sole You know, I had been struggling with making music I liked for a long time, really since selling live water. So I was just in Arizona, completely isolated, with no one really to work with, and I was trying to produce my own album, but the pressure of it all just ruined it for me. I couldnít enjoy the stuff I was making, and then around the same time skyrider said they were moving out... a sort of fog was lifted from my head and instantly all the music id been working on sounded good to me, because the pressure was gone. So, I just wanted to put out a little instrumental record. Initially I was just gonna do it small time on my website, and then I was really pleased with it so I put it out on antic on. I donít know if mansbestfriend will remain instrumental, iím sort of thinking about revisiting that. Iíve been doing solo gigs with ableton live and some samplers, and I like that kinda stuff too. So, we'll see if I make another instrumental LP, Iíve thought more about collaborating and making beats and getting other people to do lyrics to my music. but who knows really, right now my focus is rap. Iím excited about rapping and really inspired, vocally, right now. Next time I need to take a break from thinking about words maybe it'll happen.

m[m]I've always felt all of your lyrically work to be very powerful and stand alone quality to it Ė Have you ever thought of releasing a collections of your writings? Or what about a novel is this something you've ever considered?
Sole Iíve been thinking about that. Maybe I will do it. Maybe I should. Iíve thought about a novel, Iíve thought about everything. I imagine as I get older Iíll settle into becoming more of a philosopher/poet type at least thatís what I hope. I donít feel a dying urge to write right a book right now, so itís not a priority.

m[m]Is there any news on the long promised Anticon Dvd? I'm sure I'm not the only one who would love to see this surface. Sole I donít know man. I donít give a shit about dvd's about music. If someone makes an amazing movie about anticon, great, but so far there seems to be no consensus about an anticon dvd, and we donít have the manpower for such endeavours at this point.
m[m]What are you working on at present or what are your near future plans? Sole I am working on an audio book with a guy called Doug valentine comparing the counterinsurgency efforts(operation phoenix) of Vietnam with Iraq, its really fun and fascinating, but thatís as far as my non musical meanderings go right now. Itís a 5 disc series where iím editing together all these old recordings from the CIA station chiefs and stuff. Its really fascinating cuz I didnít know shit about Vietnam when I started the project. my wife and I are narrating it. Itís called "CIA SPEAKS." This was probably the best thing to come out of POLY.SCI.187; those guys heard that record and wanted me to produce an audio book.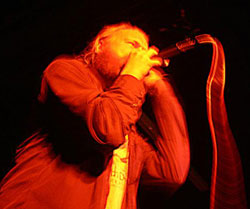 Sole we're 3 songs done into the Sole and skyrider lp. Itís totally different, louder, more complicated musically, lots of changes, very dynamic, more powerful drums, iím rapping very different on it, the lyrics are different, itís going to be my best lp, iím really psyched about it.
Sole other than that Iíve been working on solo stuff Iíve been making lots of beats with ableton live, thatís really fun for me right now, so iím sure as soon as we finish the sole and skyrider lp Iíll have enough material for a new self produced project, but I donít like to work on more than one project at once, I like to put all my best stuff toward whatever my priority is.
m[m]You mentioned that you have three songs done for the new sole and skyrider LP when do you plan to have this out? And how do you think it will vary from the first album?Sole Itís very different than the first album in almost every way. I think it will shock people, some people will probably hate is as is always the case when I do something new. playing our music live we didn't like seeing people swaying to droney slow music, we wanted to make music that was faster, more upbeat, and have lots of energy. the subject matter i m sure is still pretty bleak, but its more clever and I sound more like a "rapper" than "sole," and thatís a good thing. Weíre hitting a new sound with this record, it should be done anytime now, but I donít set a release date till the songs are done
m[m]When do you hope to have the CIA SPEAKS finished and what label will it come out on?
Sole It should be done in September. I donít know how itís coming out.
Thanks to Sole for all his time and effort with the interview. His site can be found here and genral Anticon site here
Roger Batty