Count on chaos [2008-05-15]John Wiese it one of the most well know, respected and prolific names operating in noise today. Sissy Spacek is his project with guitarist and fellow noise maker Corydon Ronnau original conceived as grindcore band but grew well beyond those restraints over their four releasers dipping into cut-up, noise etc- With their new firth release the 4 cd box California Ax they've stretched their sound out even father into electro acoustics, avant jazz, grim and grimy soundtracking, improvising, plus many more genre traits along the way too. John Kindly took time out to answer a few email questions.

m[m] When did the idea first come about for the California Ax boxset? And how long has it taken you to put it all together? Both audibly and package wise?
JW Sissy Spacek's first recording was a straight-forward grindcore demo in 1999 and since then we've had a very strange history, with many limiting factors placed on the band which has influenced our sound/existence. For one thing, from 1999 to about 2005 Corydon lived in St. Louis, so the only time we'd play would be when I'd visit over Xmass. Our recordings were extremely limited and I would basically just use them as source material to make studio projects like the majority of the records that exist today.
Eventually Corydon moved to Los Angeles and Sissy Spacek started to slowly function as a real band, using these studio projects as a model for how we would proceed live, but typically using the original songs as a base. Like I said, the majority of the records that exist are very much studio efforts, for practical reasons, and our recent proximity has allowed us to record more in different contexts. At some point we decided to undertake a west coast tour, the original goal being to double the amount of shows in one tour that we had ever played in nine years as a band (we didn't quite make it). And for that we wanted to mark it as a historic event in the history of the band by releasing a boxset. The four discs all represent a study of something fairly specific, as well as combine to create a release none of them would individually, so I think that was my main goal with the set. It came together pretty naturally.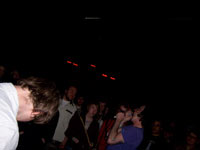 m[m]California Ax sees Sissy Spacek introducing lots of new elements to your sound- which of the four disks was the most enjoyable doing and you thought was the most successful? And what genres/ elements would you like to develop more?
JW Well, I think these elements have always existed within the band, but The boxset of course gives them more room to exist and be experienced on their own in a way they couldn't on a typical album. I'm interested in exploring all directions of the future.
m[m] California Ax has a lot of guests on board- did you approach them or did they approach you? Who would you like to collaborate with in the future?
JW The bulk of the players on are the fourth disc, the 13-tet show we did in Los Angeles, which is all LA players, but there are other guests throughout. All were chosen for various reasons, including friendship and musicianship. I have other large-scale projects in mind that will hopefully play out within the next year that include contributors.

m[m]big parts of California Ax are a lot less noisy and jarring and you take in improvised and avant jazz elements- will you return to the old more jarring and violent side of SS?
JW My goal isn't to repeat and rehash, so you may hear variations and developments on themes in the future, which may or may not have similar qualities to older material. I think pieces like Sepsis are a development of older works like Scissors, with a slightly different result.
m[m]Some moments of California Ax have quite a grimy Cinematic feel (especially on police disk) have you ever been approached to do soundtrack work and is it something youıd be interested in the future?
JW My sound has been used in films before, which I've enjoyed, but haven't been in the position to actually score something yet. Seems strange that it hasn't happened now that I think of it ...

m[m]you have another new album out with SS- the French record- why did you decide to release this separately?
JW The main difference being that French Record is a complete album in itself, whereas California Ax is more of a set that add up to a release. When I was putting French Record together it felt like it was distinct enough to sit separately on it's own.
m[m]where does the title the French record come from & whatıs on the tv screen on the front cover?
JW I took the photo at Corydon's old apartment in St. Louis. We were watching a Russian war film called Come And See that's really intense.
m[m]The French record opens with the track Scorpion whip- which has a distinct old school metal riff running through it (though itıs very much messed up). I take it you have a soft point for metal? And what are some of your favourite metallic records?
JW I love death metal, grindcore and some metal. The first death metal stuff I heard was Deicide- s/t CD, Obituary -"Cause Of Death" CS, Cannibal Corpse -"Eaten Back To Life" CS, and Suffocation -"Effigy Of The Forgotten" CS, all of which I still have a soft spot for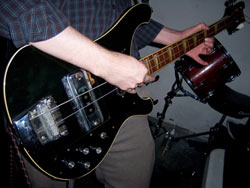 m[m]The French record seems a lot more concise, approachable and focused on creating a set feeling or vibe with-in each track. Cramping loads of ideas and textures into itıs near on 40 minute running time. What's more difficult and challenging for you doing the longer more drawn out atmospheres like some of the tracks on California Ax or the more textured/ full of ideas smaller pieces as found on The French Record and even more so on your early SS albums?
JW Most Sissy Spacek work has a highly reduced density to it, which still exists on California Ax, but just a different sense.
m[m]I take it youıve recorded every Sissy Spacek thus far- any thoughtıs about releasing a box set of purely untreated live recordings?
JW It's not in my nature.
m[m] What made you decide to release California Ax on your own label? And is it your plan to release more stuff on the label? And will you be releasing others work?
JW For a while Helicopter had shifted to the back burner and I was releasing mostly on outside labels, which I'll continue to do, though touring as much as I have lately, it makes a lot of sense for me to just release things myself because I can distribute them on the road easily, and I need all the copies. I was doing only very limited records in editions of 100 for a few years, which I'll continue to do as well, but with California Ax and this new duo CD with C. Spencer Yeh the editions are more standard and wider available release, primarily for the touring demand. Helicopter has Always been a vanity label, so I don't think I would ever release other people's work on it. Actually 2008 is the 10 year anniversary of the label and I'm working on producing an anniversary book documenting the first 10 years And 50 releases, due out by the end of the year.
m[m] Can you tell us anything more about the anniversary book for Helicopter? Will there also be cd/ cds with the set?
Yeah, the plan is to do a book/cd set. The main text of the book will be a conversation between Spencer Yeh and I, which is done but not transcribed yet. It will document and discuss 10 years of doing the label and the details of 50 releases so far.
m[m]in the past youıve worked with metal based artist with Sunn0))) be the most celebrated-is this something youıd like to do in the future again? And have you ever thought of forming a more straight forward metal project your self?
JW Sissy Spacek was originally a grindcore band and we still exist on that level in some instances live and may explore it more again in the future. TMU is releasing a 7" called Gore Jet of our first demo any second now. I have working with many bands in the past and I'm sure will continue to do so in the future.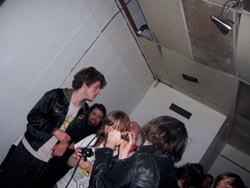 m[m]what are you working on at present? And whenıs the next new solo album due?
JW I'm working on many things at the moment. Touring provides me with a lot of material to get through and less time to get through it, so it can be tough sometimes. I feel like it's slowed down my output, but I think what I've got coming up is the best yet, so I'm not sad about that.
Thanks for John for his time and efforts with interview and supplying the live pictures. California Ax is out now on Helicopter and be brought direct here
The French Record is out on Dual Power and can brought direct here
General info about Sissy Spacek and John Wiese can be found here

Roger Batty