Live at ULU london April 19th 2008 [2008-04-22]This was Merzbow's first show in London for 6 years or so and my first live merz experience, with support by considerable atmospherics and sleazy/violent respectively sets fromSatori and Sutcliffe Jügend.

First on the stage was the laptop duo of Satori who conjured up an effective dark and atmospheric shifting and morphing soundscape of beats, dark ambience and noise touches. But what really made their set enjoyable and lifted it above two guys staring in screens was the impressive, disturbing and hypnotic video project going on behind them- one particular memorable moment switched from imagers of dolls head been submerged in a water bath, to Concentration camp acid showers like footage to a baptism in a wood surrounded stream the camera following the baptism under water in a very disorientating way. With both audio and visual elements complement each other nicely.

Next up was Sutcliffe Jügend with the lead depraved mind behind the project Kevin Tomkins up front holding two micphones together as he launched in his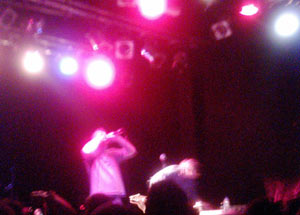 demented, depraved and at times darkly comical rants. With some quite simple if effective noisy electronics and single fired up guitar backing his fellow derivate Paul Taylor. The pair are certainly trying to doing something a little different and creative with-in the power electronics sound frame and at times they do succeed, but ultimately the anger and intensity of it all becomes a little one dimensional and tiresome over the sets running time.
Lastly of course we had Merzbow who appeared on stage between his laptop and equipment desk, he started his 50 minute set with a grittier Merzbeat type chopping rhythmic beat pattern which he slowly built up layers of sound and noise around.From the outset it was clear the sound tonight was a lot more rhythmic and pulse driven really simplifying his sound from his more textured and varied work of the last few years. Tonight's show felt like a throw back to a mix of already mentioned Merzbeat material mixed with Pulse demon/ relapse era- whether this was down to Merzbow feeling he had to create something more approachable for the 600 plus crowd or this is just his next twist in his sound is unclear, never the less for what it was it was a satisfying show. Later on in the sets proceedings he was up on his feet rip into his self made merz guitar/machine with great gusto- sending shards of burrowing noise out into the collective craniums, though it certainly wasn't as loud or unbearable as I was expecting as I stayed quite conformable at the front for sometime
All in all an enjoyable and varied evening noise and atmosphere from all parties involved, though I would have liked to seen Merzbow doing a more complex and textural varied set- it was certainly great to see this legend performing his art in the flesh.
Photo note: pics used here were badly taken by my self on lo-grade Digital camera, so there not great but you get the idea I hope.
Roger Batty