A Band For Many (sonic) Seasons [2008-02-12]Zlye Kukly are a Russian langrage project who offer up an invigorating, tuneful and often flamboyant mix of styles dropping down in; Folk, Prog rock, 70's rock, gothic rock, weird soundtrack elements, world pop, piano and classical touches. German folk/ rock/ what every label Ahnstern released Strange Tomorrow at the end of last year- it collects together some of their best work from early & ltd albums into a very approachable album form. The projects main writer and singer is Fred Adra- he kindly agreed to give me an email interview.

m[m]:First off how did Zlye Kukly first come about as a project? What does the band name mean? & Was it your first musically project?
Fred: "Zlye Kukly" (means "Angry Dolls") is the name of one of my early songs - a kind of soundtrack for any horror comedy. It seemed to me a good name for the band itself. At that time Zlye Kukly was not a serious band, but rather a kind of joke. Times changed and so changed the band but the name was left as it was.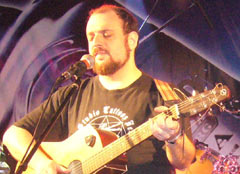 My first band, in the early 90-s, was called "Peregrin Krol", we played progressive rock with the touch of 70-s: Pink Floyd, King Crimson, David Bowie etc.
m[m]:Did Peregrin Krol every release any albums?
Fred: No.
m[m]:Who's involved in the band & who does what? It seems you are the main writer in the project- Do you get people in as and when you need a certainly sound or instrument?
Fred: Zlye Kukly is much more of a studio-band. And it's not exactly a "band" - usually, Zlye Kukly is only me and sometimes different musicians that I invite to play instruments that I cannot play by myself - both on recordings and in concerts.
m[m]:How many instruments can you play your self? Did you take lessons in any instruments?
I play all kinds of guitars, bass, keyboards, electronic drums. I've never taken lessons on any instruments
m[m]:what influenced you to make Zlye Kukly such a varied musically mix of sounds? And are there any new elements you'd like to bring in future works?
Fred: I'm not into any special style; I always listened to different music. Styles and genres don't matter to me. I play every song in the way that seems better to me. Therefore some songs sound like progressive or psychedelic, others - like dark-folk, classic rock, gothic... It's like theatre: each song is a story; it is a performance by itself - in its special style.
I don't know about the future, I have no idea what I'd like to play tomorrow. The Future will show.

m[m]:How did your signing to Ahnstern and the releasing of Strange Tomorrow?
Fred: We recorded two albums (The Strange Heavenly City and At The End Of Days ) and a few singles between 2002 and 2006. The tracks were uploaded to the
internet and spread over the world. The songs reached Gerhard of Allerseelen and Max of Steinklang/Ahnstern Records. They were impressed and decided to release a
compilation CD on Ahnstern. They wrote to me and I sent them our recordings - to select tracks for a compilation and to remaster them. I like their choices very much, the Strange Tomorrow album sounds wonderful.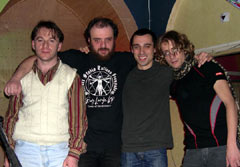 m[m]:From your music and imagery connected with the band you have a very flamboyant theatrical edge- does this come out in your live performances?
Fred: No, our concerts are very rare and very simple: just a band that standing on the stage and plays its music. May be it will change someday and we'll bring theatrical elements into our performances.
m[m]:How are you accepted in your native Russian? & what's the music scene generally like in Russia?
Fred: I live in Israel and don't know a lot about the scene in Russia. But I also don't know a lot about the scene in Israel. I know English and, for example, German
scene much better than Russian and Israeli. But I know that many Russian-speaking listeners all over the world downloaded our songs and like them.
m[m]:Strange tomorrow brings together tracks from your first album Strange Heavenly City from 2002- with some new tracks, but any thoughts about releasing Late September your still rather wonderful Cdr release?
Fred There are only two new tracks on the "Strange Tomorrow" - "Towers" and "Who Said". Also there are four songs from the "Strange Heavenly City". And all
the rest, that is the main part of the album, are from
the last album "At The End Of Days".
I don't think about releasing "Late September" because I really don't like it. This recording is very old; it was the first attempt to record an album. In my opinion, not so successful. Let it remain only for"real fans".
m[m]: What are you work on next? When is the next album planed for? Any plans for a full Europe tour or getting any where else worldwide?
Fred: I'm busy with writing books and don't play music a lot, therefore I have no plans. But as I said before, tomorrow will show. What I know for sure, there will be new albums of Zlye Kukly in future because I have many songs that are not recorded yet.

m[m]: You mentoined writing books- what do you write about?
Fred: I write children and teenager books - fantasy, sci-fi & humour. In 2006 I won a prestigious prize "Cherished Dream" in Russia for the book "Lis Uliss" ("Ulisses the Fox"):cover picture here
m[m]: And have you every thought of doing a book/musical project?
Fred:Yes, I think about such project all the time and surely will do it someday.
m[m]: Name your top ten albums of all time & why?
Fred: This is a very very very very very hard question. But
I will try. Everything is IMHO, of course.
Ok, in occasional order:
Pink Floyd -Meddle - the best psychedelic album
Legendary Pink Dots -Any Day Now - the best narrative album.
David Bowie-Diamond Dogs - the best Bowie album
King Crimson -Red - the peak of the progressive rock
Janus -Schlafende Hunde - the best gothic album in
German language
Das Ich -Antichrist - the best darkwave album
Brian Eno-Music For Airports - the best silent album
Kraftwerk -The Mix - the best album from the fathers
of electronic music
Yearning -With Tragedies Adorned - the most melodic metal album
Genesis -Selling England By The Pound - the best
theatrical album
Depeche Mode -Violator - the best album from fathers of synth-pop
Well, it's top eleven. I'm not so good in counting. :)
Thanks to Fred for his time & effort with the interview and supplying the pictures. Go to here to find out more about the project and hear sound samples
Roger Batty