Circle Will save Us! [2007-07-21]If MM were ever to have a house band it could well be someone like Circle, who whole heartily mix and match musical genres like there's no tomorrow, but still keeping their feet well and truly planted in that distinctive Circle sound- going from rock, modern classical, jazz, folk, metal, soundtrack like, ect…you think of it Circle have probably dipped there toes in the genres water at one time or another. Bass Player & Ektro label(whom have released a few circle albums among other artists) runner Jussi Lehtisalo kindly agreed to give me an interview:

m[m]How and when did Circle first come about? Was it your first musically project? What's some of earliest musically memory's?

Jussi Officially Circle started in 1991, but nowadays we're concentrating on the music that is made before that. Now we are at the year 1989. Back in 1991 we started to make music by copying our favourite band Loop. We have always been interested in music that is not too active, music that gives space to the listener. There's always much more in music than what we hear, the spiritual content is tremendously ampler. Just like in visual arts.
My first memories of music date to late 1970's. My mother listened to Charles Aznavour, Edith Piaf etc. I bought Elvis' album "Rockin'Days" as cassette. I called my friend to visit and played the cassette to him and asked him to stand still if he can. After a few chords I started jumping around madly. I don't remember what happened to my friend. The first concert I saw was Crazy Cavan at local high school. It was fantastic!

m[m]Has the line up stayed the same in Circle over the years and how did you all first meet?
Jussi The line-up did changed all the time but not anymore. It will never change again, I hope. When we started, me and the first drummer - J. Ahtiainen - were interested in the same kind of music. There was a mixed group of us music lovers in my home town and several bands were formed at the time, for example Deep Turtle - a famous punk-jazz-core-trio. We were into more primitive and hypnotic stuff. We have never been musicians, we are amateurs but we act like professionals. Today's line up is ; Mika Rättö, Janne Westerlund, Tomi Leppänen, Tuomas Laurila and me, we have known each other many years before they joined Circle. Everyone's connected to the nineties' indie scene somehow.


m[m]Circle embrace a large amount of different genres, even on one record. When recording an album do you decide what genre or genres to tattle or does it come about more naturally?
Jussi Yes, well... The form of music may change but the content remains the same. I refer to the answer above. We have decided to go through every genre of music in the world, including good and bad music and everything in between.
Usually we're excited about some sort of music that we have discovered somewhere. Then we have a recording session and the influences go on tape. We love having influences and it seems we always misunderstand something. But I think that misunderstanding is the whole point. Lately we've heard that some people think we are some kind of humour rock band, but I think we take our influences even more seriously than our idols take themselves.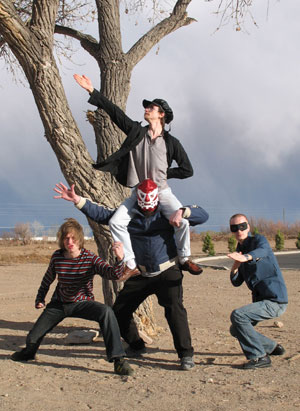 m[m]Your albums often have a much divined concept running through them; almost as if there soundtracks to a film or story- do you have images or a story board in mind when working on an album?
Jussi No, we just concentrate on making music. We often have discussions on music before hand but mostly we just play our instruments. Besides, I think our ideas of our own music are much more limited than what audience can find in it. Music tells better stories than the artists.
m[m]Have you ever been asked to do any soundtrack work? Would it be something you'd be interested in doing?
Jussi With Ektroverde we did a score for Mika Taanila's documentary film "Futuro - A New Stance for Tomorrow". When we were younger we used to think about making film music with Circle but not anymore.
m[m]Miljard was quite a departure for you in it's modern classical/ ambient feel- how did the idea come about to attempt something like this?
JussiMiljard was mainly Mika Rättö's creation. It is based on the sessions we had last winter at my parents' summer place. We had many hours of material and Mika wanted to work on the most silent, ambient-type songs that we recorded, he called them "piano pieces". Mika and our sound engineer Tuomas spent some weeks in studio with the tracks and that's what came out.,
m[m]Miljard artwork features pictures of a log cabin, I take this is were the album was recorded? Do you record in the same places for each album? And how long do you usual aim to have an album completed by from writing to finished mixed product?
Jussi Yes, that's the place where the original sessions happened. Concerning the recording circumstances, every album is very different from each other.
For instance "Tulikoira" and "Earthworm" were made in a top class music studio and that was a very exciting experience. Nowadays we are recording and mixing more and more by ourselves with our little mobile home studios. Usually we don't have strict deadlines, but we like to work quite intensely and get things done quickly. Problem is that there's dozens of projects going on all the time.
m[m]How did the forming of the Ektro label comes about? And do you find it gives you freedom to release what you want to release, when you want to?
Jussi We tried to find a record company that would release some records we had made but no one was interested. So I decided I would start releasing albums myself. Practically it's true that I could release whatever I want to.
But I've been trying to keep Ektro a bit more exciting than just one man's kingdom, I like to mix the concept a bit. I tend to make decisions intuitively even against my own taste of music.
m[m]Give a novice to the Finnish music scene a list of five must buy records & why?
Jussi Motelli Skronkle -Collection album, very important group in Finnish rock history. Includes the first album and best parts of the second and the third. May be hard to find.
Keuhkot -Mitä otat mukaan muistoksi sivistyksestä. One man band, godfather of Finnish avant-garde. This is his first album, includes the old ep's as well.
Haikara -s/t. The best Finnish progressive rock album. Hard to find.
Radiopuhelimet -Jäämeri. Legendary, noisy Finnish rock band. Still active. This album is very primitive "funk" but not "ass-shaking" at all.
Mana Mana -Totuus palaa. Another legend. Beautiful guitar storm with extremely heavy lyrics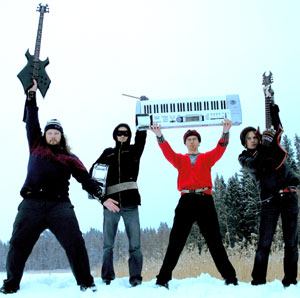 m[m]What's next in the pipeline- has work started on a new Circle record yet?
Jussi Circle have three albums coming. We just finished Panic which expands NWOFHM towards punk rock. It's our first step in reconstructing our late 1980's history. Then there's one unmixed album, true heavy rock recorded in sauna. And then there's another sauna-oriented album, more psychedelic lo-fi stuff. We just need a little time.
m[m]Are Circle popular in Finland it's self? What is the mainstream music scene like?
Jussi Not at all. We have some fans in Finland but I think they are really tired because we release so much stuff. But we have to take our own way, that can't be helped.
Mainstream is quite metal-oriented here. But I don't know if there's so much difference compared to other Western countries' mainstream. We have our own mainstream pop band too, it's called Rättö & Lehtisalo. Our mission is to sneak into mainstream world and study it as thoroughly as possible. Then we can find out how to switch it off!
m[m]You've touched on going towards black metal feel in some of your more recent Circle albums and the Circle and Pharaoh Overlord collaboration Rakhim- have you ever considered doing an all out Black Metal record?
Jussi Circle's albums "Meronia" (1994) and "Zopalki" (1996) were quite close to black rock or something. The dark part of "the downstairs" has always been fascinating and very inspiring. But I think we are too shiny and happy gnomes to be real black metal dudes.
m[m]Talking of side projects could you go through all circle's side projects & who & what they consist of?
Jussi Jussi Lehtisalo - Circle, Pharaoh Overlord, Rättö ja Lehtisalo, Rakhim, Ektroverde, Doktor Kettu, Eturivi (and secret projects like Krypt Axeripper, Leppästick and Tractor Pulling).
Mika Rättö - Circle, Kuusumun Profeetta, Rättö ja
Lehtisalo, Ektroverde (and secret projects like Krypt Axeripper). Janne Westerlund - Circle, Pharaoh Overlord, Plain Ride and Ektroverde.
Tomi Leppänen - Circle, Pharaoh Overlord, Rättö ja Lehtisalo, Aavikko, Ektroverde (and secret projects like Leppästick).
Tuomas Laurila - sound engineer of Circle, Magyar Posse, Kuusumun Profeetta, Pharaoh Overlord and Rättö ja Lehtisalo.

m[m]For those who have never seen you live- what are your live shows like and any plans to do any more touring in the near future?
JussiWe are quite ok live act but truly erratic. Sometimes rock, sometimes Improvised and sometimes very boring which means good in our ideology. We'll be touring more actively next fall but there's nothing confirmed yet.
m[m]When and on were the three new circle albums due?
Jussi/Tuomas Panic is out now Ektro.The next two will be out during the summer 2007.

A few Slices of the circle…. A few reviews of in print circle albums on the Ektro label.
Sun Rise(2002)
A heady patch work of surreal 80's fist pumping metal anthems with Judas Priest type over the top vocals in finish. Folk with dramatic singing that wonders into more prog territory and spacey psychedelics, with great sawing/ freak-out violin textures. With the tracks littered here and there with Goblin like cinematic synth throbs and unfolds. All topped off with the simply amazing 15 minute's of hazy krautrock meets ambient swell locked groove that is Lokki.
Forest(2004) A mix of Deep Tribal rhythmic work-out meet Tangerine dream like synth unfolds, with strange almost American Indian crossed with rock singing over the top. Acoustic guitar blues runs, meet Goblin Keyboard highness, before driving into chorus of odd monk like chants and hums. The Forest title seems very apt,as its if one lost in a very strange musically forest, where genre rules and joins don't matter.
Tulikoira(2005)
Is a world were weird sampled world music chants meet piano tinkles, noisy guitar throbs and build- before charging into full ahead rock panic with keyboard glory underneath, before once more slipped into mysterious dark demonic monk led atmosphere. Chugging playful 70's rock riffing fest, drift into sinister classical dwells. Bass unfolds meets bizarre lyrics about been a crocodile and duck, as prog cum soundtrack groove grows, with all manner of odd sound matter. It can only happen on a circle record really!
All of above can be purchased and samples heard at Ektro home base. Thanks to Jussi for the time and effort with the interview. For more Circle info go here or to Ektro lable go here .
Roger Batty