Damien De Coene - Mourning Portraits III [Self release - 2019]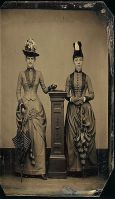 Appearing in late April of this year- here we have the third release in Damien De Coene's Mourning Portraits series- that sees this Spanish noise-maker offering up walled noise/ textured noise studies based around funeral portraits from the Victoriana era. This release originally appeared as a self-released tape, or digital download- sadly the tapes are all gone, so ones only option now is a digital download.

The physical edition of the release saw the clear shelled cassette coming in a monochrome sleeve. This featured two funeral portraits- one of a man perched up in his chair, and the other of two ladies stood up in all their finery. The release also includes a swatch of the old net-like fabric.


The two 'walls' come in at the thirty-minute mark, and the first is entitled "Daguerreotype Of The Deceased". Here we find a roughshod judder- that features ragged rumbling edges, and around this De Coene lays clutter 'n' rattling sub-tones. The whole things has a nicely crude and rapid velocity about it, with the sub-tones adding in a rewarding feel of dusty cluttering urgency, which nicely fits the theme of the series.

Next and finally we have "So Life Like"- here we find a deeper, & more bluntly bassy 'wall'. It's built around a dense 'n' ripping clattering low, this is surrounded by a brooding tumbling haze- which is edged by a select of crisper cluttering sub-tones. Once again there is a crude-yet-rapid feeling here- but the blunt and murky edge adds a nicely uneasy feel to proceedings- so one could almost imagine one of the well dressed dead females either blink or make a sudden movement.


I enjoyed both of the 'walls' on Mourning Portraits III- but of the two I'd say the second stands out as my favorite- due to the more creepy/ brooding subtleties of the whole thing. To check this release, and the others in the Mourning Portraits series out in their digital form head over to Damiens Bandcamp here.






Roger Batty