E.E.E.E./ Necrotik Fissure - Split [Void Singularity Recordings - 2019]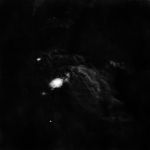 Here we have a double CDR split bringing together two lengthy slabs of searing & unforgiving walled noise- offering up the tracks we have Uk based E.E.E.E., and Hungarian project Necrotik Fissure. The pro-pressed CDR's come in a jewel case packaging, having an edition of 15 copies, and appear on the UK walled noise label Void Singularity Recordings.

On the first disc, we have a seventy-two-minute track from E.E.E.E- this project started in 2015, and according to Discogs has put out around six releases, taking in CDR's & digital releases. The track here is entitled "Lava Flows Of Kilauea"- and fitting its title it brings together rapid spurting & hissing tones, with an underlying galloping rumble. Together these elements create a constantly urgent & taut wall- which does feel akin to been stuck in the middle of rapidly moving & molten hot lava flow, as your body hair & clothes get at first singed, then start of burn/ melt away. The 'wall' is relatively firm in its layer set-out, though it did feel as it progressed that the rumble becomes more choppy/ hazed, and the spurting/ hiss gets even more rapid- as if the little island your standing on it get more & more reduced as the hot melted rock flow gets closer & closer. I think this is the first E.E.E.E material I've heard, and while there's nothing very mind-blowing/ fresh about the textures used & the layering, it's an enjoyable enough example of crushing & roasting wall extremity.

The second disc, of course, takes in the Necrotik Fissure track- this project started life in 2012, having a four-year break- then reappear in 2016 to release a steady flow of releases- taking in both splits, stand-alone releases, and multiple disc sets. The track here is entitled "VX"- and it comes in at just over the fifty-five-minute mark. The 'walls' another very urgent affair, and really I'd say it was even more urgent than the first track- as we get a very fast blend of stop/ start drone grind/ tumble, circling & searing hiss, looped chopping & tumbling static grain, & smarting fizz. Where the first track felt like been stuck between lava flows, this wall brought to mind running through a long, long line of synthetic fabric tents- as fiery Armageddon takes places-and you dodge boiling drips & skin scalding showers of melted tent fabric. Once again this 'wall' grabs you from the start, then holds you steadfast in it's intense & unrelenting unfold.


So in summing up this two CDR split- if you like tense & taut wall craft, that's lengthy & unrelenting, then I'd see if you can swipe a copy of this before they've all gone....






Roger Batty