VA - Decay, Death and Darkness - Aural Visions of Beksi [Eighth Tower - 2018]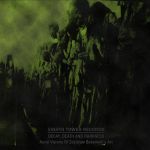 Polish artist Zdzisław Beksiński influenced many with his dystopian, surrealist works. Focusing on decay, death, and darkness, Beksiński's art evokes a chilling vision of a cold, uncaring future. While his works have influenced many varied forms, the synaesthetic reaction via sound offers up a profound darkness that Beksiński himself would have cherished.

Consisting of eleven tracks of grim, bleak electronics, Decay, Death and Darkness has artists firing off their visions of Beksiński's art through dark, sonic bliss. Chock full of unfamiliar names (save one), this compilation opens up not only a new insight into Beksiński's art, but also exposes projects to new audiences. Slow, dark industrial like Nuno Veiga's "Boa Morte," Deathwalk's "Supreme Acausal Rituality," and Nihil Impvlse's "Sonata for Vermins," helps to bolster the dystopian aim of Beksiński's work. Like skeletal machines moving forth to build more things people don't want to afford things they don't need, man as decaying machine becomes more apparent within these unforgiving, industrial soundscapes. Taking a different approach, artists like Dēofol, Adonai Atrophia, and the collaboration between mKnoise Visions of Abraxas lay out foreboding dark ambient soundscapes that accentuate the death and decay with sparse, windswept visions of a rotting, unpreventable future.

Dark and grim, like the art which influenced it, Decay, Death and Darkness has eleven artists creating bleak sonic structures that emanate the death and decay of Beksiński's art. With the inescapable nature of death and the inherent decay being one of mankind's most common fears, seeking solace through art seems like a wonderful and productive way to cope. Spinning this compilation should help the listener make it through desolate times, and realize that despite his or her oncoming fate, it's a part of life, and not a cause for worry.






Paul Casey