Legion of Swine - Italia [Ojud Records - 2018]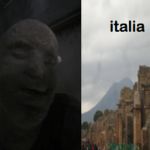 Legion of Swine's 'italia' is an LP which was conceived and recorded in Naples in April 2015, using samples from Pompeii and Vesuvius, and consequently dubbed to a limited run of cassettes on the Leeds (UK) label Ojud Records.

The label appears to operate as something of a closeknit communal backdrop for the interesting sonic arts and noise shenanigans of a particular cadre based in the North of the UK. The man at the helm of Legion of Swine is Leeds-based Dave Proctor - who has recorded a large body of work under various guises and as part of many collaborations - this particular project has always struck me as having his 'main attention' and I first saw the project perform live fairly early on in my interest in noise. I think it would be fair to say I perceive the project somewhat nostalgically. The album is made up of two tracks both clocking in just under the quarter-hour mark, one 'Pompeii' and the other 'Vesuvius' - compared to the other releases I have recently reviewed for this site this release is an interesting change of pace, with no 'long haul' or mesmerising static stupor likely to creep up on me as I attempt to engage with it. With that said, I am familiar with the project, both in a recording and a live performance setting, and I am aware of Dave's love for droning static, as much as he does also relish his moments of dynamic exploration. There is a very particular quality to Legion of Swine's noise that I feel very able to hone in on in terms of the sonic habits that it has developed - particularly, the 'siren-like' and wailing quality to much of it, the emphasis of this has often felt perhaps purposefully weighted with some deeper, personal symbolism only the artist could properly know - as well as a simple, personal preference towards long, drawn-out delays and other interesting modulations that play with the aforementioned quality.

I picked this cassette up from Dave in person this August when I had the pleasure of seeing him perform, and performing alongside him, at The Windmill in Brixton (London, UK) as part of Tim Drage and Lisa McKendrick's Noise Shed for the Cosmic Carnage 'Smash It Out' All-dayer - a tradition that is now a few years strong and has always been an excellent chance to sample the noise-life of London and to marvel at the curatorial talents of the two, who are also well known for their collaborative project Isn'tses as well as their respective soloist projects Cementimental and Nnja Riot. I mention all this background not only to give kudos to these great artists and their endeavours but also to note and explain how the context of this release is special. That is, after having bought this tape from the artist - it would appear that is hasn't been listed on the project Discogs page yet, does not currently appear as physical media for sale on the project Bigcartel, and appears only as a digital release on the project Bandcamp with no mention of an edition of tapes and no mention of the release on the Ojud Records Bandcamp or Discogs either. I can half-remember a conversation with Dave at the show in which he explained one of the copies I was buying was the very last available - I can't recall which it was but it was possibly this one. It may well be that this release is an 'unofficial' part of the catalogue of the label as it was produced solely to accompany a tour and consequent gigging. I'm aware this is a common practise among a number of noise artists, especially those very bound up in the life of touring.

Opening the release, Pompeii's entrance presents a smokescreen of whirring static - underpinning the static the faintest of high-pitched whines careens in a bouncing step towards us. It sounds much like it may well be time-stretched audio, and the additions and progression to the tonality of the whine as it begins to grow in volume and pronounce some details also seems to suggest this. Eventually, it sounds as though a human voice crying out has been tugged at both ends and a matter of twenty seconds of yelp has become a bellowing, echoing hall of surprise and anguish splayed over a ten-minute course. The nature of the sound 'coming towards us' never really lets up, even once the rising volume has reached its plateau it continues to careen forwards and forwards - perhaps sideways here and there sure but always progressing all the same. Oscillations become more pronounced at times, the thick smog of static persists throughout and at various moments recalls itself as my main focus as I become lost in the maze-like ebbing and flowing of tonal half of the track. Every now and again a whole new pitch or tone drops into this echoing hall and transforms it - the very first distinctly occurring around the five to six minute mark - the high-pitched wail we had familiarised with slowly soothes, slowly melts into a cool pool of soft, angel choir droplets. The pool still resonates much the same of course, an echoing pool that we are just as easily lost in and found ambling hapless at the wayside, where the airy static accompaniment serenades us. The static feels very much like it may be a plain and simple 'tape hiss' - or maybe even 'digital hiss' (if you're wondering how that works, I suppose I'm primarily thinking of the kind that involves recording on terrible "pin-microphones" built into laptops and phones!) - and yet it seems to add so much.

Eventually the booming chamber of sound begins to taper off at around eight to nine minutes in - come the ten minute mark we still have almost four minutes of audio left and the whirring 'hiss' has taken the absolute fore while the minutest remnants of the slowed death crawl quietly spins down the drain in the background. At around the eleven to twelve minute mark I begin to wonder if that quiet sound is still there or if I'm just imagining it is in attempting to discern it beneath the static. A clunking sound startles and cuts across - suggesting what we hear is live-processed with hardware which has been recorded in a room liable to produce clunking. Eventually all sound has well and truly sunk through the plughole, but there is no closing 'plunk' or gulp - only a sharp and abrupt cut, made somewhat less sharp by the gradual fade out.

Opening the second side, 'Vesuvius' somewhat more abruptly establishes a completely new static hiss, this time much more closely smothering a leering, swaying and jostling tone that seems to slither and wind in a very serpentine manner. While there is much less of a feeling of listening to 'time-stretched' audio here, it does still feel as though a similar process has been applied to the source sound material. The leering and swaying persists and eventually develops a surprising monotony in comparison with the steady, maze-like progression of the former track - come the six-minute mark it feels as though the sounds have changed very little in all this time and are slowly knocking around, every so often they hit some part of the four-walled cage they're in - their trajectory seems random and developmental at first but slowly begins to seem more and more mathematical and repetitive as they continue. I have to admit I was quite surprised by the lack of change in the sound here - as the shorter of the two tracks and having opened with a sound so similar in its general pallette to the former preceding it - the cyclical writhing melds with the static and eventually, some time after the ten-minute mark cements somewhat solidly. It's lack of dynamics in this sense makes it much more peaceful - where with the last I was constantly interested by its development, here I feel as though attention of the listener is meant to be surrendered - encouraging the path of 'zoning out' and letting the otherwise tedious loop take on a more hypnotic and trance-like quality. With this said, under thirteen minutes was not really enough time to utilise this zoning out, and the fade out feels irritatingly abrupt and uncharacteristic - I personally much preferred what was presented in the first for this reason above any other. With that said, I did like the release over all - the use of site-specific source samples and the imagery that the imagination can conjure with this context lends a very nice touch to something which could have easily gone sour fast if it had little to no attribution or explanation given it by the artist.

You can stream and download this release from the artists Bandcamp page and pick up available copies of releases from the Bigcartel, unfortunately this release does not appear in either although it might not hurt to reach out to the artist for an updated inventory as he is a very active live performer and he may well be creating new and digitally unseen editions with a surprising frequency. I strongly recommend also checking out the other music available from Ojud Records and the rest of the Legion of Swine catalogue - each release I've heard to date has built on a sense of sonic exploration that proves continually interesting.






James Shearman