Naughty - Grateful [Lost Light Records - 2018]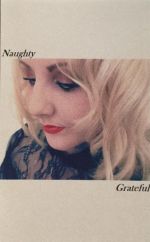 The final release from Parisien HNW mistress - Naughty - came in the form of the dire and pummelling 'Grateful' c90 release, out through Spokane-based Lost Light Records.

Lost Light has been going from strength to strength since its inception in 2015, showcasing some of the creamiest of the HNW crop in that time. The label features some astounding works from HNW giants such as The Ebony Tower and She Walks Crooked as well as the labelhead's own project, Joli. Naughty had appeared on the label prior to this send-off with the 'Street Doll' album, also released on a very limited run of cassettes back in April 2016. 'Grateful' is the second most recent release for the label and really drives home the labels desire to adamantly seek out quality wallcraft. It is interesting to note that the project had a very quiet spell leading onward from the humungus split releases of 2017 with The Rita and She Walks Crooked - on the Signora Ward and Ominous Recordings labels respectively - and that many fans of the project may have assumed prior to the release that the project was already dead in the water. In that sense, while it is indeed sombre news that the project is coming to an end - this release nonetheless represents a happy surprise for many all the same, and of course entices us with the future prospect of her work under new aliases to come.

The cassette is made up of two heavy walls fairly similar in their sonic qualities - each essentially nameless, they have been assigned the roman numerals for one and two and we are led to assume that while these could be considered two distinct 'parts' that they may well be two halves of one whole. There is a staunch and stagnant hypnotic shroud that envelops these walls - while it does little to suggest an adherence or even clear influence from the strict nihilism of French contemporary Vomir, there is definitely something of 'the French school' about this release and the project in general which lends itself to being viewed and listened to in the context provided by not only Vomir but the many other great wallers to have come out of the country. However, it is definitely important to note that Naughty has done inextricably well when it comes to carving out her own corner - developing a sound and imagery that takes on a unique and individual life of its own - skulking through the Naughty catalogue we come to develop a clear sense not only of what kind of wall noise to expect but of a distinct character to those walls that can also be expected. Ultimately, it is something hard to put into words - which is something you could easily say about the experience of listening to many great HNW artists - it may be one of the best signs of telling one. I often worry about repeating myself in these reviews as it can be very hard to find ways of relating to the sounds and the experiences attached to listening to them in such a way that provides appropriate explanation. What Naughty has done throughout her projects lifetime is somehow create a characteristic quality that escapes proper description or explanation - but stuns and provokes the listener all the same.

The slupring bass rumble is persistently delicious - while the gulping, throthing and bubbling splashes of static that dance around the rumble continue to evade the ear's capture. I find it as no surprise that long before the half-way mark of either wall (22:30) I found myself fully immersed - at an early point in each I tried to trace the movements of these splashing gasps of static that would slip around the staunch rumble with a variety of movement that seemed to suggest some human hand involved in their gradual shifting, until abruptly being tossed into a total stupor - the rumble and the waves both washing over me, the sense of their subtlety or their shifting almost totally stripped. While the textures remain luscious, the mind's lulling drives the listeners attention away from these and into the throbbing vortex that is the heart of the wall. It is following on from this that I am defiant in my belief this album is meant to exist as one heaving monolith, and simply appears to us as two slabs in order to accomodate its medium - of course, the medium in this case is in many ways intrinsically linked to the genre and we cannot necessarily surmise that the release suffers for being presented this way. In closing, while I may have found doubly as much to say in my last two reviews and that this was indeed meant to reflect hown highly I regarded the releases in question, this album struck me just as heavily and actually provoked more repeat-listens than either of the last two - all the while, leaving me with little to grasp on to when it came to describing and vaunting my love for it. Essentially, the walls here have rendered me in many ways speechless!

It is no surprise that the first pressing of sixteen tapes and the second of twelve both quickly sold out. Not only is the project held in high regard by many but this could be considered quite a pivotal release as it sees the artist laying the alias to rest and - we hope - moving on to greener pastures. With this said there are still two releases, from Trough Man and Lost Graves respectively, yet to sell out on the labels Bandcamp. I would highly recommend the latter release for those seeking out new and interesting HNW, and would also recommend that anyone interested in scoring such a release as Naughty's 'Grateful' keep their ears firmly planted to the ground. It would seem the label is developing a habit for selling out its small editions with an uncanny speed! Finally, there is always Discogs to keep an eye on in case anyone might be selling their own copy of this static stunner.






James Shearman