Kåre João - 2 [Jester Records - 2005]Rotoscope's Andreas Mjøs once referred to Kåre João as "the star". I have no idea what his exact fame status is in Norway, but after his 2002 Sideman album, he had a place of choice in my personal handbook of good music. Three years later, he is back with a new CD. Things have changed but he keeps on delivering the goods. Sideman was an exceptional psychedelic rock album that should have appealed to any Spacemen 3 fans. 2 still owes something to Jason Pierce but might appeal more to the Spiritualized fans that were left disappointed by Amazing Grace, a tepid return to rockier sounds.After Sideman, Kåre João toured Norway with a sort of power trio. Once it was time to write the new album, he decided to change the formula: except one track, none were written in a conventional rehearsal situation. He built his own little studio where he started experimenting sounds and soundscapes with keyboardist Kristian von Streng Hæhre and percussionist Johan Fodstad Larsen. More musicians joined later on, and the final result is more varied, almost kaleidoscopic.Album opener Don't Don't will have Sideman's fan happy: it's some feelgood psychedelic rock with droney riffs à la Spacemen 3, and the nice addition of a saxophone – you're bound to think of FunHouse-era Stooges. Jupiter in Flux makes for a rather big change. It's a very laidback, relaxed tune, with some super harmonies. The use of an acoustic guitar, the saxophone of Rolf Erik Nystrøm and the orchestral feel made me think of both Spiritualized (Let it come down album) and Jaga Jazzist's latest. There are a lot of things going on in what initially seemed like a simple song. The Rats was recorded without Kåre. It's a groove and keyboard based tune that somehow reminds me of Death in Vegas in their downtempo moments. Too soon, too fast is probably more interesting. The biting riffs are back for a track that has "mods" written all over it. In a way, it's The Who with a modern sound and some very nice vocal harmonies. Definitely one of the catchiest and most enjoyable songs. And it gets better with TV Dreamy, a high-octane garage / psych rock song. It grooves like hell, The Stooges on fire fronted by Primal Scream's Bobby Gillespie? It's pure Kåre João: retro and modern at the same time. The rather atmospheric Offline nocturnal transactions convinces me less. Let's move on to the next track. The Sideman is the soundtrack for post-party blues. You were high and now you're down, it's a man thinking about what he did and what he missed. A superb song, really. Great melodies, nice chorus and vocals and the surprising sounds of a banjo make for a perfect four minutes. Melancholy is still there on Sunset Sticker although you can't help but think there is a little more hope now. Almost as good as The Sideman, but sounding more like a couple of days at the countryside. Electricity is back on Kaleidoscope Street. The drone have something very Velvetian about it although the overall song sound is closer to British psychedelic rock than to New York as envisioned by Lou Reed. Love each other is the album closer, and I guess it's title and lyrics ("Everybody I love you") act as a message on the band's part. It's the perfect ending, the perfect music for the actors to come towards the crowd and wave goodbye.2 is, I would say, more accessible to your regular pop fans than Sideman. If you are allergic to pop music, fear not: Kåre João is way too inspired to become a mediocre NME-style band. They could and should be very successful outside Norway. I hope they do, because the deserve it, the label deserves it and music amateurs worldwide deserve better than what they are being served. Kåre João kicks ass in style.






François Monti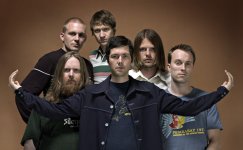 Kåre João - 2
Rotoscope's Andreas Mjøs once referred to Kåre João as "the star". I have no idea what his exact fame status is in Norway, but after his 2002 Sideman album, ...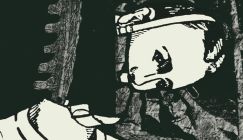 Hastings of Malawi - Deliriously ...
Formed in the early 1980s, after the member's sonic dabbling's on the early Nurse With Wound records, Hastings Of Malawi took a decidedly busy and deta...