Wehrmacht Lombardo - Tight Crossed Legs [Ominous Recordings - 2016]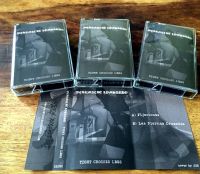 Wehrmacht Lombardo's 'Tight Crossed Legs' is a c60 tape out on the Swedish label Ominous Recordings, it takes in two sides to one wall each, the first being 'Fijaciones' and the second side being 'Las Piernas Cruzadas'. The artwork is by label head JSH and features the eponymous 'crossed legs' of a woman who appears to be wearing tights.

In opening, before the first side has even begun, the release is well presented to immediately smack the listener with its thematic representation of a long-running and well-known arena in the world of noise and HNW - nylon fetishisation. Ominous has been doing its own bit to fan the flames, while labels such as Signora Ward have trailblazed the thematic style to the point that, for me personally, it has very quickly come to lose its edge and interest, and even begun to seem a bit mawkish to those who are well aware of its historic trajectory and particularly on the lookout for interesting and new ways of HNW being presented. That said, I came into this release with these thoughts and feelings preparing me to be underwhelmed by the sounds contained within, but was pleasantly surprised on the first side to discover a blissfully raspy and airy crackling affair, replete with an illusive sinkhole ringing that could change its pitch at a turn of the head and a lucidly calming and rain-like patter and drizzle.

'Fijaciones' opened with a vocal sample in which a woman was speaking, the language was not English and I am going to assume it was Spanish from what I heard but I could very easily be wrong and if I am I apologise. There were key words that banged a gong as I listened and pointed in the direction of this being some kind of monologue pertaining to sexual fetishisation, the delivery was in a somewhat cold and clinical tone and the 'drop' into wall at first seemed like an anti-climax of sorts when the expected 'blare' of some heavy slab was replaced by a shower of hailstones and grit falling sporadically across the ears. There are moments when the crackling whir lets up into very sparse moments in which the punctuating silences really scream at you - whilst the sound itself begins to conjure new images, for me, I suddenly realised how close the crackling sound was to the crackle heard on vinyl records (only for that brief moment of particular sparsity).'Fijaciones' seemed to approach a bridge between the world of HNW and something more ambient, I might not venture as far as to say it should be called ANW (ambient noise wall) - and if anything, from what I gather from the release and the artist, the artist might not have that intention at all and might even regret to hear that some are describing his work as such. However, rather than let this review derail into my many thoughts and feelings surrounding the term, it is suffice to say that this first wall is a particualr breed of slow-going and incredibly relaxing and listenable HNW that the well-versed ear will be fairly accustomed to (even outside of the newfound usage and adoption of ANW).

On the second side, 'Las Piernas Cruzadas' opens without any sample introduction into a slightly lourder and thicker wall - perhaps still not blaring though, and feeling very much like a natural amalgamation and progression onwards from the soothing sounds of the first side. Where 'Fijaciones' was the gentle patter of light rain on rooftops, 'Las Piernas Cruzadas' is the approaching and building storm. There is still something very airy and almost lo-fidelity about the sound, perhaps something done intentionally with a nod to the masterfully airy, lofi and brittle HNW works of early pioneers such as Sean Matzus in particular (I mention this because the wall in question really did make me hark back to a particular wall of Sean's). I cannot help think whilst listening to this slightly more loud and chaotic side that the thematics are very much away from my mind whilst listening here, which is perhaps sometimes the case even with topics I am genuinely interested in or even obsessed with myself - but here I find myself catching myself and questioning how my ambivalence and indifference towards a particular theme affects my reception of a work in the world of HNW. It is very easy in this world for a theme to feel 'tacked on' and for a listener to completely bypass artistic intention which is at a purely conceptual and thematic level. The sound here is all-encompassing and enveloping and I am driven to make attempts towards a mindless zone of calm - and yet, deep down in its core, this release and its walls do seem to speak to me of their close bond with 'obsession'. There is something here that drives at me and makes me doubt that this release could be gratuitous in any way - although perhaps there is some personal bias, having long been a fan of the Ominous Recordings label and long having appreciated and admired JSH's abilities as a curator of noise.

This is a project I have explored very little of, only having listened to one or two digital releases before taking on this review and I walk away from it pleasantly surprised and eager to further explore the projects catalogue, which seems to be fairly extensive. Ominous Recordings recently had their 100th release and it was a fairly special occasion, I bid all listeners to do their best to support this amazing European label which is always growing and improving thanks to the stalwart efforts of the crazed man at its helm. There are also two copies of this release in particular still available for sale according to the Bandcamp page as of writing.






James Shearman