Vagrant Law - It Doesn't Matter Anymore [Self Release - 2015]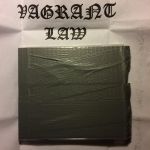 Friends, gather around me: we have a rarity before us… On this day, in 2016, I am reviewing an album that does not appear to be mentioned anywhere on the internet. I hear your gasps, but regardless it's true (or at least, I'm beaten). So, with no label details, or anything else to guide me, all I can do is seize on the brief text and suggest that 'Dom C' might be the same Dom C behind Faggot Front - or it might not be. These details are photocopied onto an A4 sheet, with the reverse carrying a washed-out, black and white image. This sheet was then slipped inside a jewel case, with a blank (as in, silver) CDR, and then thick tape wrapped around the whole affair. Mystery wrapped in mystery.

The CDR contains one long track, just short of 25 minutes, and after a brief sampled intro (a man discussing murdering his wife and her lover), we're straight into harsh noise. To crudely summarise the piece, it basically moves through different sections - at a reasonable pace - using different noise textures and a few other sounds which might be loops. To be really crass about it, you might describe it as a harsh noise project making a really bad attempt at HNW… However, this is most definitely not to be taken as any kind of value judgment on the quality of the track, merely a (hopefully) helpful indication as to the sounds and structures within. You see, the piece is quite barren; unlike so much harsh noise, there is no overwhelming barrage of colour and movement. The work often dwells on a texture for a short while, before shifting to something else; this, combined with the dominance of 'pure' noise sounds and crackle, can't help but bring HNW to mind. So, all the ingredients of harsh noise walls are present, charging bass rumbles, trebly fizz, crumbly mid-frequency crackles, but they are utilised in ever-changing ways. It would therefore be easy to pin 'harsh noise' on this, but the fact remains that HNW lurks in every corner of It Doesn't Matter Anymore.


I really enjoyed this - whoever produced it. I think that, despite its constant movement and shifts, it will appeal to a lot of HNW folk. There are certainly several exquisite textures to be enjoyed - the nice, dirty scuffs that appear near the 17 minute mark, for example - with only a couple of interruptions from loops or delaying material, in the crackle and churn. The barren, concentrated sound focusses the performance, and the listen, and it really is incredibly engaging. Vagrant Law need to stand up and make themselves identifiable!






Martin P