Big Hole - Kerosene [Listen Loudly - 2015]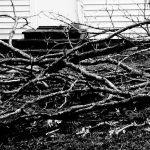 Here's a cdr from one of the more recent practitioners of wall noise: Big Hole, from Texas. The release takes the very simple, but very effective form of a blank cdr and a stark, xeroxed card insert; a highly contrasted black and white image (of piled branches) on it's front cover and bold text on the reverse - all making a virtue of the simplicity of the packaging. 'Kerosene' is one long, seventy-one minute track of harsh noise wall.

The piece begins with a long sample, a monologue remembering the burning of a felled tree, using kerosene; before leaping headfirst into the wall textures. These begin with a stuttering bass, modulating the fizzy, higher-mid crackle; with both these softly blanketed under delicate, warm treble. As the wall progresses, this 'blanket' seems to produce crispy, treble 'artefacts', that appear to come from outside the sound field - so to speak. These textures stretch out, until a sudden change around the nineteen minute mark; when, after a synth-like squiggle from the bass elements, watery treble textures appear and take over. There's another shift after twenty-seven minutes, when the bass drops out somewhat; leaving a juddering mid-frequency stutter, with nice stereo effects moving through the speakers. Although 'Kerosene', thus far, suggests that it might be a little restless, by halfway through it calms down and settles into a wall that lasts pretty much till the end. There's a feint towards a more bass-driven territory around the fifty-first minute, but its never fully realised. So the wall - quite dry, quite 'digital' - continues; but, as it approaches it's end, it noticeably begins to break down, to falter. It's almost a tremolo effect, as it grinds to an end before breaking open in the final seconds.

This is a very solid release, from a name I've only recently noticed. The wall is nicely paced, in terms of development; with those early shifts and tweaks almost clearing the decks, before the stasis that follows. The overall effect is slow and determined, creating a strong atmosphere. The sound is quite dry and 'digital', which is not always my preferred state; but there is more than enough colour (certainly in some of the treble) to charm my ears. Hopefully Big Hole continues in this fruitful vein.






Martin P