Shivers - Shivers [Miasmah - 2014]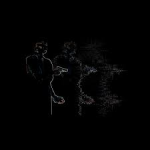 David Cronenberg has been inspiring the world for the past forty years, so it's not surprising to see a tribute to his work come about at this stage in his career. Interestingly, this tribute comes not in the form of film, but rather as a jazz/noise hybrid. Combining the talents of Rutger Zuydervelt, Gareth Davis, and Leo Fabriek, Shivers offers up a different interpretation of Cronenberg's work. Using elements of jazz, noise, and electronica, this European trio builds an intriguing sonic atmosphere that not only represents Dave "Deprave" and his oeuvre quite well, but does so in an unexpected manner.

Whistling oscillations bring us to tight, strongly punctuated drum beats in the opener, "Ash." Futuristic, back alley decay surrounds sparse, but effective jazz noodlings. Feeling more Blade Runner than Cronenberg, this bleak, industrial soundtrack thickens with increasingly rough layers while offering a dystopic and grim view of Cronenberg's vision. Throbbing synths are the pool in which the free jazz clarinet and drums play in "Otomo." Giving way to high pitched feedback and looped, insect like buzz, this track soon exposes clacking street sounds which add an element of gritty realism. Harsh, distorted synths (?) do their best to obfuscate the drums, but there's no hiding the clarinet. "Rabid" starts harsh, but out of this womb comes the softest, most luxurious part of the album. Like the butterfly emerging from the cocoon, light, effective drums, keys, and horn deliver a beautiful, cheerful, rainy day melody. This softness can only be kept up for so long before the brooding (!), fuzzy drone of "Brood" takes hold. The synthy, electronic track that appears out of this stands in sharp contrast to the cacophonous physical instrument music from the previous three songs. The hypnotic looping of "Spacek" keeps taking us further from the jazz realm, but while echoing the drums that it's trying to escape."Replicant" closes the album out by bridging both worlds together with subtle harshness, bassy electric drums, and the return of the horn. The static shroud that surrounds this song hits critical mass before lifting and revealing a dark, jazzy, piece that would be very at home in an 80's sci-fi film. Not to sell it short, though, because it's contemplative and the restraint adds a lot to its impact.

Shivers introduced three new artists to me. There's a glut nostalgic tributes and odes to horror icons these days, so I'm always wary when a new one pops up. Thankfully, Cronenberg was just inspiration and not an excuse to collaborate. These tracks stand out on their own and work with or without the association to Cronenberg. The mix of physical jazz against the stark electronics works very well (musically and in tribute to Dave's body horror), and if Shivers releases anything further, I will gladly check it out.






Paul Casey