Various Artists - King Bullard Version - Songs Of The BOS Label [Numero Group - 2013]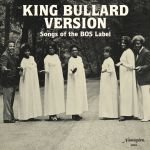 In recent years, there's been a hive of activity in the area of historical re-issues, especially in the area of gospel blues; and its something that has unearthed some wonderful recordings.

The Numero Group's recent "Apocryphal Hymns" compilation had some beautifully zonked tracks on it - check out Otis G. Johnson's "Everything – God Is Love 78" album for a worship release that you won't stop playing - but "Songs Of The BOS Label" is a much straighter affair. (I'm reviewing a download version, but the vinyl contains liner notes by noted gospel historian John Glassburner; and I can tell you that the "Apocryphal Hymns" double LP mentioned above was a lavish package.) The album collects up some tracks released on James Bullard's Cleveland-based BOS label, during the 1960s; and all are proficient r&b/soul anthems to the Lord - this is not a "novelty" "outsider" re-issue. The bulk of the material leans towards the gentler side of things, but thankfully there is a bit of grit and sweat to be found. I'm really not massively au fait with this area of music in general - to my loss, but having recently shared a lot of long car drives with an aficionado, its something I need to rectify.

As stated above, the compilation is dominated by songs leaning towards the gentler side of soul and r&b, and they come from just six groups: Capitalaires, The Friendly Seven, Mighty Imperials, Sensational Saints, Trumpelettes and Southern Echoes. (The press release lists a track by BOS Singers, called "Move Satan"; but the actual album finds this replaced by "Thank You For Bringing Me Out" by The Friendly Seven (featuring Betty Thompson)… Some kind of mix-up there…) For the most part, I enjoyed the album; but it rarely excited me. Tracks like Capitalaires' "Glory, Glory" are admittedly great; tender, swaying soul with blissful vocal harmonies - but not something that sets me alight. Alas, most of the tracks fit this personal template. Along the way, though, certain things stand out: falsetto vocals will always be welcomed here, and Mighty Imperials' "We Need Him Now" doesn't disappoint, nor does the fantastic ascending bridge in "The War Is Over" by Sensational Saints - probably the most complete and accomplished track on the compilation. The three tracks from Trumpelettes (or "Trumplettes" - either way, I can't help but feel that that's an unfortunate name…) raise the temperature slightly, with impassioned, strained vocals and upfront drumming; as do The Friendly Seven, whose "Thank You For Bringing Me Out" features tight, funky drumming and a heaven-bound vocal, punctuated constantly by stabs of "Thank You!" from the backing singers. But this is all leading up to the saviours of "Songs Of The BOS Label": Southern Echoes. Blessed with a more lo-fi, almost garagey production, Southern Echoes are the sweat and grit of the album. "Why Am I Treated So Bad" and "Burden Down" both feature passionate hollering, wandering guitar and group chanting; the latter, in particular, is quite a tour-de-force - even with the out of tune "pub" piano. It starts with bluesy guitar noodling and a gravelly, preaching vocal, before building into a foot-stomping gospel blues. The guitar work is especially remarkable, with the player being given apparent free rein to do as they will - the whole song is tantamount to a solo, starting off wily and searching, before opening out into sharp, rock'n'roll riffing and fretting. Its a gem.

Some "re-issue" albums are historically important without being ear-pleasing, others grab attention through eccentricity or obscurity; "Songs Of The BOS Label" is rather in the middle ground here. I'm unaware of any great historical importance to the tracks (though the liner notes could tell me otherwise), leaving us with a very listenable album of straight-sounding gospel-infused r&b and soul. This isn't an area of expertise for me, and I have thus inevitably found myself attracted to the pieces that have "stuck out" - Southern Echoes, in particular. But I feel certain that anyone interested in either r&b, soul or gospel will find much to listen to in this compilation. "The War Is Over" by Sensational Saints, is as solid as they come.






Martin P