Disgorged Faeces/Segment Aura - Event Horizon [Vomit Bucket Productions - 2012]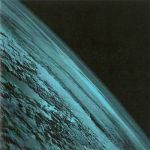 "Event Horizon" is a split CDR that brings together two tracks of brutal HNW, with one track of slightly calmer walled noise. The two projects involved with the split are Disgorged Faeces from Belarus, and Segment Aura from Russia.

Disgorged Faeces is a one man HNW project of Evgeniy Kukharik from Belarus. The project seemingly started in December 2011, and since then has released coming on for 30 releases that take in DL releases, CDR's, tapes & quite a few other splits. His two tracks are up first, and first of these is "Soul Sector" which comes in at the twenty one minute mark. The fixed 'n' dense 'wall' is built around a fairly rapid mixture chugging mid-ranged noise drone which is weaved with persistent & taut crackling static descents. Secondly we have "Echo Inside"( which isn't really a very HNW sounding title!), and this comes in at just over the eleven minute mark. This track is built around a drilling semi bass lined judder which is weaved with locked jittering static churning downpours- once again this track is fixed & unmoving in it's feel. Both Disgorged Faeces tracks are rewarding if fairly simplistic bits of 'wall-making', of the two the second is my favourite as the drilling 'n' juddering element is most entrancing.

Russian based Segment Aura is another one man HNW project. And this project has been sporadically putting out releases since 2010, so far the project has put out five releases and this is the projects first split release. Their single track is entitled "Ganymede", and this comes in at just over the twenty minute mark. This tracks a little calmer & slight more open than the first two tracks through it's not ANW. The 'walls' built around a relatively thin & slightly uneven rapid drilling drone which is cut by a sketching & nervy jittering static tone. The 'wall' is once again fairly fixed in it's structure. Much like past work I've heard from this project, this is track is most compelling & quite original sounding.

So this is certainly a worthy split which brings together brutal if simplistic HNW, with more creative & slightly calmer HNW.






Roger Batty