Aaron Dilloway/Jason Lescalleet - Grapes and Snakes [PAN - 2012]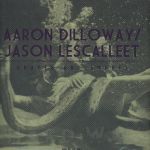 Aaron Dilloway and Jason Lescalleet are both well known for their work in the experimental/noise field. Grapes and Snakes on PAN is their first collaborative work. Both artists utilize synths and tapes in their work, so this pairing totally fits. Grapes and Snakes LP is two 19 minute tracks, one on each side. They're pretty different from each other, and I wonder if this is more of a split than a collab.

Side A's track, Shattered Capsules, is the weaker of the two tracks. Although it is chock full of lush synth oscillations, crunchy tape flutter, and enough beeps to make a robot rust his pants, it's far too varied for my tastes. The sounds themselves are great, but it's their presentation that's getting me. If this were cut into three tracks instead of one, I would like it a lot more. The first third is a nice, thick slice of analog synth bliss. There are highs, mids, and a nice, constant low buzz. It's very full and would make a good soundtrack to exploring caves on a distant planet. The next third is a lot more relaxed. There's a calm slowly moving surface synth with an excellently serpentine bass Leviathan swimming underneath. The final third's ringing and beeping test the listener for aural epilepsy. They're interesting enough, but lose a lot of their charm because of their duration. Nice and all, but they couldn't have less to do with the first two thirds. If side A were split into tracks called "Land," "Sea," and "Air," I would've been a lot more forgiving of it. That's not to say I didn't enjoy it, though.


Flip the record to find Burning Nest. Maybe the first side's exploration of the planet woke up the monstrous denizens, 'cause they're definitely forming up on side B. Low drones and white noise synth cymbals lead the charge here. The low, quickly oscillating buzz breaks out and takes us to all the stops on the tour. As the track thickens, we're treated to what I describe as Rodan vs Godzilla. Soupy synths are topped with prehistoric screeches and monstrous roars. It's worth the fourteen minute trek to get here. This continues to build and thicken until its unfortunate demise. The ending matches the first side in its misplacement. Squiggly synths over a bass kick beat? Hm. Maybe that's some sort of apotheosis for our interstellar traveler. I guess we didn't survive!!


Grapes and Snakes is a well done collaboration. The gripes I had with it are due to my own idiosyncrasies and should be recognized as such. I appreciated it more with each listen, and even managed to make up my own story for the album upon the last one. Synth heads will enjoy the buffet of sounds and arrangements. Experimental dudes will find a lot of nice textures in here to geek out to. Noisers will probably want to look elsewhere. This would be a nice album to have on when passing out candy to the kiddies on Halloween.






Paul Casey