Nightmare Castle - City Of The Dead [Shit Noise Records - 2011]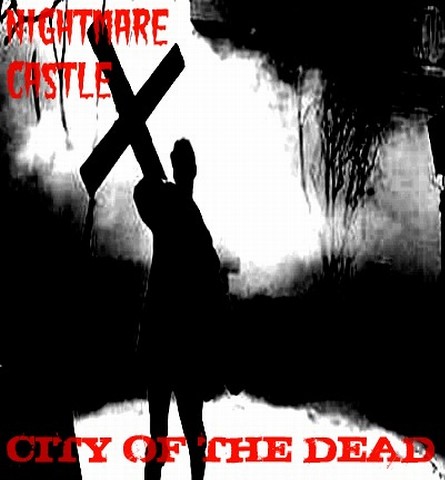 "City Of The Dead" is a 3inc cdr from 2011 by this Louisiana based horror themed HNW project. And this release is themed around 1960 uk horror movie of the same name.

City of the Dead was the first movie to be made by Amicus Productions( who where known as Vulcan Productions at the time) , one of Hammer's most successful rivals in the 60s and 70s. The films plot revolved around a young women who travels to the old town of Whitewood, Massachusetts to do some research on colonial witchcraft. The town was the scene of the execution of accused witch Elizabeth Selwyn by the townsfolk and its history is littered with demonic going on's. When the young women arrives in the town , she finds the everything she wanted--old, secluded, filled with those New England touches that tourists just go crazy for. But there are ominous signs. The church is fallen into disrepair. The townsfolk seem to be nocturnal creatures who slink quietly from place to place. The town pastor warns the young women that the Devil resides in Whitewood, and that she should leave immediately. But of course she doesn't, and that's when things turn more creepy & horror fed. The film featured Christopher Lee as a sinister college professor, along with a cast that featured Betta St. John, Patricia Jessel, Venetia Stevenson, & Valentine Dyall. The movie is seen as a creepy cult classic, and was filmed in moody & brooding black 'n' white.


The 3 inc cdr offers up a single track entitled "Burn Witch, Burn!", and this comes in at nine seconds over the eighteen minute mark. The track opens up with a sample from the movie with a female voice saying "I have made my pact with you oh Lucifer". Then with in a few seconds we're into the 'wall' which is centred around a mid-paced rumbling 'n' roasting noise texture & a juddering/ grating single tone yet repetitive noise element. Like much of this projects work there's a nice muffled & aged feeling to the 'wall', which of course fits nicely the atmosphere of black & white horror moives such as City of The Dead. The 'wall' here is fairly locked & unmoving in it's structure with both textures following pretty much the same pattern through-out. I'll have to admit with my first few plays I was rather underwhelmed, but over the next few plays I found myself really warming to the tracks muffed, persistent, grating & churning vibe. The track ends with another short movie sample with a man saying "Burn Witch, Burn Witch".


This is certainty not my favourite work from this project, yet it's still fairly compelling & brutally nostalgic in its vibe. So if you've been a fan of this projects past work- this is worth a look. But if your new to the project it's best to see if you can track down something like the split CDR that this project did with Carrion Black Pit on Muzikaal Kabaal first, then come back to this.






Roger Batty