Michael Barthel - noch mehr höhlen [Razzle Dazzle - 2011]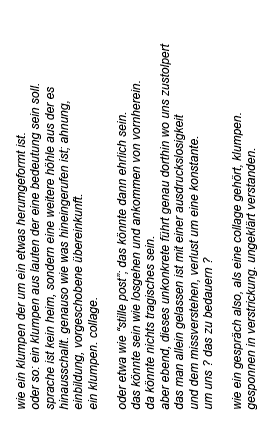 A very cleanly packaged tape, here, on Razzle Dazzle; all black on white. To be precise, its mainly black text on a white background and this gives it a serious, academic feel. It's as if the tape were taken direct from a laboratory store cupboard, full of research and data. The vast majority of the data presented on the inlay of the tape is in German; and whilst my basic knowledge grants me the gist of some of it, I can't pretend to fully understand what's being said.

It's a short tape, and all the better for it: four tracks of sound poetry; three rather concise, one longer. Barthel's voice is the basis of all the pieces, and, bar a few other elements (a guitar, a loop of "arabic" sounding music), often the sole instrument. He multi-tracks his voice to create surprisingly "musical" works, covering a pleasantly wide range of terrain. The first and most obvious thing thats noticeable about "noch mehr höhlen", is that Barthel works very deliberately and with forethought - this isn't uncontrolled yammering and howling (not that uncontrolled yammering and howling is always a bad thing). I'm not massively versed in sound poetry, but the sounds here remind me more of Kurt Schwitters' careful pronunciations, than they do of the wilder vocal theatrics often deployed in "noise" performances. So, sound-wise, there's nothing too strained to be heard here; indeed, most of Barthel's utterances are very clear in pitch and tone. As well as this babble of quite precise voices, he also uses hissing and whistling sounds; with some slurred vocals and grunts on "in immer noch mehr höhlen, hineingerufenes …". These sounds are layered over each other, with no obvious processing apart from on the last track; where vocals are slowed into a murky, lo-fi drone. Panning is used to great and obvious effect throughout the tape, giving Barthel the effect of an ensemble.

Structurally, "noch mehr höhlen" is a lesson in care; with no cheap tricks or recourse to gimmickry. The first track, "mit sich ein chor", punctuates and surrounds a repeated singular utterance with passages of hissing; creating a genuine tension. The second piece, "sag 72 orte die nicht funktionieren", is a wonderfully eerie, dark drone; created out of whistling tones - it sounds like the wind blowing through some very curious caves. After this, "noch ein chor, geschichtet" is a more obvious barrage of voices; but still constructed and performed with immense care and attention. The last track, "in immer noch mehr höhlen, hineingerufenes …", is a more tangible work than its predecessors; looping some "arabic" sounding song, over and under which Barthel constructs slurred vocal drones and ditties.

This is a very measured cassette, quite befitting its stark artwork. One the first side, Barthel carefully constructs little sound-worlds; quite precise in colour and atmosphere. "sag 72 orte die nicht funktionieren", in particular, is a truly beautiful piece; haunting the speakers like a mist. The second side presents the longer "in immer noch mehr höhlen, hineingerufenes …" which I'm less enamoured of; it lacks the stripped-down clarity and fragility of the other pieces. Nevertheless, this is a great and inspiring release.






Martin P