Various Artists - Mit Fester Hand – Allerseelenlieder [Ahnstern - 2011]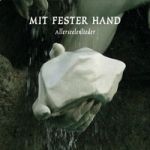 Ahnstern is one of the many sub-labels that branch out from the infamous and highly influential Austrian label Steinklang Industries. Playing out as a tribute to the equally infamous purveyors of Industrial/Neo-folk Allerseelen, this collection of interpretations of the aforementioned act proves to be an interesting relic in its own right.

The bulk of this compilation is made up of various strains of Neo-folk, all the while flirting with various elements of martial industrial and dark gothic laments. 'Allerseelenlieder' keeps the attention for its duration unlike a lot of compilations of similar ilk, the collection of tracks show off a genuinely well thought out selection of artists and tracks, understandably the majority are picked from Steinklang's burgeoning roster itself, but this is definitely not a bad thing. Allerseelen's twenty plus years of existence have spawned many imitators and boundary pushers alike which have taken influence from their extensive back catalogue, along the way to perfecting their own self-styled genre of 'Apocalyptic Krautfolk' and infusing a hefty dose of Martial rhythmics into the creative melting pot. This compilation sets out with the aim to showcase some of the best acts that have taken on-board this influence and have successfully injected some of their own personality into Allerseelen's initial musical vision.


The final product flows beautifully and whilst not every single track hit's the bull's-eye every time as far as original composition is concerned, the overall atmosphere and the soul of Allerseelen's output is captured well. Stand out tracks come from the likes of Tyr-Kreis with the track 'Ernting', which kicks off with bursts of grating noise before slowly subsiding and breaking into intense martial savagery combining gothic tinged elements which hark back to 80's synth-pop sensibilities, decadently catchy. Sagittarius capture the imagination with the offering 'Musa', calming piano, bird-song and synth elements combine with the whispered vocals to create an air of mystical excitement, infusing the track with a natural magic which you can't help but enjoy. The powerhouse which is Blood Axis makes an appearance here in the form of a collaborative piece with Portuguese act Sangre Cavallum entitled 'Sonne Golthi-Ade'. The crackling of cinders burning on an open fire kick-start the track before breaking into a rich and flowing piece, gentle but bombastic at the same time, the track may not be entirely overwhelming, but certainly the production is fantastic and really captures the spirit of this tribute project very well indeed. Towards the end there is a surprisingly powerful and entrancing track from the act Der Feuerkreiner, which manages to take you over completely and transport you to a different realm altogether, spurred on by the regimental martial drumming and cacophony of sonics that are present throughout, weaved together with stunning efficiency whilst the angelic female vocals draw you even further down the rabbit hole. The closer comes from Allerseelen themselves, riding along the deep electronic beat which forms the backbone of the track and disappearing off down more psychedelic avenues accompanied by disjointed guitar stabs and Gerhard Hallstatt's hushed vocal tones.

Altogether this forms a very competent tribute to Allerseelen, whilst at the same time providing us with a good introductory lesson in Neo-folk for those types who are not overly familiar with the genre or scene in general, worthwhile listening indeed.






Todd Robinson