Where Is This - Digital Fire [Kovorox Sound - 2011]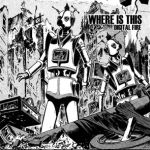 "Digital Fire" shows a very different side to this always creative & often quirky Irish noise & HNW project. This CDR offers up a rather straight faced & atmospheric collection of noise pieces that mixes together: shifting noise drone matter, moody feedback scaping, and organic digital meets analogue noise texturing.

The CDR features eight tracks in all & they fall between just over the minute mark to near on seven minutes, but mostly the tracks fall between the three to five minute mark. Through-out each track here the vibe is very much about mood setting, and sound tracking- the album front cover features a slightly comic book yet grim picture of two robots standing in a ruined city scape & this album could really be the soundtrack of their story as it moves from: layers of chattering & shorting noise making, through to penetrating & shifting noise drone scaping, onto moody and harmonic tinged subtle static drifts, through to slightly reverb & churning banks of atmosphere heavy noise texturing, onto brooding & seared noise drone batterings. There's a lot of variation from track to track, and often a nicely bit of shifting with in each track it self, through there are still moments of more fixed & atmospheric dwelling too. Really each track works here both on it's own, and as part of the bigger noise soundtrack like concept.

All told this album is an highly enjoyable & atmosphere heavy slice of varied noise making, and it's certainly one of my favourite releases from this project thus far. And it's great to see the project attempting something a little different & more seared soundtrack like. This is of interest to those who enjoy their noise with creative, sometimes harmonic & mood setting edges.






Roger Batty