Steve Severin - Blood Of A Poet [Cold Spring - 2010]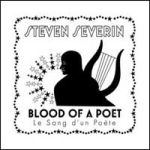 Le Sang d'un Poète was a film by the French avant-garde writer Jean Cocteau of 1930. Despite denying that he had anything at all to do with the surrealist movement, the film was financed by Charles de Noailles, the same producer of Buñuel and Dali's infamous L'Âge D'Or of the same year, and shares a similar, pioneering approach to spectacular experimentation unhindered by plot. And like many surrealist works before, it explores the relationship between art and dreams, initially focussing on an artist who manages to wake a statue who duly sends him through a mirror to explore an unusual hotel, and so forth.

Steven Severin, who has largely been focussing on film soundtracks since the Banshees split in 1996, recently toured the film, replacing the original's perky soundtrack by Georges Auric with his own new work. While Auric's orchestrations were used sparingly, Severin's fill the entire length of the film, often working as foley as well as musical foil to the picture's phantasmagorics. In doing so, his neo-classical compositions for piano and synthesiser (though never synthetic) are allied to innovative visions of characters disappearing through mirrors or floating up walls interspersed with spinning wire heads. It provides a graceful yet strongly foreboding, contemporary accompaniment to reinforce this nightmarish dimension without overpowering the eighty-year-old imagery. Indeed, the qualities of the antique film – all scratchy and monochromatic, yet more vivid than the most expensive CGI could attain – are expertly blended with a modern sound to create a hybrid more affecting than the sum of its parts.

Consequently, the CD is, at first, an awkward and unusual listen when experienced without the moving images. Although divided into eight tracks broadly fitting the film's sequence of scenes, a single track can switch between musical themes, often sharply, faithfully triggered by onscreen edits and actions. Listened with eyes shut, this can break the spell of immersion that Severin's compositions otherwise achieve with ease and is most evident on tracks like L'Hôtel des Folies-Dramatiques whose wonderful propulsive hallucinogenic theme (that is reminiscent of Coil's equally delirious Amethyst Deceivers) stops intermittently and abruptly, replaced by seemingly unrelated passages before resuming. When accompanied by the film though, such sudden diversions nimbly illustrate a series of strange set pieces witnessed through different keyholes as the artist pauses in a dream-like struggle to walk along the hotel's corridor, but on the CD it feels more like a medley of longer pieces.

Of course, this issue is quickly resolved, serving to inspire its listeners to seek out the film online. In doing so they can quickly enter an elegantly surreal impromptu multimedia experience where old visions and new sounds are consummated, bringing the film to life once more, like the protagonist did the statue.






Russell Cuzner