Negura Bunget - Vîrstele Pămîntului [Code666 - 2010]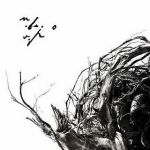 It's been four years since this atmopmospric and progressive Romania Black metal collective wowed the world their fourth album "Om" which was clearly their most prefect, realized and magnificent work that far. Now "Vîrstele Pămîntului" appears with two or three member departinting in the interim between "Om" and now, and I'm afraid to say this is one of weakest & drab records of the bands career….I guess it's true what they say once you reach perfection there's only one way to go.

The main problem through-out the album is the awful synthetic and passionless production, and the mock sentimental trying to be epic and cinematic mixture of panpipes, bland & weak sounding symphonic 80's electronics, synthetic choirs and the truly cringe inducing ethno percussion layers. Quite often you feel like your listening to a new age meets bland world music release with weedy sounding black metal drums added on top. And even when it does attempting to go a bit more heavy with growled vocals and vaguely chugging guitars- it sounds overcrowded and unbalanced by the more bland symphonic and synthetic elements. It doesn't help either that there are no memorable or distinctive songs on offer either, one track runs into the next in a highly contrived, soulless and uninteresting manner. And you can yawningly predict when it's going to slow down, speed-up or lamely soar into a supposable epic moments. There really is none of the epic, soaring and grand blacked spirirt that ran like blood through "Om" veins, and it's so sad to hear such a once inspiring and creative band release this kind of low-grade, bland and uninspired album.


I've tried again and again with this album playing in different moods and different situations over the period of three or so months since I got the promo. But every time I've had to struggle to even make it to the end of the record, as it's such a passionless, contrived and ultimately soulless record. I really don't know or understand what's happened to this once great band, but all I can think is with the department of members the talent and the soul has departed too- truly this is one of the biggest sonic let down's in recent years.






Roger Batty