Sissy Spacek - 15-Tet Oakland [Misanthropic Agenda - 2010]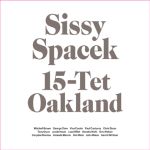 '15-Tet Oakland' finds Sissy Spacek moving further away from their noise grind cut-up origins, and it continues further down the noisy, yet highly controlled improv path. This album offers up tow length slices of seared yet highly rewarding improv with each track having an amazing 15 people involved in it's twisting and edgy sonic construction.


Opening the album we have 'First set' which takes in twenty two minutes of raging and reducing caustic improv. The track starts off very subtle, quiet and quite haunting with a slightly serrated string element gentle yet sourly seesawing away. By the two minute mark other sonic elements wake-up and start moving around like: juddering and jerking precision, seared wood wind trails, guitar neck scuttles, and muted 'n' tense horn swoons. As the track move towards it's fourth minute things getting very tense and knife edge like, with the drums starting crashing in with violent and jerking body slams, the horn work becomes more aggravated and the whole 15 person ensemble starts kicking into touch- yet it still remains wonderfully controlled and focused never fully dropping into all out noise. There are so many textures and sounds drifting in the jerking and violent mix from wayward electro slices and winces by John Wise & Gerritt Wittmer, to throbbing counter bass punching throbs, loads of percussive detail and scuttle, guitar rabid neck runs, koto tinkle and twist, and woodwind honks and bays. The track wonderfully switchers between thick and detailed noisy attacks, down to more looser, open and at times quite atmospheric simmers.

After a brief, glamoring and grinding noise 'n' percussion 44 second encore we drop into 'Second set' which starts out with distant, gentle, melancholic and harmonic Morton Feldman like woodwind trails, which is surrounded by all manner of settle and twitch , and the odd sudden tight percussive whack. By the fourth minute the mournful woodwind has departed and replace by pick-up jerks and violent scuttles, horn honks, jaded guitar twitches and sudden 'n' receding percussive attacks. This track is a little looser and less tense in it's feel and attack than the first track. Sure later on things get quite thick, detailed and noisy along the way, but it feels a little more carefree and fun in it's attack somehow with some almost cartoon like noises appearing here and there in the mix. But just like the first track it's still highly effective, focused and rewarding through-out it's twenty one minute runtime.

All told '15-Tet Oakland' offers up two highly creative, focused and wonderfully performed slices of noise sewn improv. The only downside to the whole thing is it all seems over to quickly, I really hope Sissy Spacek see fit to put out another boxset like the great California Ax from 08.






Roger Batty