Naked Girl Killed In The Park - Night Prowl Anthems [Disturbing Scenarios Of Dying - 2009]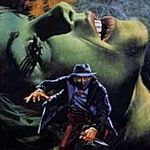 This wonderfully named project is an Giallo obsessed HNW collaboration between Richard Ramirez (Black Leather Jesus, Werewolf Jerusalem, Vice Wears Black Hose, An Innocent Young Throat-Cutter, ect) and Thomas Mortigan(RU-486, Black Leather Jesus, black metal band Octagon and onwer/runner of Destructive Industries label). Night Prowl Anthems is the projects third release, and it features four mainly short(by HNW standards) and moorish Harsh Noise Wall and static textured tracks.

The tracks on offer here fall between just over the six minute mark to just shy of the fourteen minute mark a piece with a total CDR running time of around the thirty seven minute. Each of the tracks here are very enjoyable, moorish and at times quite memorable slices of crisp, tight and jitter bound static composition and controlled wall noise making; which mangers to be engulfing, tense and psychotic cinematic in their make-up. Really the whole release is great and consistent through-out, but two of my favourite moments come in the form of the opening track 'At Knifepoint' that finds the pair unfolding a seven minute track which takes in deep 'n' nasty drilling noise grain, that's high with sinister indent. And grazers it with brooding and quite haunted stuck cavernous drones or creepy juddering. Or the final and longest track the just shy of fourteen minutes of 'N.P.A' which mixes slowly descending, quite doomy and grim flicker neon-caustic drone with constant jittering razor slashing static attacks.

The CDR comes with a nice full colour sleeve which features on the frount a masked and trenched coated killer with a knife just about to pounce with a slightly sensual female face in the foreground and on the back we have a few pictures of females just about to have their throats slit and course full track details. So all told another very worthwhile, rewarding, at times memorable and homicidally themed Giallo HNW from Mr Ramirez.






Roger Batty