Shadows Ground - In Eternal Coldness of the Night [Black Hate Productions - 2009]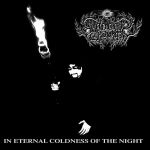 'In Eternal Coldness of the Night' is the first full length album by cold, barren and lo-fi Ukraine based black metal project Shadows Ground. The albums production and song craft summons up the feeling and vibe of Darkthrone's Transilvanian Hunger, yet this still has it's own cold and often clamouring identity about it with some quite dark and melancholic harmonic riff traits here and there among the dark and cold gitar tone.

Each of the eight tracks on offer here run between just under the five minute to just over the six and a half minute mark a piece. The production here is ultra thin and blackly lo-fi through out, and it sounds like the guitar and vocals could have beign recorded in a stone crypt with the drums being recorded out side in the graveyard it's self. The repetitive and cold guitar tone takes centre stage, followed by darkly growled and roared black metal vocals, then lastly we have the fairly rapid and fast rhythm section which consists of distant thunder crashing cymbal work and pounding cardboard coffin drum work. Each track here is built around two or three (at the most) riffs which are thick with cold, discordant, grim and bleak atmosphere; these riffs are repeated over and over again in quite a dark & cold trance inducing form. The tracks pace goes between fast to mid-pace through-out the albums lenght and really the tracks are fairly interchangeable and similar, but this helps to create this great darkly hypnotic and barren feel which true black metal should have. There are a few riffs littered through-out some of tracks that hint at more heroic, harmonic and rising metal craft feel for example the main riff on the exit track 'Only Death Is Real' - these moments give a nice contrast to the mainly cold, evil and discordant riff craft- as this as a whole is a very cold, dark and barren ride into true black metal craft.

I've always been a sucker for cold, melancholy licked and lo-fi black metal that kept alive the spirit of Dark Throne's classic early 90's albums and 'In Eternal Coldness of the Night' does this very well, but they also add some of their own dark and at times melody based elements to the true black metal template.






Roger Batty