Yen Pox - Blood Music [Malignant Records - 2010]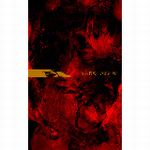 The words classic and masterpiece are too often over used by critics about albums which in time fade from ones memories into a vague mishmash of elements, and at the same time lose their potency, their element of surprise and initial freshness. But one of the few albums that does justifiable deserver to be called a classic and a genre defining moment is the dark ambient master work that is Yen Pox's first album 1995's Blood Music- this has yet to surpassed in it's dank, grim, organic and 'get under your skin take' on black atmospherics by anyone else even Yen Pox themselves.

I heard 'Blood Music' back in the 2000; after first hearing and enjoying Yen Pox's second album 'New Dark Age' (which is still great, but in a different way) I decided to track down the projects first album. Anyway the thing that hit me most then (and now) about the 'Blood Music' was it's swirling, shifting and morphing use of sound textures that where thick with dread & horror filled atmospherics. Though-out 'Blood Music' Yen Pox mix slow moving and dread filled electronic harmonic tones with all manner of none musical elements such as: train rail juddering, human moans and screams, chain clanging, clatterings, cave like moans and groans, plus all manner of deeply unsettling, downright chilling and creepy sound matter. But they weren't just throwing theses elements on top of tracks sonic surfaces and hoping for the chilling best; they were mixing them deep into the tracks marrow and horrify guts which gave the album this feeling that it was not made by human hands, but somehow it was made by natures darker and more murderous side. The album really hit me on a primal, gut and fear inducing level that I think few records had done before or have since. It seemed to put into sound my fascination with the dark side, horror and the left hand side, but it didn't do it in a corny or tongue-in-cheek manner; oh no 'Blood Music' meant business, nasty and dark business. The album so impressed me it that it was one of the first records I decided to write a review for(this review never got published, but I've weaved elements of the reviews text into later on in this review) and it really sent me down the path of a critic, turning my love of music and sound into an (often) all consuming drug.


Anyway enough reminiscing; after many, many years of been out of print( it was this way back in 2000 when I got my prized copy) Malignant Records have seen fit to finally reissue this classic in a tow disc set with the original album on disc one, which got has had bit of a cleaning-up and remixing by Michael J.V. Hensley(one half of Yen Box). And on the second disc are seven rare tracks from various ltd pressings and compilation ect which are very worthy/ chilling in their own right. Both discs are packed in a great & plush eight panel DVD digipak, with a completely new design/artwork in (of course) blood red, black and yellow by Andre Coelho of Sektor 304.


Anyway lets trip back to the past one more time and see what I said back in 2000 when I first heard the album. 'Blood Music' is heavy with a sense of decaying and dank murky air; the soundscapes speak of dark underground caverns where ribcages chatter and bob in slow running streams that have never been touched by the light of day and darting eyeless fish rip flesh off the bone in vast subterranean basins. It's of overgrown forest floors where the light of day never really reaches and of scatted human remains tangled with rubbish in long unused tube line tunnels. It's of abandoned houses with walls that are a crawling with black fungus & its floors are scatted with rotting clothing, personal effects and a keen smell of death. It's of unimaginable acts of slaughter, moaning of souls ripped from ruined bodies, late night walks back though tree encased roads and that uneasy feeling you get. 'Blood Music' is all about decay, death, and the sour gloom of our world that's hidden away in the folds of what we normally see.(so there you have it and it all still rings chilling true today)


Right back to today to finish off; Michael J.V. Hensley has done a fine job of enhancing, cleaning and uncovering unheard elements in his remixing of the rich, deep and dark sound tapestry that is 'Blood Music'. It sounds more detailed, shifting and swirling then it ever did before; sure possible he's taken a little of the murky & lo-fi charm here and there from the record, but he's uncovered and enhanced so much bone chilling sonic depth and expanse too. I guess the ideally thing would have being to release a three disc set with the original mix here too, but I think I'm just saying this because as I'm such a fan of this album and in reality Hensley has managed to make a perfect blance between hearing more and still keeping the albums organic, gloomy and macabre edge.


A highly classy & loving reissue of this dark classic that still holds surprise, fear and dread for me even today after all theses years. So if your interested in any form of dark, creepy and grim sonic matter( be it dark ambience, dark noise, slower and atmospheric black metal, horror soundtrack music) this is a must have item and one of the darkest and chilling atmospheric records ever made!.






Roger Batty