Institut - Great Day To Get Even [Cold Meat Industry - 2000]Institut is one of the newer acts on Cold Meat Industry. Since some years CMI have obviously moved into a direction which combines the usual dark ambient with the more unusual power electronics / noise music. Institut definitely belongs to the latter group. Institut is a Swedish duo formed by Lirim Cajani and Johanna Rosenqvist that got their well-deserved name mainly by their live shows. Performances at the Wave Gothic Treffen in Germany and at Eurorock in Belgium in 2000 meant their great breakthrough, and not long after that the debut finds its way to the public. The twelve tracks presented on this album can, as said before, be classified as an combination between power electronics and noise. But the main difference with "normal" noise acts I've been listening to is that Institut are far more rhythmic. And that is something new to me. Extremely thick layers of noisy sounds are crafted into recognizable and "accessible" tracks because of the monotonous rhythms used. That keeps the album dynamic and varied, something I miss with most noise acts; something to memorize the tracks. Vocals are used on most of the tracks, although I would rather classify them as "noise" as well. Heavy distortion and effects are used to create the shouting voices, adding aggressiveness and sickness to the already violent atmosphere."Great Day To Get Even" is a excellent album for regular noise and power electronics listeners, and is maybe accessible for other people as well who want to try out something new. Institut is leading the way for Cold Meat Industry in that particular genre, and a nice and refreshing album like this is very welcome.(picture by Johan De Ryck)






Justin Faase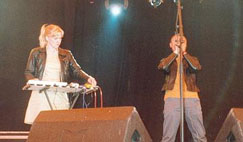 Institut - Great Day To Get Even
Institut is one of the newer acts on Cold Meat Industry. Since some years CMI have obviously moved into a direction which combines the usual dark ambient wit...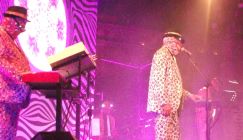 The Residents & Support - Live re...
On the 31st of January 2023, The Residents played the fourth date in their Faceless Forever / Dog Stab! Tour at the Union Chapel. It was all part of the proj...