Mr Fox - Mr Fox/ The Gipsy [BGO Records - 2020]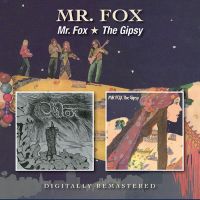 Mr. Fox were formed in 1970 by multi-instrumentalist Bob Pegg and his fiddle playing wife Carole Pegg (later Carolanne Pegg). They released two classic albums of eclectic 1970s acid folk music, both of which are collected here and both of which are now deemed masterpieces of the genre. On both albums the couple were backed by Alan Eden on drums and Barry Lyons on electric bass, also appearing on their self titled debut were Andrew Massey on cello and John Myatt on woodwind instruments.

Opener "Join Us In Our Game" gets things underway in a cheery and fairly uptempo way, however upon closer inspection the lyrics written by Carole include numerous references including both the tarot and green men. "The Hanged Man" is up next and tells the tale of a biker who is separated from his companions and falls to his death down the side of a hill. Lyrically, this acts almost as a predecessor to the wondrous Comus who would arrive on the scene a couple of years later. "The Gay Goshawk" is up next, this one reminds me somewhat of Fairport Convention from around the same era. "Rip Van Winkle" on the other hand is a slow reflective number written by Bob, while "Mr. Trill's Song" is a traditional sounding piece with words by Ashley Hutchings and music by Bob. "Little Woman", written by Dave Mason follows and is among my personal favourites on the debut album. A perfect slice of mid-tempo acid folk. Salisbury Plain is next and once again reminds me of Fairport Convention at their best, and whilst Ashley Hutchings wrote the lyrics, Bob Pegg wrote the music which particularly reminds me of Fairport. "The Ballad of Neddy" Dick is a traditional sounding ditty, and "Leaving the Dales" is Bob's love poem to the Yorkshire of his childhood. The final track, the self-titled "Mr. Fox" is one of my favourite tracks across both albums, a genuine acid folk classic.


The second album The Gipsy kicks off in spectacular fashion with "Mendle", a psychedelic masterpiece voiced both beautifully and creepily at the same time by Carole. It remains the darkest and most satisfying track on this collection. "Mendle" gives way to the 13 minute epic that is the title track, a vastly different and no less satisfying number that features a spectacular musical breakdown in the middle section. "Aunt Lucy Broadwood", an almost rap like mantra is up next with a perfect catchy chorus. "House Carpenter" is a traditional song updated by the Pegg's, and given the Fairport/Steeleye Span acid folk treatment, there is perhaps even a hint of the Incredible String Band floating around in there somewhere. "Elvira Madigan" is a more traditional track, and whilst it is far from the best thing on the album, it remains a really good listen largely down to the performances of Bob, Carole and the band. "Dancing Song" is Bob's traditional sounding ditty. "All the Good Times" closes out the album in style, a perfect pub singalong with a chorus to die for.


BGO have done great things with this beautifully remastered CD featuring both classic albums spread across one disc. Both albums are fine records in their own right, but there remains something about The Gipsy that draws me in time and again, a certain magic that still manages to mesmerize me, almost 50 years after its original release. The packaging is excellent too, featuring a fully loaded booklet with stories and pictures of the band and a beautifully rendered slipcover. This is the perfect package for two acid folk classics. If you don't already know these albums then grab yourself a copy of this disc and if you already know the album's you'll want this for the new remaster. Either way, I heartily recommend this to anyone who likes acid folk.






Darren Charles