Witches Hammer - Damnation Is My Salvation [Nuclear War Now! Productions - 2020]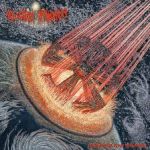 Originally active between 1984 and 1990 Witches Hammer had a reputation as one of Canada's best speed metal bands despite the fact they only released a couple of demos and a single 12" EP. Original guitarist Marco Banco (who would go on to join Blasphemy for a while) teamed up with Nuclear War Now! In the early 2000s to re-issue their classic 12" and demos on CD, alongside a previously unreleased EP from 1988. That was pretty much it for the band until 2018 when Banco and original vocalist Rayy Crude decided the time was right to put the band back together. The response to their live shows has been decidedly positive with the band receiving dozens of amazing reviews for their technical brand of blackened thrash metal. This leads us to this latest slab of metal madness, their first full length album, a full 36 years in the making, the big question now has to be how good is it?

Opener, "Across Azeroth" kicks things under way in fine style. An all-out blackened thrash assault, it's fast, technical and brutal in its execution, coming on like the bastard offspring of Kreator and Destroyer 666. This is followed up by "Solar Winds" featuring classic 80s style speed metal riffs that wouldn't sound out of place on an Iron Maiden album. Much like the band Butcher they wear their influences on their sleeves, which is not a band thing when those influences are Teutonic Thrash Metal, Iron Maiden and classic Black Metal. Title track "Damnation is Salvation" starts with a chuggy melodic opening which paves the way for a rapid, brutal middle section. Despite the speed of the tracks on the album, they never compromise on melody, which is evident throughout. Once again this is something that draws links between the band and Butcher, who also manage to balance brutality, speed and melody to great effect. "Within the Halls" starts with some classic tech thrash riffing that gives way to some almost Black Metal style verses. Once again, they keep the pace high. Much like Slayer's classic Reign in Blood the album is an intense blast of thrash metal goodness clocking in at a mere 32 minutes long.


The next three tracks are all re-recordings of earlier material originally recorded for the band's demos in the 1980s. "Frozen God" sounds like unholy offspring of Kreator and Exodus, but with enough of their own identity so as not come off as copyists. "Witches Hammer" is up next, the first thing to note is the striking reminiscence to Slayer's "Black Magic", but this is just that little more intense. A sure-fire classic in my book and one of the key reasons those 80s demos are so revered. "Deadly Mantis" is the third in the trio of re-recordings and no less effective than the others. It's another slab of thrash metal genius. After listening to this album, I shall most definitely be hunting out their classic demos and EPs. Album closer, "Nine Pillars" sees a return to new material. The longest track on the album at almost sven minutes long, it veers between slower sections, that remain rooted in 80s thrash and the faster black metal infused elements that really ramp up the intensity.


Overall, this is a top release from a band who have been around the block, but unlike many of the returnees from yesteryear this has a brutality and an intensity that usually only comes from a new band. The songs have tons of melody and the technical side of their playing is superb. As mentioned earlier I shall be digging out their earlier work as I am so impressed with what I have heard here. If you like classic 80s speed and thrash metal, specifically those bands from Germany like Kreator, Destruction and Sodom, then I am convinced you will love this. There is a little hint of Black Metal here and there which works really well, and like Butcher one can't help but get a little carried away when listening to this. It takes me back to my teenage years and the way I felt hearing bands like Kreator for the first time. I can't really give it a higher recommendation than that.






Darren Charles