William Castle At Columbia Volume Two - William Castle At Columbia Volume Two( Blu Ray box [Powerhouse Films - 2018]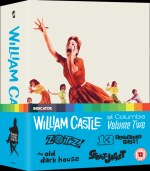 From December last year- hereís the second boxset of films from William castle on Powerhouse films. And once again it shows the infamous producer/directors flair for switching film genres- going from playful fantasy, onto espionage based teen comedy thriller, through to creepy house themed comedy horror, onto rural-based psycho thriller. And as weíve come to expect from Powerhouse we get a good selection of extras, and great new prints of each of the films featured here

Appear in 1962 a year after Mr Sardonicus, Castleís take on the Gothic horror genre, came Zotz! - which was once again a complete change in both type of film & focus from Castle. Zotz! is a playful & fairly light fantasy film- focusing in on the quirky & mischievous eyed Prof. Jonathan Jones(Tom Poston)- a sauerkraut juice drinking language professor who gets hold of a ancient magical amulet- that gives the holder the power to either stun, slow-down, or kill. The film was Castle attempt at trying to inject more humour & laughs into his pictures, and sadly itís not as funny as itís wants to be- we get lots of bumbling slapstick action, sight gags & misunderstandings. Itís a pleasant enough light film with a few slight chuckles, though the black & white film stock and the almost 50ís like tone to film makes it feel a lot older than it was- and sadly you can see by this point in his career he was starting to lose his grip on what moviegoers wanted. Itís not a bad film by any means and is charming enough as a light-if-dated fantasy film.
Extras wise on this first disc we get a commentary by Diabolique Magazine's editor-in-chief Kat Ellinger- this sees her, as usual covering a lot of ground- moving from discussing the gimmick for this film- the giving out of Plastic Zotz! coins , the original book the film was based on, Actor Tom Poston & his later more known for TV roles like Morky & Mindy, B- movies based around scientists/ academics & beyond. Itís another well-researched track from Ms Ellinger, and well worth checking out. Next, we get to twenty-four-minute featurette from Kim Newman- which sees him discussing the films Screen writer Ray Russell, his other work with Castle, and his career in general. Lastly, we get a six-minute appreciation of Zotz! from Horror author Stephen Laws- this finds him discussing his first experience with film as a child, the film's gimmick, etc.

Coming a year after Zotz! we get 13 Frightened Girls aka The Candy Web, which sees Castle switching genres once again. This time we get light, campy, though always entertaining Teen espionage comedy thriller- which follows a group of teenage girls from a swish finishing school going on vacation to London, and getting tangled up in the murder of a Russian spy. Each one of the girls is the daughter of a diplomat from different countries, and the lead character Candace Hull aka candy is the daughter of the American ambassador in London- she finds her self in well too deep, as she tries to uncover the murder. Both of the filmís title, and itís poster are very, very misleading- suggesting a group of girls been stalked & killed- and really there is nothing like this, aside from a silly & campy chase sequence at the end of the film- so goodness knows what those going to see it back the day thought. For this film, under its The Candy Web title, the infamous castle gimmick returns- though itís fairly low key, seeing selected audience members getting cards- which may or may not entitle the holder to a prize. Aside from the misleading titles- this is a lot of fun, sure itís very politically incorrect in its representation of the various countries, and moments, when the teens are sexualized, feel most uncomfortable- but as a light & breezy thriller high in campy charm, with the odd chuckle-it's a lot of fun.
For the main extras on this disc we get a commentary from Samm Deighan of the Daughter Of Darkness podcast / Diabolique Magazine- this finds her covering a fair bit of ground-moving from discussing the (other) gimmick with this film- which saw Castle casting 13 young amateur actressís in the roles of the girls( though oddly there are actually 15 girls in the film). Bickering between the young actresses, the more seasoned adult actors, the films locations, the relationship between the two young female leads, similar films, undercover young spies in history & more- itís a most worthy track.
Next, we get a ten-minute appreciation of the film Stephen Laws- this sees him discussing the misleading poster artwork & title, the films gimmick, the more bizarre & quirky scenes in the film, etc.


Next up in boxset is The Old Dark House, which was also from 1963- this saw Castle once again bringing Tom Poston back into as the lead. For this film he plays Tom Penderel, a slightly bumbling car salesman- who sells a car to his London flatmate Caspar Femm (Peter Bull)- caspar asks Tom to deliver his new car to his family estate in Cornwall. When he finally arrives at the ramshackle & leaking mansion- he finds Caspar dead in a coffin. Fairly soon he meets the playfully eccentric Femm family, taking in a host of respected English names such as Robert Morley, Joyce Grenfell, Mervyn Johns, Fenella Fielding, Peter Bull, and Danny Green. This film was a joint venture between Castle & Hammer films, and itís kooky & campy horror comedy- with more focus on the lighter comedic side of things, with little dread or horror present here. I guess youíd put it in the similar bracket as something like Carry on Screaming, but instead of cheeky humour, we get a blend of violent slapstick, vaguely amusing wordplay, and visual gags. At times it almost feels like the film was made for the junior market- with itís decidedly light & playful tone- we even have the addition of an ark, which is been built by one of the family, bringing into play an almost Doctor Dolittle vibe to proceedings. Poston is once again a likeable lead- really carrying off the role well, in both itís man out of his depth moments, and the more cartoon-like slapstick moments. At times it does come off a bit too light & frivolous for its own good, but if you take it as more of a playful at times silly comedy with a horror setting- itís another enjoyable ride from Castle.
On the extras front we get a commentary track from respected genre writers & authors Kim Newman and Stephen Jones Ė this is a decidedly chatty track which sees the pair talking about the films shooting,Tom Poston (who they donít like,) and the various other cast members. Similar comedy horror films & beyond- all in all, an interesting & eventful track.
A half-an-hour appreciation of the film from the Jonathan Rigby- he discusses the collaboration between Castle & Hammer- and itís filming in & around Bray studios. The light & frankly difficult to market tone of the film, which found it not been as popular as hoped. The different versions of the film, and his general take on the film- which is really he thinks it works best a Sunday afternoon movie. As with the other featurettes Iíve seen from Rigby he does a great job here again- making it an enjoyable & worthy insightful short. Lastly, we get a seven-minute discussion from Dr Paul Firth which sees him looking at the film from the Hammer angle.

Finally in the set we have 1964ís Strait-Jacket- this saw Castle returning to the psycho-thriller territory of his 1961 film Homicidal. The film featured Hollywood legend Joan Crawford as Lucy Harbin- a once glamorous woman who chopped-up her husband & his lover after finding them in bed together. She has been in psychiatric unit for twenty years, and the film sees her going back to live with her estranged daughter (who witnessed the slaughter) who now works as a sculpture on a family owned farm.
The film has some effective if slightly predictable- is she really mad or isnít she moments, the farm setting is well realised, and the film unfolds at a good enough pace & flow, thankfully lacking the more chatty moments of Homicidal. Crawford is good in the lead role- nicely playing a now uncertain & hollow woman, the supporting role of her daughter is played by Diane Baker, who Iím afraid comes across a little un-insipid & bland, but possible thatís down to her having to play against someone like Crawford.
The key selling point of this film were the impressive head decapitations- which are most effective, with good enough moody build-ups to each. Gimmick wise there isnít really one, and you do rather miss Castle popping-up at the start of the film.Of the two psycho thrillers Castle did, Iíd certainly say this is the better of the two.
Extras wise this is the most bludging of the four discs- and the key extras here are a commentary track from film historians Lee Gambin and Emma Westwood, who are both big Crawford fans- they talk about everything from what special onset requests Ms Crawford had, the supporting cast, other Hag horror films, observations on whatís going on in the film, and more- itís a nicely natural & aminated track full with great titbits of info & worthy observations.
Next Jonathan Rigby returns again for a nearing half-an-hour appreciation of the film- this sees him discussing Castle career up to this point, the film's soundtrack interesting use of theremin, the decapitations, the films impact, and beyond- this again is another highlight of the set.
Of the shorter extras, we have a six-minute interview with Ann Helm, who had originally got the role of the daughter but landed up been taken off the film by Crawford. An interview with Richard Kahn Crawfords publicist- discussing the US tour she did to promot the film, and a good selection of other stuff.


Of the two box sets, Iíd say this is of less interest to pure horror fans- as really only the last film truly fits into the genre. But if you enjoy Castle playful, if at times hit & miss take, on different genres then I think youíll enjoy what we have here- finding hours of entertainment with all the extras on offer.






Roger Batty