Roger Döring and Konrad Korabiewski - Komplex [Gruenrekorder - 2015]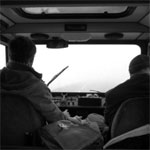 Another release from the sound-art side of Germany's Gruenrekorder, Komplex is a collaboration between saxophonist Roger Döring and electronic improviser Konrad Korabiewski. Recorded over two years in a variety of locations and different acoustic spaces, Döring, who also improvises on c clarinet, provides the material which Korabiewski manipulates into unfamiliar shapes or adds to with mostly subtle electronics and field recordings.

The first piece Kremmenerstraße opens with quiet street noise (perhaps recorded from the Berlin street which gives the piece its title) before Döring's baritone sax appears playing extended low notes which are overdubbed and lightly processed by Korabiewski. The combination of distant street noise and closely mic'd acoustic instrumentation is initially a little uncomfortable but as each layer of acoustic sound is added the tonal colour of the whole resolves into something quite darkly harmonious. The melodic element is amplified on the second piece Seelischer konflikt (Psychological conflict) which sees Döring interspersing searching melancholic passages with interestingly constructed, near percussive effects and drawn out droning tones. This is further refined on Flucht(Flight) with a doom jazz pace and atmosphere that would no doubt appeal to those inclined towards Bohren & der Club of Gore. Korabiewski ramps up the distortion as the piece progresses never allowing the listener to fall into complacency and on the last piece on side A, Hof (Court) processes Döring's tenor sax into a wild mélange of lugubrious tones and half formed melodies.

The second side continues in this vein on Wenn es gehen will laß es gehen (If it wants to go let it go) building up from short clarinet phrases which hover tentatively before giving way to others. The production here utilises the natural acoustics of the space and with light use of reverb creates the impression of a complex interplay between distance and nearness, as if a quartet of players were secreted around what might be an ancient sacred space. This delicately balanced acoustic environment is rudely shattered on what is for me the least successful piece here Aber langsam gehe ich meinen weg – langsam (But slowly I go my way - slowly). Döring's clarinet is filtered through a dictaphone, generating that characteristic distortion and overdrive which while just about holding on to the melodic content is painful to the ear after the previous tracks, which had lulled us into the manner of close listening. It's thankfully the shortest piece here.

The final two pieces return to the layering and acoustic manipulations of before. Wohin des weges, wandersmann? (Where is the path, wanderer?) reflects the searching quality of its title with Döring's clarinet leading us on a meandering series of short minor melodies which dip in and out of the acoustic space. The recording also making interesting use of amplified fingering on the instrument, heard through little clicks and rubs. Appropriately this is the only track that ends in a fade-out with the players still searching for the path. Zeit heilt alle wunden (Time heals all wounds) completes the set on the most melancholy note yet. Returning to the tenor saxophone Döring's playing exudes a reflective, almost plaintive melody over layered drones emanating out of the space. It's a dark note to complete what is an almost overwhelmingly shady record capturing in a vaguely classical/Jazz idiom something of the darkness of the northern lands.






Duncan Simpson