Mig Inc - Achwal [Neon Wall Series /Lurker Bias - 2016]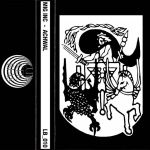 This tape (though I'm reviewing a digital version) is part of the 'Neon Wall' series of cassettes, put out by Lurker Bias. Ten releases in all, bringing together a mix of new and old wall makers. Mig Inc is a new name to me, and the project gives us one long, thirty-two minute track of progressive wall-craft.

The piece begins with a nice, dry scuttling; split through the speakers, and soon joined by white noise elements that evoke rushing water. The track holds here for a while, with speedy surface noise hiding a reverberating judder; however, the sound lacks definition and bite - it's too washy for my tastes, muted and declawed. This section continues in a largely static manner, though a wind-like sound makes its presence known (as well as more gushing white noise), before the wall is slowly consumed by watery, electronic sounds - almost akin to archetypal, archaic computer, chaotic bleeps. These bleeps are actually very similar to the results gained when putting a wall through a digital noise gate: small sounds which tumble like water drops, but also have a 'glassy' texture/timbre. Though, I couldn't say for sure how Mig Inc has actually achieved this effect. Anyway, these glassy/watery sounds dominate the track from thereon, sitting on a bed of frenetic, if murky, white noise. From time to time, a phasing can be heard in this background; often subdued, but sometimes emerging fully from the piece. Around the twenty-four minute mark, this phasing becomes very pronounced; returning again right at the end of the track, to finish it. After the phasing cuts out, there are mere seconds of noise textures; really akin to the 'end of the tape', or the switching off of pedals (etc) - the kind of thing that some people would edit out. Yet curiously, these few seconds have perhaps the most fulfilling textures on the track, to my ears: a low, hovering distortion, and a quite exquisite treble crackle.


Mig Inc's Achwal is undoubtedly doing something different with HNW, but it has to be said that it's (to my mind) largely unsuccessful. The phasing is distracting, certainly; though I'll admit that that might just be a personal bugbear for me. The glassy/watery sounds are interesting enough, but beyond the fact that they remind me of noise filters, they're just not substantial enough on their own. This is perhaps the main issue: the core of the sound, the wall, just isn't there. Even when I cranked the volume up to 'dangerous' levels, the track didn't have much guts, or obliteration. The lengthy 'main section' does work as a piece of ominous drone (when cranked), but the wall elements themselves are somewhat weak. Achwal starts off effectively enough, and the dying seconds are (bizarrely) enticing, but, in between, it's never overly convincing.






Martin P