VA - In Giallo-HNW Murder Collection [Signora Ward Records - 2015]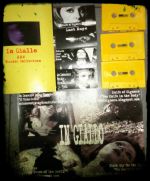 Here we have a C6o compilation that celebrates the giallo & murder themed walled noise of highly respected Texas based noise artists Richard Ramirez. The release offers up four tracks, from four separate Ramirez projects ( both solo & group projects), and the theme fitting yellow cassette comes in a classy yellow, black & red A5 sleeve.

The four tracks are equally split over the two sides of tape- with each track hitting near or around the fifteen minute mark. Opening up the compilation we have a track from An Innocent Young Throat-Cutter- this project started in 1994, and has seen a shifting line-up over the years with Ramirez the only constant. For a few years in the 2000's it was a duo which saw Ramirez pairing up with Italian noise maker Cristiano Renzoni( of wall noise project Alo Girl & runner of vinyl only noise label Urashima). But according to discog it's now a five piece project. Their track is entitled "Il Terzo Occhio"- which takes in name from 1966 giallo ( aka The Third Eye) which tells of a young count who lives with his dominant and jealous mother, begins in a downward spiral into madness after his fiancée dies in an accident - or it wasn't an accident. The track is based around this rather effective sort of lower-to-mid range automated like sawing pattern/ texture. And this is added to by a subtle shifting mesh of shaking, tumbling & crunching static patterns. The central tone creates a hypnotic & almost groove like centre to the 'wall', with the slow shifting matt of textures keeping you locked into the whole thing for it's full runtime.

The second track on side one comes from Knife Of Signora- this project has been active since 2012, and as far as I can see is a solo Ramirez project. This projects track is entitled "The Knife In The Body", and the track opens & closers with a brief sample- which I think is from a documentary of some form about British serial killer Denis Nilsen, as it talks about the killer blocking drains with body parts, etc.
The track is a taut & suffocating mixture of compressed, muffled & tightly looped industrial like juddering, which is edged by a fairly set selection crisp & thin popping/ snapping patterns. I'd say this is my favourite track of the compilation, as it's a great breathlessly captivating bit of 'wall-craft', and I'm a sucker for true crime themed HNW.


First up side two we have a track from Last Rape- this project has been active since 1995. Over the years the line-up has shifted with Ramirez been the only constant through-out the projects entire history. But over the last few years the project has been set around Ramirez & Sean E. Matzus (Black Leather Jesus, The Secret Geography, A Week Of Kindness etc). The track offered up here is "Seven Faces Of The Devil"- which I'm guessing is named after 1971 giallo "Il diavolo a sette facce"( aka The Devil Has Seven Faces)- which told of woman targeted by a group of international jewel thieves who mistake her for her twin sister who stole from them. This track brings together a purring 'n' throbbing under drone, which is cut by a crisp & detailed selection of patter-nation. It's another worthy 'wall', and it breaks with-in the first few minutes of opening for an rewarding & sleazy dialogue sample from the film, before dropping back into the 'wall' again to great effect.

Last up we have a track from Black Day Of The Ram, and this is seemingly a brand new project. And as far as I can gather is a solo venture- the track here is the projects first ever work & it's entitled "The Sensuous Doll". This track is seemingly themed around 1972 Italian/ Turkish giallo The Red Headed Corpse/ La rossa dalla pelle che scotta/ Sweet Spirits/ The Sensuous Doll. The films plot revolved around an alcoholic artist struggling to live off his paintings. Who eventually acquires a faceless woman's mannequin, which after he decides to paint it transforms into a beautiful, apparently living woman. At first the woman is mute, but eventually she talks just enough that Farley's painter gets abusive with her, while she embarks on a promiscuous lifestyle. This 'wall' is a dense & not particularly well defined track, which brings together a searing sea of swirling & boiling static texturing. The whole thing often goes into all out textural white-out, but ever so often you get rewarding shifts in the walls main pattern flow.

All told it's a worthy compilation of 'walls', with the packaging & the presentation be most effective (the sleeve is doubled sided pro printed affair, and it includes a sticker for each project). So if you enjoy giallo themed 'walled noise' this really is a no- brainier.






Roger Batty