Fecal Dam - Street Filth [Distorted Visions - 2014]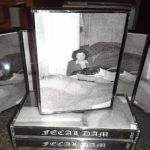 Fecal Dam is a new name to me, but the black and white inlay (adorned with an inconclusive photograph of women, in some kind of dormitory) tells us that J. Landgraf is behind the project. Given that this is the same person behind the excellent Oblive and Mass Graves, expectations were high. The tape has four tracks, amounting to about fifty minutes of sound.

"Street Filth's" modus operandi can be crudely summed up in one sentence: sections of harsh noise wall textures, broken up by wilder, harsh noise interruptions. That's essentially what goes on within these tracks. These interruptions are patiently spaced out, few and far between (indeed, the whole tape is nicely paced, often operating at quite a steady, restrained speed) and take the form of: junk noise clanging, feedback sections and heavily agitated noise. The wall sections being interrupted cover a far range of colours, though the emphasis is on bassy, dirty textures. The first two tracks ("Internal Cumbustions I" and "Internal Cumbustions II") both rely on thick, low-mid frequency crackle; which lurches and scrapes during both tracks. But where the former has an almost "digital" feel to it - indeed, at points it sounds like some kind of electro/synth drone struggling to emerge - the second has a more "open" palette, with sections of shriller treble speeding over the scraping bass. The third piece, "Butterface Pageant 666", starts with juddering akin to a generator, before building and then breaking into a wonderful wall of crunch - really dirty and syrupy. The fourth and final track, "Mud Red Summer", is perhaps the one sticking point of the tape; due to its overt use of a phaser during the first section. I'll confess to being phaser-phobic; but in all fairness, I don't feel the effect adds anything to the sound. Its distracting and dominating, but without creating any mesmerising repetition. The hard, stealthy crackle, underneath the phased elements, is great, though. As the track progresses, the phasing becomes subdued and a stuttering, scuffing wall takes over.

The use of phaser on "Mud Red Summer" is unusual, in terms of traditional harsh noise wall practice; but one noticeable element of "Street Filth" in general, is Landgraf's lack of fear in this area. Whilst this phasing is the most obvious and notable example, there's also detectable phaser on the first track - as well as the use of delay pedals and a strange chirup-y, almost synth-like effect on some of the treble in "Butterface Pageant 666". This snub to convention sounds inspiring and fresh, though, as previously stated, the beginning of "Mud Red Summer" backfires to my ears.

Accepting that I don't get on with "the phasing section", this is a really good release. It would be fair to say that "Street Filth" doesn't have access to the more immersive, "trance" potential of static HNW, but it makes up for this with a more agitated, grimy, "modular" take on things. For some reason, I'm compelled to draw a comparison to a sludge band like Eyehategod: clearly, they're worlds apart; but there's a similar chunkiness, a similar mid-paced, dirty lurch. Mr Landgraf remains a name to be watched.






Martin P