Werewolf Jerusalem/​Phantom Cadave - Split [Excavated Production​s - 2013]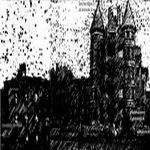 This excellent split, from Excavated Productions, comes in a dvd case; adorned with murky grey pictures of buildings. The cover sleeve is printed on the kind of material I used to see used for tablecloths, in cheap cafes and fish'n'chip shops; it helps give the release a definite diy feel - the underground is alive and well!

Phantom Cadaver is a name I've seen cropping up, and the two tracks here are a great introduction. The first, "Infesting", starts off with nice shearing and spluttering - almost like a dustbin being shredded - before a very satisfying gravel-like, low-mid texture raises up. Its a really enthralling mix of elements. This continues until around the three minute mark, whereupon Phantom Cadaver drops the hammer: a thick, buffeting wall which scrambles over itself. It's edgy and nervous, a torrent of crack and crumble. The rest of the nineteen minute track, sees the wall reined in and then exploding out again; exploring a solid series of textures from decrepit scrapes to overblown metallic treble gusts. "Bane" is Phantom Cadaver's second offering, a twenty-minute track thats much more contemplative than "Infesting". Taking a static line, the piece is ripping from the off; with a well controlled pace. The foundation of the wall is built around a low-mid rumble, which thunders along over a lurking bass drone; across this, thick streaks of treble crackle swell and dance erratically. Its an effective counterpoint to the dynamism of the first work.

Werewolf Jerusalem needs no introduction, of course. Ramirez's track here, "Swarm", is thirty-four minutes of restrained savagery. To some extent, it can be divided into two sections: the first twenty-one minutes establish a rather curious texture: and the remaining thirteen amplify and scrutinise it. This "curious texture" is a blown-out stutter, with oddly reverberating bass; its somewhat ghostly, but at the same time incredibly tense - your brain assumes that at some point, its going to explode into full-on noise, but Ramirez makes you wait a while. Its almost the kind of "washy" wall that I sometimes see as throwaway, but Ramirez's persistence with it draws the listener in. These frail, almost "sepia" textures become a wandering, strong wall in the "second" section. Here, the thick mid-frequency crackle moves around the stereo-field, with Ramirez splitting the signal between the speakers; and all the while, a sickening bass crawls out of both. Though, as I said above, there's a definite sense of restraint on "Swarm", with Ramirez never allowing the wall to break open into skree. Indeed, he actually brings the wall fully down for a couple of minutes near the end; evoking a genuinely ghostly passage of hiss and submerged sounds, before the thick wall of crackle breaks in again.

This is a great split. It has really effective work, from talent both established and emerging. Whilst people might pick it up on account of Werewolf Jerusalem (as they should - its a stunning track), Phantom Cadaver's pieces are equally impressive - if somewhat "straighter". Its a testament to the quality and depth of the contemporary HNW scene.






Martin P