Minamo - Shrine | Nest [Mr. Mutt - 2003]One writer referred to this Japanese quartet's music as "serenity improv". The band would do well to use this description as the heading on their resumé, because it fits them like a glove. Keiichi Sugimoto (guitar and computer), Yuichiro Iwashita (guitar), Namiko Sasamoto (keyboards and sax – but jazzophobes don't flee just yet) and Tetsuro Yasunaga (computers and electronics) build mostly long, quietly rippling electro-acoustic soundscapes, meandering and unobtrusive, but anything but unengaging. Beautiful, their very accurately titled 2003 album on Apestaartje, was one of the most gorgeous sound environments ever, landing it straight in this reviewer's personal top 5 of the year. When listened to in the right state of mind, their serenely wandering songs are achingly beautiful.This official 2 track (67 minutes) CD-R was also released last year in a limited run of 200 hand-numbered copies on the label of the exciting Italian electronica duo Tu m' (best band name in a long while, that!). Other projects in the CD-R live series include big-shot names like Scanner, TV Pow and Sogar. Shrine and Nest were recorded in Tokyo in October-November of 2002. Musically, this is pretty close to Beautiful: calm, slowly unfolding electronics, treated acoustic instruments and piercing sound waves (piercing in the gentlest way possible, your eardrums are safe here!) combine with improvised acoustic guitars, to form what could be likened to Taku Sugimoto jamming with Fennesz at his gentlest. If you have a number of CD releases from labels such as 12k or Plop you can be certain that this will be right up your alley. Some piano-like sounds can be heard at the beginning of the fabulous second piece. Other than that there are few surprises, but in this case that's a good thing. And let me allay the fears of neophytes with a dislike for music that doesn't seem to do anything if not listened to on headphones without stirring: this music covers more territory than you expect.Minamo is not one of those bands I want to see evolving, expanding their sound, taking new roads… I'll be perfectly happy if they just keep revisiting their techniques on the sidelines, ignoring any notion of time or goal and persevering without any grand statement or empty gesture. I can't see myself growing tired of dipping into their sound world. Mr. Mutt will be releasing the next Donna Summer album in 2004 as well as a compilation including Minamo, Tu m', Sogar, and the always fantastic Ekkehard Ehlers. Meanwhile this nicely done CD-R (colour printed sleeve in plastic bag) is still available from Tu m' and selected distributors. Let's pray that the fad for ultra limited hand-numbered releases such as this will soon make way for a supply-by-demand system; this stuff is just too good to keep it a secret.






David Bauwens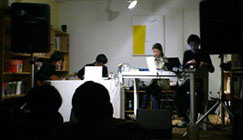 Minamo - Shrine | Nest
One writer referred to this Japanese quartet's music as "serenity improv". The band would do well to use this description as the heading on their resumé, bec...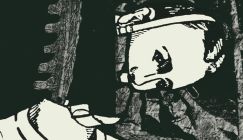 Hastings of Malawi - Deliriously ...
Formed in the early 1980s, after the member's sonic dabbling's on the early Nurse With Wound records, Hastings Of Malawi took a decidedly busy and deta...